Home Try-On

Choose up to 6 frames from this website and we'll deliver them to your door to try on at home!
Order today and qualify for our in-store Promotion where you can get a FREE Eye Test or R500 OFF your Frame or Lens Enhancements! Ts&Cs apply.
What is Home Try-On
---
FRAMES DELIVERED TO YOUR DOOR
Browse the online frame catalogue on this website and choose up to 6 frames to be delivered to your door with Home Try-On.
---
FREE RETURN DELIVERY
Delivery is FREE and an admin fee of only R1 is charged to process orders.
---
7 DAYS TO DECIDE
Once you receive your frames, you will have up to 7 days to decide whether you would like to continue with the transaction or return the frames with no additional costs.
---
QUALIFY FOR OUR IN-STORE PROMOTION
You can also choose to buy one of the frames with our in-store Promo, where you can get a FREE pair of single vision prescription sunglasses up to R2200 when you pay for an eye test and your first pair of prescription spectacles. Ts&Cs apply.
How to Order
Step 1
Browse the Online Catalogue and click on the frame(s) you want to try on at home.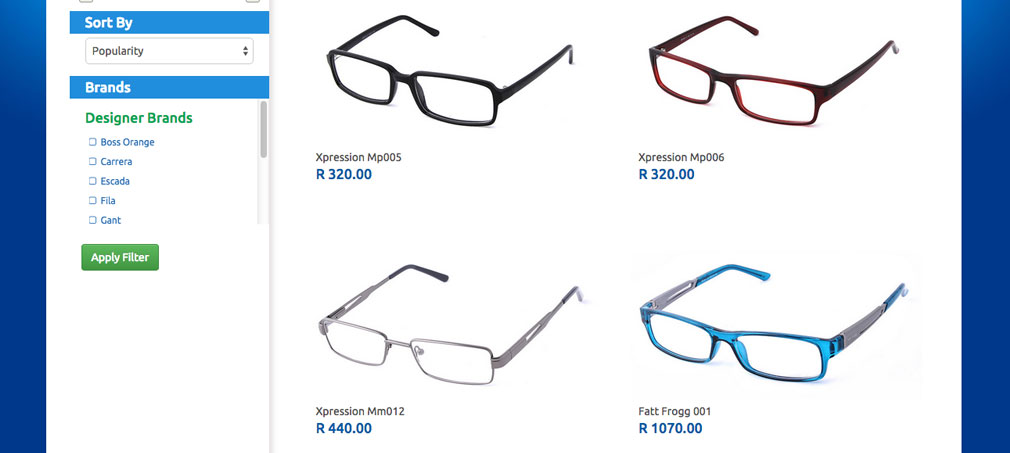 Step 2
Click on the "Home Try-On" button which will add the frame to your shopping cart.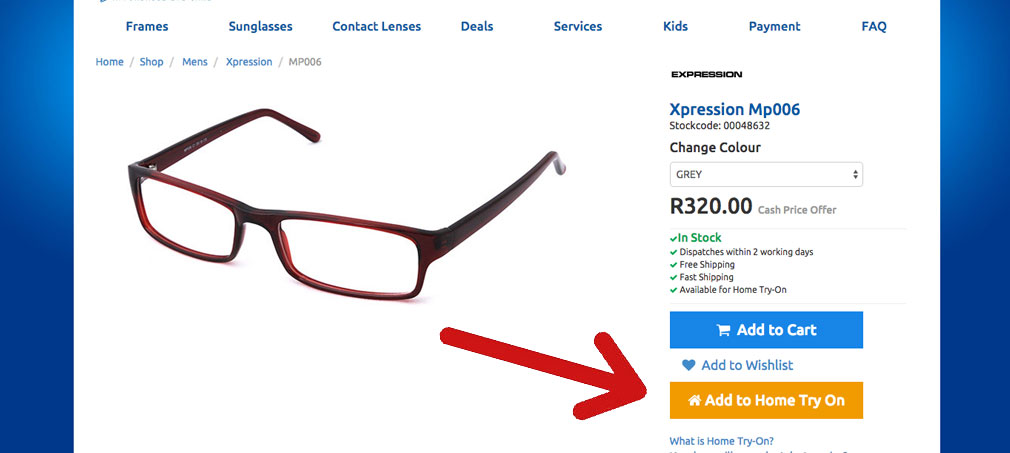 Step 3
When you are done and want to check out, click on the "Shopping Cart" button at the top of the page.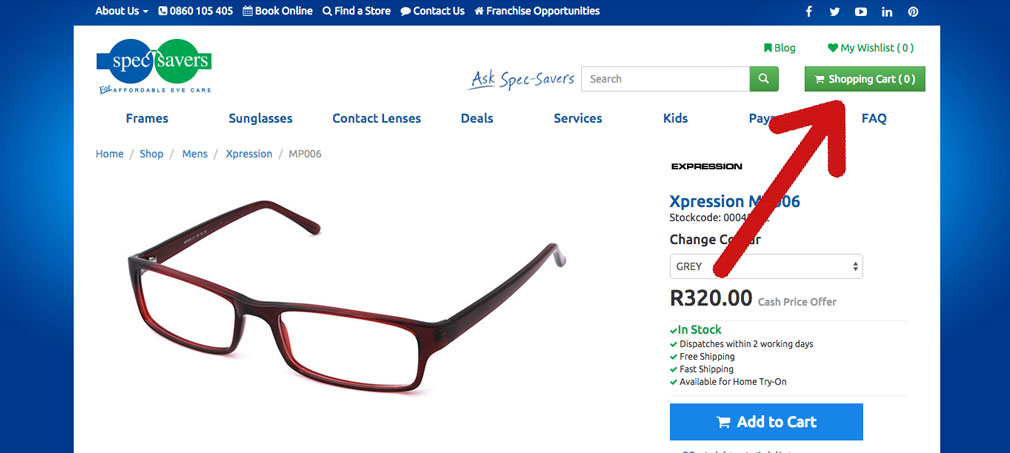 Step 4
In order to process the frame(s) for Home Try-On, click on the "Home Try-On" option at the bottom of the shopping cart page and click "Secure Checkout".

Step 5
Follow the rest of the steps to complete your order. Your order will be processed and dispatched to you within 5 working days.
Common Questions
Do I need to purchase any of the frames?

No, this is a no obligation free trial. You may simply return them if you do not want to purchase any of the frames

How much does it cost?

We only charge a R1 credit card authorization cost for the Home Try-On service.
Delivery and return shipping is free.
There are no other fees besides the R1 authorization cost.

How do I purchase a frame if I like one of them?

You may choose to purchase online or you may take the Home Try-On kit to one of our stores to qualify for one of our in-store promotions. Detailed instructions are included in the package

How do I return the Home Try-On frames after 7 days?

You may either return to one of our stores or you may contact us to have them collected from you. Detailed instructions are included in the package
Return courier is also at no charge

How long will it take to receive my order?

Orders are processed are dispatched within 5 days of being placed and delivery usually takes 2 days depending on your location.

What are the delivery options?

You may have delivered to your personal address or you choose to have them delivered at one of our stores for a collection

Can I complete my transaction online?

​​Yes you may purchase any of the frames online.
If you require lenses, you will need a valid prescription not older than 2 years to order online
Ordering online will not qualify for the in-store promotions

Do you deliver anywhere in South Africa?

Yes, we deliver anywhere in South Africa
Please note: Home Try-On is only available for prescription frames in our Online Shop. Excludes prescription lenses. Sunglasses are not allowed.
---
Leave a comment
Please note: Our working hours are 08:30 to 17:00 Mondays to Fridays
By placing a comment you accept our Comments Disclaimer.