Thank you for your patience
As difficult as it has been for our customers and our Spec-Savers teams, our business stands on strong foundations. At the heart of our business is the trust that South Africans, like you, have placed in our brand over many years to care for your eyes. Our optometrists and our front line staff care passionately about your eye health and when the time is right, will be ready to serve you once again.

Essential stores now open
We have opened selected Spec-Savers stores across the country to ensure that we support and assist our patients with emergency eye care needs.
Important: Pre-booking via appointment is essential. Only one staff member will accompany the Optometrist during essential service hours.
You will be contacted before your appointment to remind you of your time slot and the hygiene protocol.
New store Hygiene Protocol in-store
Below are the steps we are taking as a brand to ensure we stay committed to the safety of our customers and staff in our stores.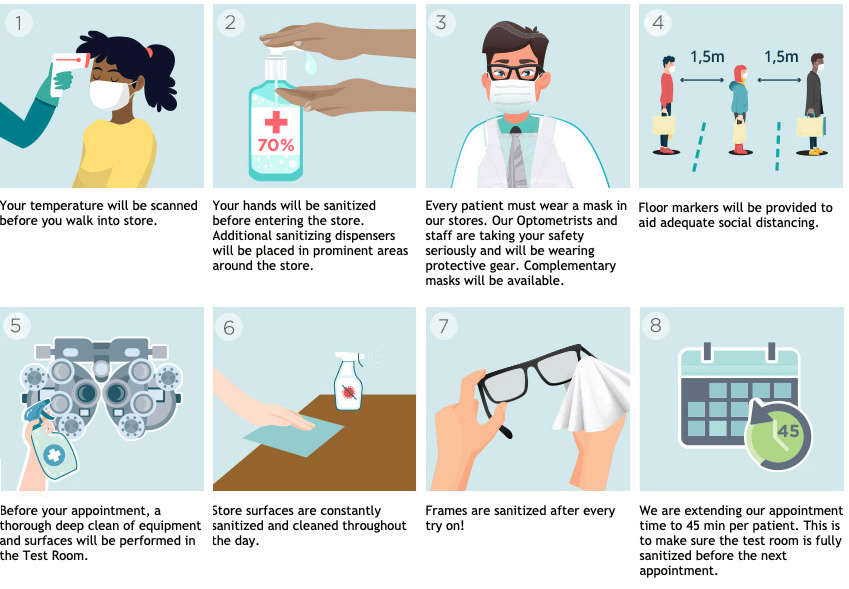 Orders placed before lockdown
If you have an order placed in-store before their unfortunate but temporary closure, we do apologise for the delays in getting these to you.
We are aware of this issue and trying our best to go through every outstanding order.
Our customer service team will make contact to ensure full payment has been received before sending to your home.
Please understand - this will take us some time as we have to go through one by one.
We are looking forward to be able to see you in all our stores when it is safe to do so. Thank you for your understanding and the support!