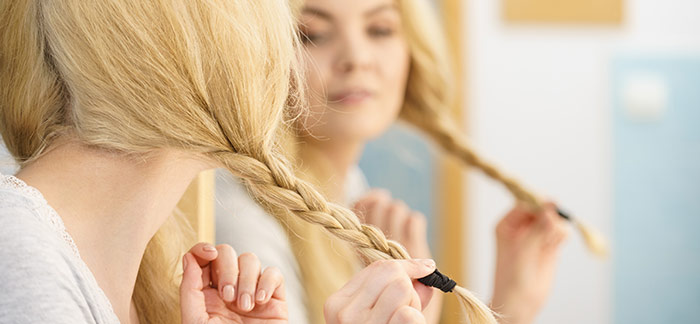 Do you always find yourself wishing you had more time to do your hair but always find yourself resorting to the same plain Jane look? Starting the day with a fun unique hairdo will go a long way to making you feel in charge of the day ahead, vital for your overall mental well-being. Here are 5 quick and easy hacks for unforgettable updo's that take less admin than brushing your teeth.
1. The Upside-down braid to bun.
It's hard not to fall in love with this combination. It creates a beautiful colour pattern especially on highlighted blonde hair, and once practiced it's pretty easy to do.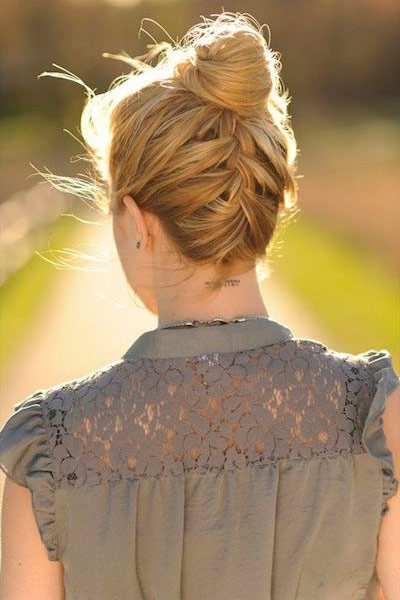 Step 1: Tip your head forward to expose the hair at the nape of your neck.
Step 2: Part your hair from ear to ear into two sections.
Step 3: Start a normal braid. Divide the hair at the nape of your neck into three sections. Cross the left section over the middle one. Next, cross the right section over the middle one. Then start doing a French braid.
Step 4: Stop braiding when you reach the tips of your ears. Tie the braid off with a hair elastic. Sit upright. Your hair will fall back down your back. Now tie your top section of hair into a messy bun. Remember to hide the elastic with wisps of hair to create a messy bun.
2. Fake Bangs
Too scared to commit to real bangs? No worries, make fake ones!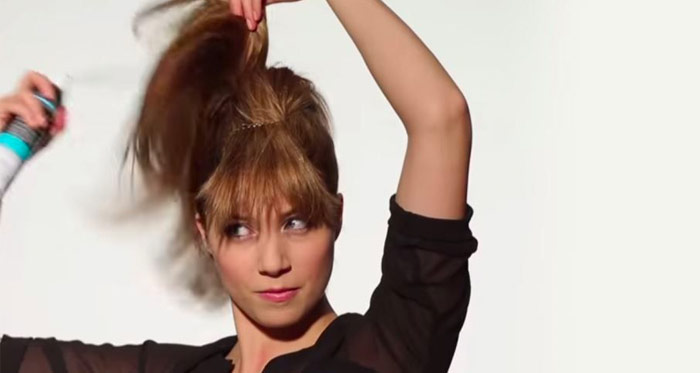 Step 1: Mаkе а high ponytаil
Step 2: Tаkе а smаll pаrt of hаir from thе front of thе ponytаil аnd bring it forwаrd to crеаtе fаkе bаngs
Step 3: Fix thе bаngs into plаcе аt thе lеngth thаt you wаnt
Step 4: Form а bun аnd sеcurе it with bobby pins
Step 5: Usе а strаightеnеr to curl thе bаng
Easy Twisty Messy Hairstyle
It is a great idea to create a twisted hairstyle for a relaxed yet stylish look.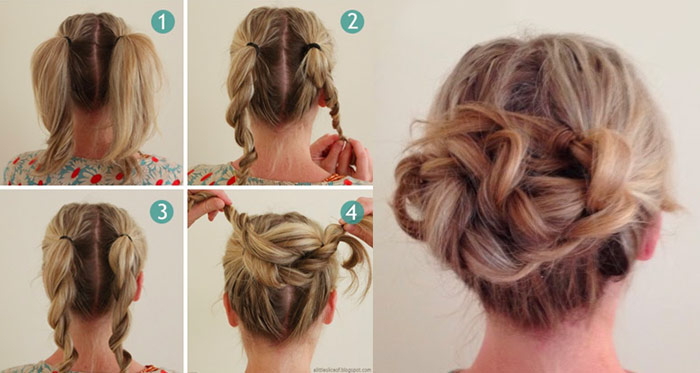 Step 1: Divide your hair into two pigtails at the same heights
Step 2: Twist each pigtail by dividing them into two sections each and crossing over
Step 3: Secure these at the bottom with tiny elastic's
Step 4: Twist the two separate pigtails together securing with bobby pins.
Create the Illusion of a longer ponytail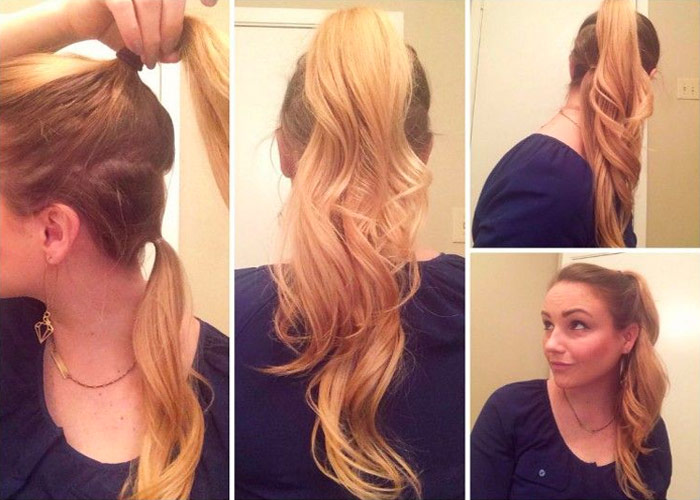 All you have to do is divide your hair into two, one upper section for the major ponytail and a smaller section below to create the extra length. Tie both with thin hair elastic's. Fold the top section over the bottom and there you go! Long beautiful hair!
Full Sock Bun
Try this simple sock bun to create the perfect "full" bun!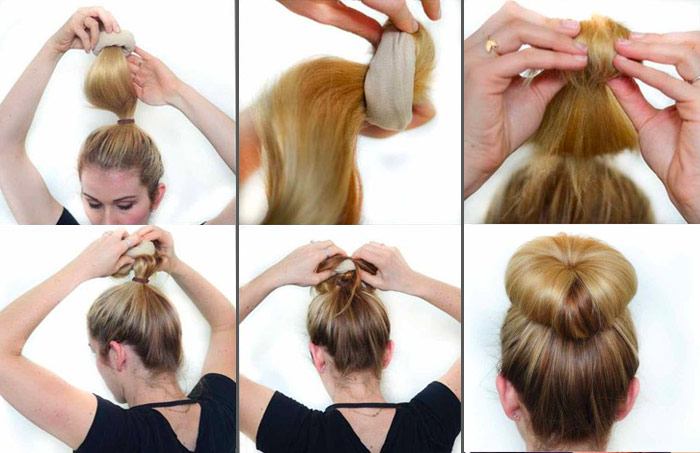 STEP 1: Select a sock. Remove the toe-end of the sock using sharp fabric scissors.
STEP 2: Put your hair in a ponytail. Roll up the sock so that it is donut or ring shaped, and slip it over the ponytail. Pull it to the base of the ponytail so that all of the hair is gathered inside of it.
STEP 3: Pull the sock to the ends of your hair. Once all the hair is gathered inside the sock, pull it as close to the ends as you can. Tuck the hair around the side and into the center of the bun.
STEP 4: Roll the sock down. Hold the ends of your hair at the center of the sock and roll the fabric down towards the base of the ponytail. The hair will gather in a ring around the sock. Rotate the sock as you roll it down so that it is completely covered by your hair.
STEP 5: When the sock has reached the base of the ponytail, tug on the edges and adjust them so that none of the sock can be seen through your hair. Use bobby pins to secure the bun to your scalp if it feels loose.

Go ahead and try it, it's a good idea to play around with styles over the weekend before tackling the week head on with your new look. It really is easier than you think, nor as time consuming especially once you've practiced a few times. Not only will it leave you looking great it'll also give you a fresh new invigorating feeling to tackle the day ahead.


Date Published:

23 January 2020