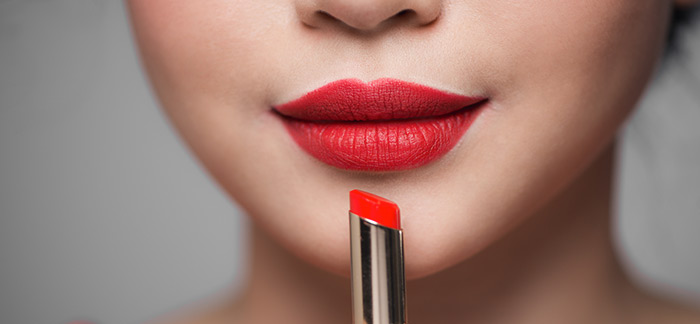 You walk into the makeup section of Clicks, determined to find the perfect lip colour, texture and finish to finish off your look. But it's all so overwhelming, where does one even start? We asked the biggest lipstick devotee we know to try a number of different lipsticks, lip glosses, and liquid lip gels. She spent 2 hours at Clicks and ended up with a hand covered in swatches of every colour and finish you can imagine.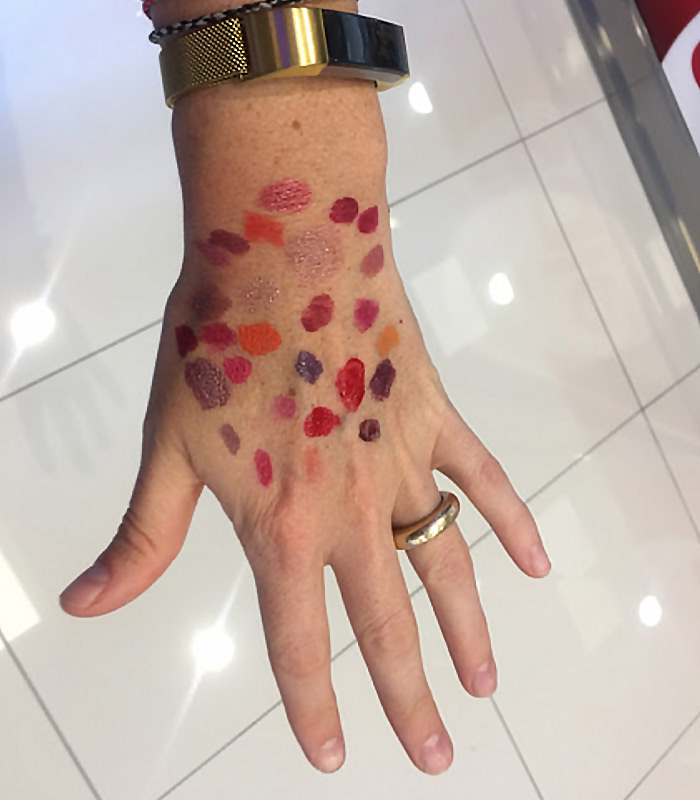 The result? 5 of her favourites.
Revolution Retrolux Matte Lip Kit

PRICE AT CLICKS: R124,95

From the lips that tried it: The Revolution Retrolux Matte Lip Kit comes with a lip gel and a lip liner pencil. The applicator of the lip gel is well designed, allowing for an easy and accurate application. Most lip gels are really sticky but this one has a great texture so that when you talk, your lips don't stick together. Phew! The texture is really velvety, and the lip gel stays put. You could probably go out for a night out, drink wine, eat a meal and only need one touch up. The colour we tried was "Royal" which is a deep plum colour. When it comes to dark colours, you really want the staying power, which this lip gel has. As for the lip liner pencil, the conclusion was "You don't really need it". The long lastingness of the lip gel stays put and has you covered for your night out.
Sorbet Get Glossy Lip Glo

PRICE AT CLICKS: R130,00

From the lips that tried it: DIVINE!
Our lipstick devotee loved everything about this one. The texture, the fresh florally smell and even the subtle glitter finish. A glitter finish runs the risk of looking quite young, something reserved for tweens. But this one has the perfect level of glitter, a subtle twinkle that adds a sophistication that any age can pull off. The colour we tried was "Honey Bunch" - a dirty pink colour that every makeup bag should be armed with. You also get a lot of product with this gloss (it's quite big) so you're getting really good value for money.
NYX Professional Makeup Lip Lingerie Liquid Lipstick

PRICE AT CLICKS: R159,95

From the lips that tried it: A matte powdery finish. Worn alone, it leaves you with a very solid matte colour that lasts as long as your friend's latest heartbreak story. A little trick our lipstick devotee has figured out is to mix the Liquid Lipstick with a dab of lip balm for a less solid finish and a subtler tint. The colour we tried was "Mauve" which is a blue based lip colour that works nicely on more yellow skin tones. Our lipstick devotee calls it "Icy Cold lips" - that berry blue lip colour that can usually only be achieved by a dip in the icy waters of Bakoven.
MAYBELLINE SUPERSTAY MATTE INK

PRICE AT CLICKS: R169,95

From the lips that tried it: The name of this one doesn't lie, it really is super stay. In fact, its staying power is so strong that you can't remove it with just water, you need a proper makeup remover to wake up with your natural lip colour. The shape of the arrow applicator gives you precise application, so that you can perfectly coat your cupid's bow, without colouring outside of the lines. The colour we tried was "Pioneer". And in our lipstick devotee's own words "This is the most classic red ever! It even gives MAC's top selling red a run for its money."
ESSENCE ULTRALAST INSTANT COLOUR LIPSTICK

PRICE AT CLICKS: R49,95

From the lips that tried it: This lipstick range leaves you with a light feathery feeling on the lips. The creamy texture is long lasting and won't dry out. Our lipstick devotee absolutely loved this one's buttery texture. Moisturising lipstick never really lasts that long so you do need to reapply this one a couple of times throughout the night. The trick with moisturising lipsticks is to go for lighter colours, as they do tend to bleed and let's be honest, a dark lipstick bleed is never a good look. (Unless it's Halloween). The colour we tried here was "07" - a natural berry pink that gives you that natural healthy lip hue. Think Natalie Portman first thing in the morning.



Whether your budget is R50 or R200, whether your preferred finish is matte or moisture, the next time you head to Clicks, try one of the above recommended lippies, knowing that they've been given the powdery pink light (aka the green light) by a lipstick devotee who never lets her lips go unnoticed.


Date Published:

25 February 2019