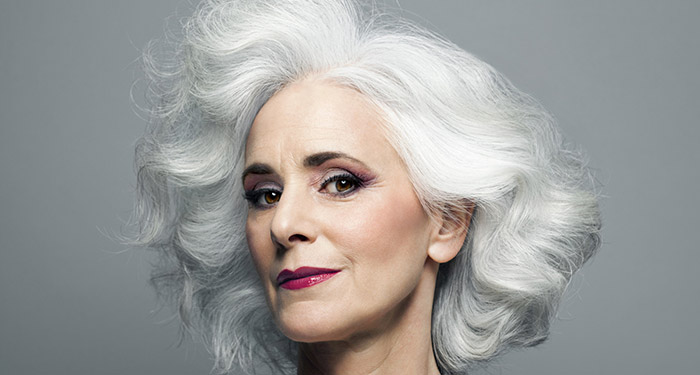 What does grey hair mean to you? For many women, the idea carries a host of negative associations – not least that it is a mark of ageing, which has become a swear word nowadays. For many, it also brings to mind the time-consuming and expensive routine required to cover up their greys, and the stress that surrounds it, described by one woman as a growing agitation, becoming full-blown mortification as regrowth appears and seemingly lengthens with each passing minute. It's hard not to feel this way when the underlying message from all directions has pretty much been: "ladies, hide that grey away!"
But recently, something has changed. Deborah da Silva, who decided a decade ago that she had had enough of the gruelling cover-up routine, says that initially, sporting her natural hue drew some disdain. Lately, however, she has had only compliments. A quick look online will tell you that not only is grey becoming more acceptable, it is in fact trending - even amongst youngsters who are nowhere near greying.
We are seeing people like Vogue's Sarah Harris, one of the few who grey long before their time who elected to flaunt it, alongside young celebs who are choosing to dye their hair grey, like Dascha Polanco from Orange is the New Black. Most impressive are public figures like Helen Mirren and Jamie Lee Curtis who rock their grey locks with pride on the red carpet and the pages of magazines. With role models like these, many more women are beginning to shrug off the negative connotations, and embrace going grey as a mark of inner strength and self-assurance.

Add to this the benefits of less time and money spent in the salon, and you too may be feeling inspired to ditch the cover-up routine and reveal that gorgeous grey underneath. Hairstylist Jean-Marie Fawell says there are a few things to keep in mind:
Cut is king. With grey hair, a modern cut is important – no bedraggled locks allowed, it's all about maintaining a definite style that makes you look dashing rather than dishevelled;
New shampoo and conditioner, please. A violet shampoo helps ward off the yellow tinge – especially if you are a smoker, spend significant time in the sun or have copper pipes at home. Also, look for a softening conditioner to help to offset the coarser texture of grey hair.
What does it take to transition to grey? Unfortunately, there is no quick fix: it is going to be a process, and it is going to test your resolve. But, then, nothing worthwhile comes without its share of sweat and toil. Here are a few things you can do to ease the transition:
Let it grow for as long as you can stand it, then head to your hairstylist for some highlights to help break that dreaded line that forms as your hair grows out;
Go lighter in colour to make the transition less severe;
Shorten those locks into a close, crisp hairstyle that will reduce the transition time.
Why bother? Barbara Barnes captures it well in her article, Grey Matters: "it touches many of us at levels deeper than the surface. It can force us to test personal resolve, question self-worth, and examine what makes us feel of value to others." And that personal growth is absolutely worth the effort.


Date Published:

11 June 2015