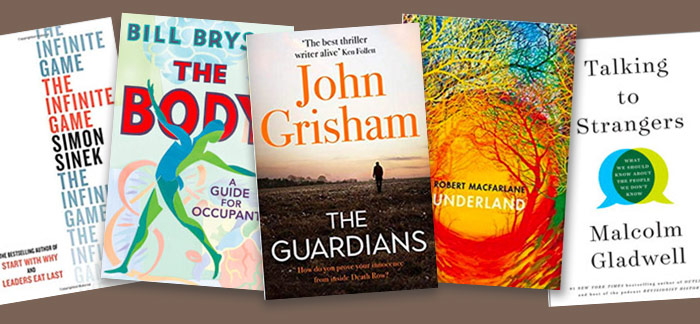 With the end of the year upon us, there's often a last minute scanning of the year's proverbial horizon to see if there's anything we didn't get to experience, or any knowledge we should probably acquire before the year closes out and we miss an opportunity to be up to speed and in the know regarding current affairs, or casual conversations about what's on trend in general. Books are one of the best ways to get in on some of this intellectual action and here are our top five picks for 2019.
For the leader at heart
The Infinite Game, Simon Sinek

In finite games, like football or chess, the players are known, the rules are fixed, and the endpoint is clear. The winners and losers are easily identified.

In infinite games, like business or politics or life itself, the players come and go, the rules are changeable, and there is no defined endpoint.

Sinek identifies the struggles that most organisations face as being a result of finite mindsets operating in an infinite game. Such organisations lag behind in innovation, discretionary effort, morale and performance.

The leaders who embrace an infinite mindset, in stark contrast, build stronger, more innovative, more inspiring organizations.

The ability to adopt an infinite mindset is a prerequisite for any leader who aspires to leave their organisation in better shape than they found it.
---
For anyone who is interested in being human
The Body: A Guide for Occupants, Bill Bryson

For the first time, prize-winning author Bryson explores the human body, how it functions and its remarkable ability to heal itself. Full of extraordinary facts and astonishing stories, The Body: A Guide for Occupants is a brilliant, often very funny attempt to understand the miracle of our physical and neurological make up.

A wonderful successor to A Short History of Nearly Everything, this book will have you marveling at the form you occupy, and celebrating the genius of your existence, time and time again.
---
For the Netflix addict taking a break from the screen
The Guardians, John Grisham

Quincy was framed, convicted, and sent to prison for life. For twenty-two years he languished in prison with no lawyer, no advocate on the outside. Then he wrote a letter to Guardian Ministries, a small innocence group founded by a lawyer/minister named Cullen Post.

Guardian handles only a few innocence cases at a time, and Post is its only investigator. He travels the South fighting wrongful convictions and taking cases no one else will touch. With Quincy Miller, though, he gets far more than he bargained for. Powerful, ruthless people murdered Keith Russo, and they do not want Quincy exonerated.

They killed one lawyer twenty-two years ago, and they will kill another one without a second thought.
---
For anyone intrigued by the mysteries of our planet and anthropological evolution
Underland: A Deep Time Journey, Robert Macfarlane

From "the great nature writer of this generation" comes an epic exploration of the Earth's underworlds as they exist in myth, literature, memory, and the land itself.

Global in its geography and written with great lyricism and power, Underland speaks powerfully to our present moment. Taking a deep-time view of our planet, Macfarlane here asks a vital and unsettling question: "Are we being good ancestors to the future Earth?" Underland marks a new turn in Macfarlane's long-term mapping of the relations of landscape and the human heart. From its remarkable opening pages to its deeply moving conclusion, it is a journey into wonder, loss, fear, and hope. At once ancient and urgent, this is a book that will change the way you see the world.
---
For lessons in decoding human behaviour
Talking to Strangers: What We Should Know About the People We Don't Know, Malcolm Gladwell

How do we make sense of the unfamiliar? Why are we so bad at judging someone, reading a face, or detecting a lie? Why do we so often fail to 'get' other people?

Read about the spy who spent years undetected at the highest levels of the Pentagon, the man who saw through the fraudster Bernie Madoff, the suicide of the poet Sylvia Plath and the false conviction of Amanda Knox. You will discover that strangers are never simple.
---



Go 'book in' some time to read, reflect and rest with new ideas and inspiration to take you into 2020 and beyond.


Date Published:

11 December 2019