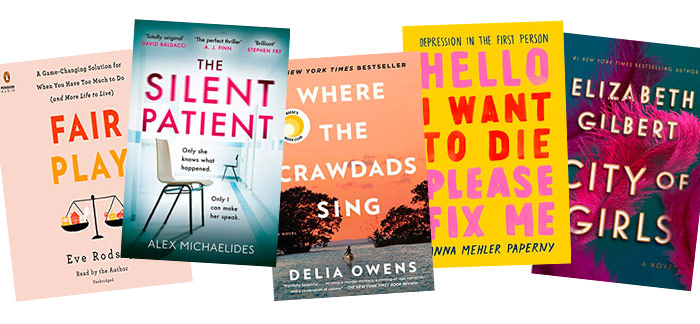 The end of the year brings the promise of some work-free time, which means luxuriating in reading on the beach, in the pool on a lilo, on the couch or in a cottage in the mountains - anywhere really will do. If you're feeling out of the reading-loop and don't have a bookclub that keeps you up to date on the year's hottest titles, here are our top five recommendations to bring you back to the book party.
For the love of a psychological thriller
The Silent Patient, Alex Michaelide

Alicia is a famous painter married to an in-demand fashion photographer. One evening her husband Gabriel returns home late from a fashion shoot, and Alicia shoots him five times in the face, and then never speaks another word.
Alicia's refusal to talk, or give any kind of explanation, turns a domestic tragedy into something far grander, a mystery that captures the public imagination and casts Alicia into notoriety. The price of her art skyrockets, and she, the silent patient, is hidden away from the tabloids and spotlight at the Grove, a secure forensic unit in North London.
Criminal psychotherapist Theo Faber, has waited a long time for the opportunity to work with Alicia. His determination to get her to talk and unravel the mystery of why she shot her husband takes him down a twisting path into his own motivations—a search for the truth that threatens to consume him.
---
For women who have allowed themselves the freedom to be whom they truly are
City of Girls, Elizabeth Gilbert

It's the 1940s and nineteen-year-old Vivian Morris has just been kicked out of Vassar College, owing to her lackluster freshman year performance. Her affluent parents send her to Manhattan to live with her Aunt Peg, who owns a flamboyant, crumbling midtown theater. There Vivian is introduced to an entire cosmos of unconventional and charismatic characters, from the fun-chasing showgirls to a sexy male actor, a grand-dame actress, a lady-killer writer, and no-nonsense stage manager. But when Vivian makes a personal mistake that results in professional scandal, it turns her new world upside down in ways that it will take her years to fully understand. Ultimately, though, it leads her to a new understanding of the kind of life she craves-and the kind of freedom it takes to pursue it. It will also lead to the love of her life, a love that stands out from all the rest.
Now ninety-five years old and telling her story at last, Vivian recalls how the events of those years altered the course of her life. City of Girls is a love story unlike any other, gifting the reader with pearls of wisdom about desire and human connection.
---
So you're able to comment on the most talked about book in book clubs over the past two year
Where the Crawdads Sing, Delia Owen

Where the Crawdads Sing is at once an exquisite ode to the natural world, a heartbreaking coming-of-age story, and a surprising tale of possible murder. Owens reminds us that we are forever shaped by the children we once were, and that we are all subject to the beautiful and violent secrets that nature keeps.
---
For the peacemaker in the family
Fair Play, Eve Rodsky

A revolutionary, real-world solution to the problem of unpaid, invisible work that women have shouldered for too long.

Fair Play is a time and anxiety-saving system that offers couples a completely new way to divvy up domestic responsibilities. Rodsky interviewed more than five hundred men and women from all walks of life to figure out what the invisible work in a family actually entails and how to get it all done efficiently. With four easy-to-follow rules, 100 household tasks, and a figurative card game you play with your partner, Fair Play helps you prioritize what's important to your family and who should take the lead on every chore from laundry to homework to dinner.
---
For insight into one of the most prevalent conditions of the human mind today
Hello I want to Die Please Fix Me: Depression in the First Person

A vibrant, compelling memoir from a remarkable young woman who bravely reveals the real-life havoc wrought by depression and the urgent search for solutions. In her early twenties, while outwardly thriving in her dream job and enjoying warm familial support and a strong social network, award-winning journalist Anna Mehler Paperny found herself trapped by feelings of failure and despair. Her first suicide attempt landed her in the ICU, followed by weeks of enforced detention that ran the gamut of horrifying, boring, hilarious, and absurd. This was Anna's entry into the labyrinthine psychiatric care system responsible for providing care to millions of Canadians.
Anna reveals in courageously frank detail her own experiences with the pharmacological pitfalls and side effects of long-term treatment, and offers moving case studies of conversations with others, opening wide a window into how we treat (and fail to treat) the disease that accounts for more years swallowed up by disability than any other in the world.
---


Happy reading, relaxing and reeling in food for thought, topics for conversation and inspiration for the year ahead.


Date Published:

09 December 2019