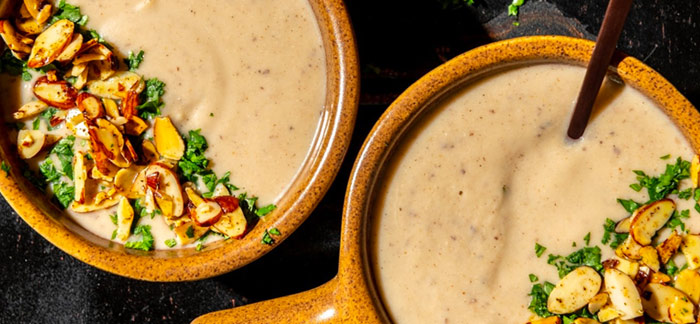 Our favourite time of the year is here: soup season! The winter months have arrived and there is nothing more comforting than a hearty bowl of your favourite combination. To spruce up your slow cooker this year, we've blended together deliciousness with these intensely creamy, bright and flavourful recipes. These are not your average everyday soups, so get excited, with just a little bit of extra effort everyone will be back for more.
1. Harissa-Spiced Cauliflower-Almond Soup
This recipe is great as it's dairy free so the flavours are full and zesty. Almonds toasted in olive oil with harissa serve double duty here, first as a base for the flavour-packed veggy base and then as a garnish that adds contrasting texture. Simmered and pureed with tender cauliflower, the nuts add a unique richness and body. If you own an immersion blender, the soup can be pureed directly in the pot.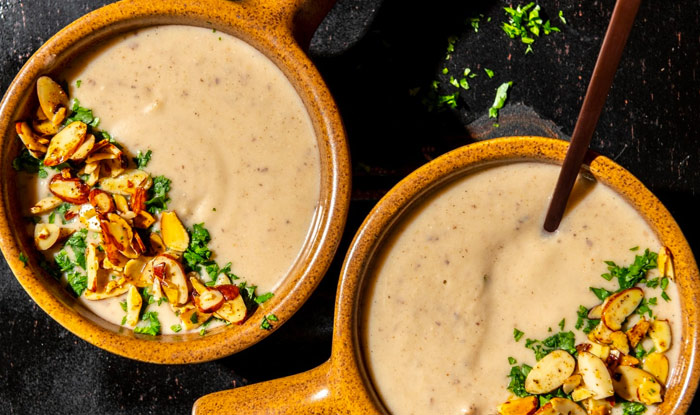 Ingredients:
½ cup extra virgin olive oil
1½ cups sliced almonds
2 tablespoons harissa spice (available at woolies)
1 medium yellow onion, chopped
2½ head cauliflower, trimmed and cut into chunk
Kosher salt
¼ cup lemon juice
1 cup lightly packed fresh coriander, chopped
In a large pot, cook the oil, almonds, and harissa, stirring, until the oil bubbles. Set aside ½ cup of the mixture. Add the onion and cauliflower to the pot. Cook, stirring, until the cauliflower begins to soften. Add 7 cups water and 1 tablespoon salt, then boil. Cover and cook until fully tender. Use a blender to puree in batches, then return to the pot. Add the lemon juice and reheat. Season with salt. Serve topped with the coriander and the reserved almond mixture.
2. Creamy Zucchini and Pumpkin Seed Soup
This soup gets its richness from toasted pumpkin seeds that are simmered then pureed with zucchini; together they yield a silky, velvety texture. Fresh dill and lemon zest lift and brighten the flavours.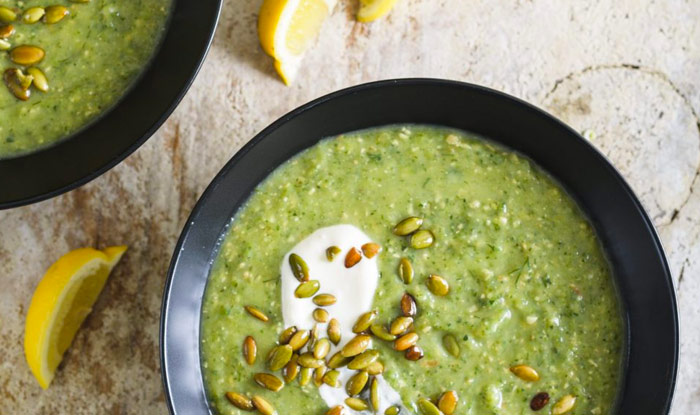 Ingredients:
3 tablespoons extra virgin olive oil or pumpkin seed oil
1 cup raw pumpkin seeds
1 medium yellow onion, halved and thinly sliced
Kosher salt and ground black pepper
2 tablespoons all-purpose flour
1 kg zucchini, trimmed, halved lengthwise, and cut into pieces (7 cups)
1 bunch fresh dill, stems and leaves chopped, reserved separately
4 cups low-sodium vegetable or chicken broth
1 teaspoon grated lemon zest, plus 1 lemon cut into wedges
Crème fraîche, to serve (optional)
In a large Dutch oven over medium heat, combine the oil and pumpkin seeds. Cook, stirring often, until fragrant and lightly toasted, about 5 minutes. Set aside. To the pot over medium heat, add the onion and 1 teaspoon salt. Cook, stirring occasionally, until softened but not browned, 5 to 8 minutes. Add the flour and cook, stirring constantly, until evenly moistened, about 1 minute. Add the zucchini and dill stems, stirring well, then stir in the broth and 2/3 cup of the toasted pumpkin seeds. Bring to a boil over medium-high heat, then reduce to medium and cook, uncovered and stirring, at a vigorous simmer, until the zucchini is translucent, 5 to 10 minutes. Remove the pot from the heat and cool for 5 minutes. Using a blender and working in batches so the jar is never more than half full, puree until smooth; transfer each batch to a large bowl. Wipe out the pot, then pour in the puree. Cook over low, stirring often, until heated through, about 5 minutes. Remove from the heat, stir in the dill leaves and lemon zest, then taste and season with salt and pepper. Ladle the soup into bowls, dollop with crème fraîche (if using), and sprinkle with the remaining 1/3 cup pumpkin seeds. Serve with lemon wedges. NB
Avoid overcooking the zucchini.
3. Classic Borscht Recipe (Beet Soup)
The dominant tastes in borscht are sweet and sour. In this variation, the sweetness comes from a medley of root vegetables (beet, carrot, red potato) and purple cabbage. Sourness comes from red wine vinegar, which really balances the sweet.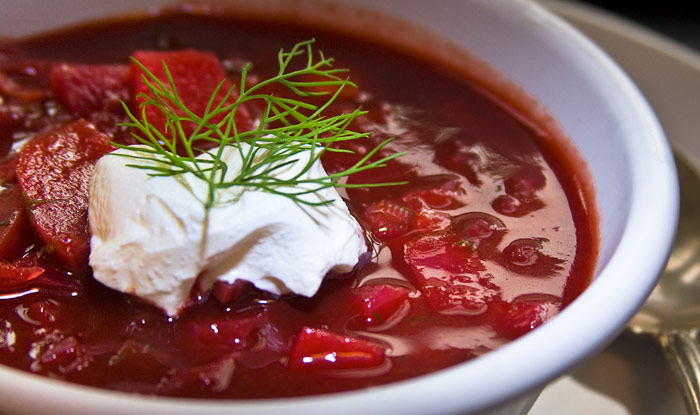 Ingredients:
For Borscht:
3 medium beets peeled and grated
4 tbsp olive oil divided
8 cups chicken broth + 2 cups water
3 medium potatoes peeled and sliced into bite-sized piece
2 carrots peeled and thinly sliced
For Zazharka:
2 celery ribs trimmed and finely chopped
1 small red bell pepper finely chopped, optional
1 medium onion finely chopped
3 tbsp tomato sauce
Additional Flavourings:
1 can white cannelini beans with their juice
2 bay leaves
2-3 tbsp white vinegar or to taste
1 tsp ea salt or to taste
1/4 tsp black pepper freshly ground
1 large garlic clove pressed
3 tbsp chopped dill
Method:
Peel, grate and/or slice all vegetables (keeping sliced potatoes in cold water to prevent browning until ready to use then drain). In a large soup pot add 2 tbsp olive oil. Add grated beets and sauté 10 minutes, stirring occasionally until beets are softened. Add 8 cups broth and 2 cups water. Add sliced potatoes and sliced carrots then cook for 10-15 minutes or until easily pierced with a fork. While potatoes are cooking, place a large skillet over medium/high heat and add 2 tbsp oil. Add chopped onion, celery and bell pepper. Sauté stirring occasionally until softened and lightly golden (7-8 minutes). Add 4 tbsp tomato sauce and stir fry 30 seconds then transfer to the soup pot to continue cooking with the potatoes. When potatoes and carrots reach desired softness, add 1 can of beans with their juice, 2 bay leaves, 2-3 tbsp white vinegar, 1 tsp salt, 1/4 tsp black pepper, 1 pressed garlic clove, and 3 tbsp chopped dill. Simmer for an additional 2-3 minutes and add more salt and vinegar to taste.
4. Cream of Pistachio Soup
Nutty, creamy, and savory, this recipe is the epitome of cozy.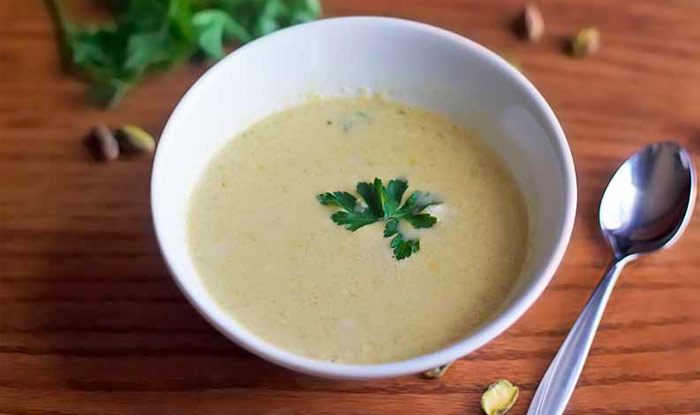 INGREDIENTS
1 1/4 cups shelled, roasted unsalted pistachios, divided
1 medium shallot, diced (about ¼ cup)
1/2 cup chopped celery
1 clove garlic, minced
2 tablespoons unsalted butter
2 tablespoons olive oil
2 tablespoons dry sherry
6 cups vegetable broth
1/4 cup uncooked brown rice
4 tablespoons finely chopped fresh parsley, divided
½ cup light cream
½ cup milk
Salt, to taste
Freshly ground black pepper, to taste
Remove pistachio skins and set aside. Place a large pot over medium heat and add oil. Once oil is hot, reduce heat to low and add the diced shallot and celery. Cook for 8 minutes, or until vegetables are softened, stirring occasionally. Add garlic and cook another 2 minutes, stirring occasionally until fragrant. Add the sherry, 1 cup pistachios, broth, rice, and 2 tablespoons parsley to the pot. Bring to a boil, then reduce the heat, cover, and simmer until rice is tender, about 25 minutes. Add the cream and milk and stir over medium-low heat until hot, about 5 minute. Using a countertop or immersion blender, blend until smooth. For a smooth consistency, pour through a wire mesh strainer and discard any large pieces. Return to the pot. If soup has cooled, reheat on the stove over medium heat for about 3-5 minutes. Taste and add salt and pepper if needed. Chop the remaining pistachios. Pour soup into individual bowls and garnish with chopped pistachios and parsley. Enjoy immediately. Leftovers will keep in the fridge for up to 5 days.
5. Latvian Rye Bread Dessert Soup
Soup for dessert? Yes please!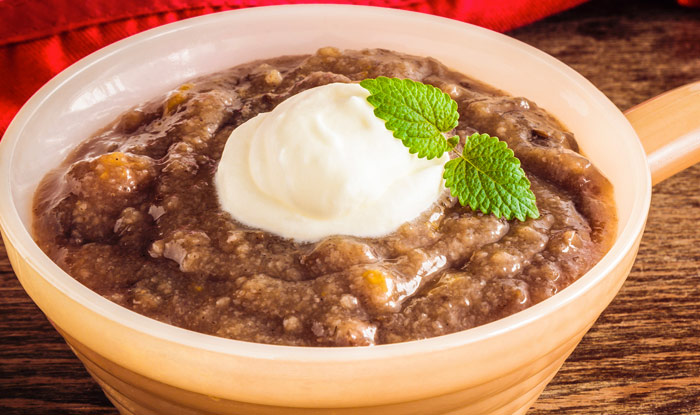 Ingredients:
120g of rye bread
Raisins, dried apricots, prunes, cranberries sliced ​​to same size (60g)
1 tsp of cinnamon
Sweetener, sugar, or honey according to preferred taste (or 1 tbsp)
500ml of water
Dry and slightly toast the bread slices under medium low heat or in an oven at around 160 degrees. Pour boiling water over the dried bread and let it soak for 20 min. With a fork mash the soaked bread. Add the dried fruits, cinnamon, and sweetener. You can add some fresh lemon juice to add some zest and sourness. Cook the mix on low heat for 5-10 minutes. Stir often while on heat. The soup should be thick but if necessary, add a little bit of water to fix the consistency. Let it cool before serving. You can add whipped cream or natural/Greek yogurt for extra creaminess.










Soups are like a comfort zone, sometimes it's nice to have some fun in the kitchen and test out unusual recipes with a twist. The added benefit of these is they are packed with healthy Winter vegetables. If you happen to try any give us a thumbs up if your taste buds welcomed them happily.








Date Published:

15 June 2021