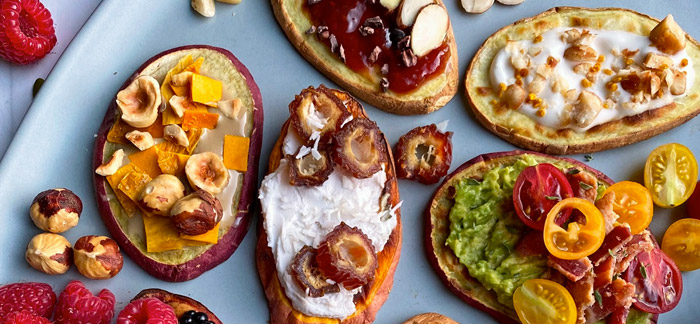 You know that breakfast is the most important meal of the day! If you're tired of your usual go-to menu, focus on baked breakfasts that are just as tasty and nourishing for your body.
It's important to start your day well by eating something good for your body to keep you sustained for the day without snacking. A protein-rich breakfast helps control your appetite, and you'll want to munch on less fatty or sugary foods in the evening too as a result.
Mornings are often rushed and stressful, but you can still eat well, even if it's on the run. Improved energy, boosted brainpower, healthy skin and overall better food choices are just some of the benefits of a healthy breakfast.
Here are four tasty and healthy baked breakfast ideas to try. By preparing before the week starts, you can then just grab these home-baked breakfasts and enjoy them as you go.
Banana bread mug cake
(Servings: 1 | Preparation time: 1 minute | Cook time: 3 minutes)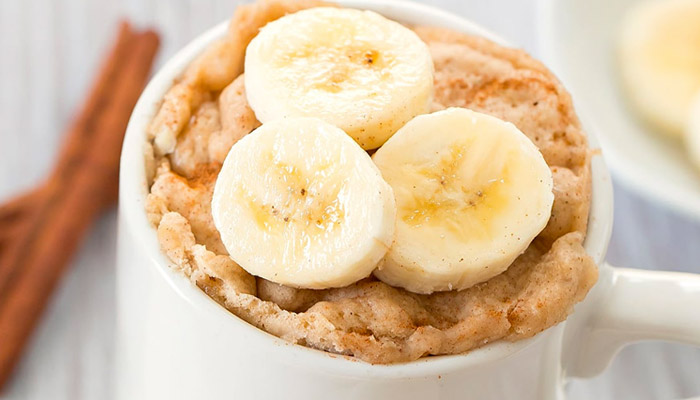 With 350 calories and 40g of protein, this delectably warm banana bread is a quick, nutritious breakfast to enjoy with your coffee. The bonus? Bananas are a natural source of energy and vitamin C, plus egg whites are packed with protein but low in calories, cholesterol and fat.
Ingredients:
1 banana (keep some for the topping)
50g Cottage Cheese/yogurt
2 (50g) egg white
30g oat flour
¾ scoop (+-25g) protein of choice
1 teaspoon cacao (not essential, but highly recommended)
Instructions:
Simply add everything together, mixing well.
Transfer it to a greased bowl, heat in the microwave for 2-3 minutes.
Top with the remaining banana and enjoy!
---
Sweet potato toast
(Servings: 4 pieces | Preparation time: 5 minutes | Cook time: 12 minutes)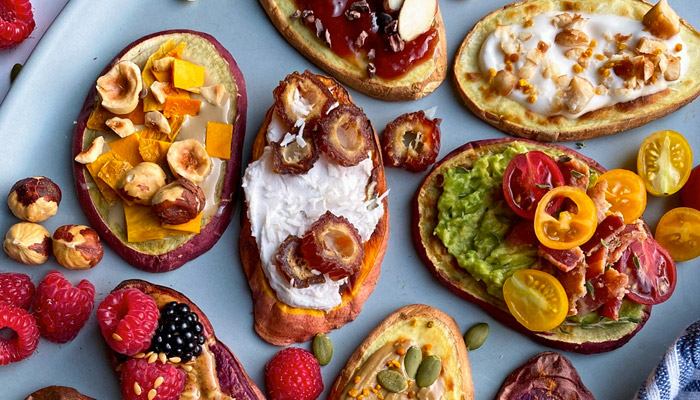 Baked either in the oven or your toaster, sweet potato toast is a healthy alternative to your daily bread. Top with an egg or avocado, cheese and rocket, or try it with banana, peanut butter and chia seeds or chicken, pickled onion and pesto. It's delectable and filling as a breakfast, lunch or snack… and it's gluten-free!
Ingredients:
1 large orange (jewel) sweet potato
Olive oil spray
Salt and pepper to taste
Instructions:
Slice the sweet potato lengthwise with the skin on, approximately 1cm thick, making 4-5 slices.
Spray the slices with olive oil, seasoning with salt and pepper.
In the oven:
Preheat your oven to 180°C.
Place the sweet potato slices on a lined baking tray, transferring to the over for 12-15 minutes until fork tender, but not too soft.
Allow the slices to rest on a wire rack for a few minutes to avoid them becoming soggy, then add your preferred topping and devour!
In the toaster:
Put slices in your toaster on a medium setting.
Depending on your toaster strength, you'll need to push down the lever roughly 4 times, until the sweet potato is fork tender but not too soft.
Allow the slices to cool on a wire rack before adding your topping/s.
---
Healthy egg muffin cups
(Servings: 12 muffins | Preparation time: 10 minutes | Cook time: 15 minutes)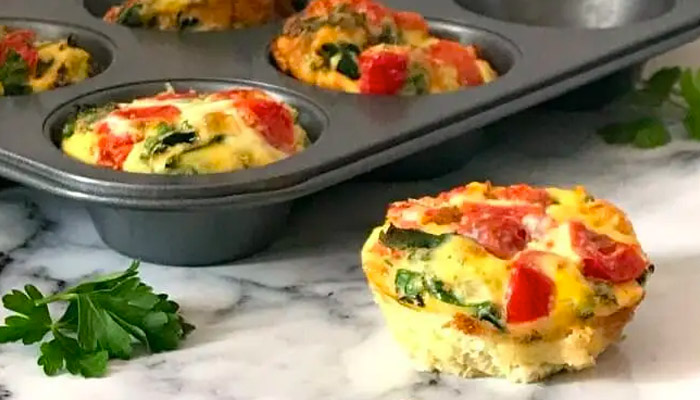 A mini 'quiche' in a cup for less than 50 calories per serving! Not only are these egg muffins easy to make in advance, but they're also packed with vegetables and the perfect accompaniment to a slice of seed bread toast, a cup of coffee or simply enjoyed as is.
Ingredients:
2 cups baby spinach (roughly chopped, measured after chopping)
1 cup mushrooms (measured/packed before chopping)
4 whole egg
4 egg white
2 cloves garlic (crushed)
1 tablespoon olive oil
1 cup brown onion (measured after chopping)
1 cup green pepper (measured after chopping)
1 cup red pepper (measured after chopping)
Salt to taste
Instructions:
Preheat your oven to 180°C.
Grease a standard non-stick muffin pan with cooking spray, setting aside.
Heat a large non-stick frying pan over medium heat. Once hot, add in green pepper, red pepper, oil and onion, sautéing for 5-7 minutes or until the peppers are tender.
Add in the mushrooms and spinach, cooking for an extra 2 minutes. In the last 30 seconds, add in the crushed garlic. Season with salt, removing from heat.
Crack eggs/egg whites into a large measuring cup, whisking together.
Stir in the cooked vegetables, pouring the vegetable mixture evenly into the prepared muffin pan.
Bake for 15-20 minutes, or until the tops are firm to the touch and the eggs are cooked.
Cool slightly and enjoy immediately.
Tip: Refrigerate in an airtight container for maximum four days, or freeze to retain freshness. To reheat them, simply warm them in the microwave.
---
Healthy granola
(Servings: 8 cups | Preparation time: 5 minutes | Cook time: 21 minutes)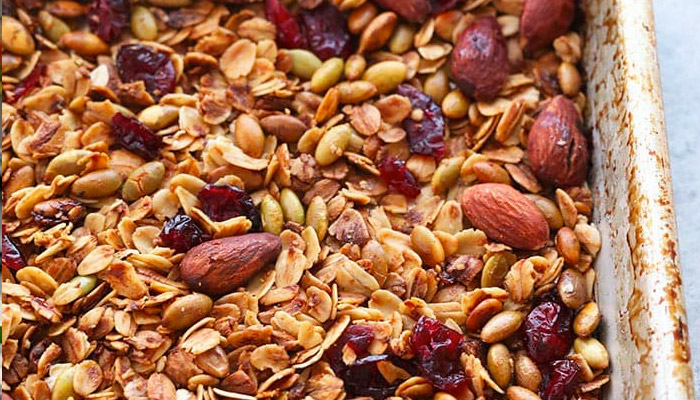 No need to give up your daily bowl of favourite granola. With this naturally sweetened recipe you can make your own healthy version to enjoy with double cream yogurt or fruit as a tantalising breakfast treat! What's more? Cranberries are a highly nutritious and antioxidant superfood, while pumpkin seeds are an excellent source of protein and unsaturated fats.
Ingredients:
4 cups rolled oats (use gluten-free for gluten-free granola)
1 ½ cups raw nuts and/or seeds (e.g. 1 cup pecans, ½ cup pumpkin seeds)
⅔ cups dried fruit (e.g. cranberries, chopped if large)
½ cup chocolate chips/coconut flakes (optional)
1 teaspoon sea salt
1 teaspoon vanilla extract
½ teaspoon ground cinnamon
½ cup melted coconut oil/olive oil
½ cup maple syrup/honey
Instructions:
Preheat your oven to 180°C, lining a large, rimmed baking sheet with baking paper.
In a large mixing bowl, combine the cinnamon, nuts and/or seeds, oats and salt, stirring to blend.
Pour in the maple syrup and/or honey, oil and vanilla, mixing well, until every nut and oat is lightly covered. Pour the granola onto your prepared pan, using a large spoon to spread it into an even layer.
Bake until lightly golden, approximately 21-24 minutes, stirring halfway. (Tip: For extra-clumpy granola, press the stirred granola down with your spatula, creating a more even layer.) The granola will crisp more as it cools.
Allow the granola to cool completely, undisturbed (for minimum 45 minutes).
Top it with dried fruit and optional chocolate chips, if desired. For big chunks, break the granola into pieces with your hands, or stir it around with a spoon for less clumpy granola.
Store the granola in an airtight container at room temperature for 1-2 weeks, or freeze in a sealed freezer bag for maximum 3 months. (Tip: The dried fruit can freeze solid, so allow it to thaw to room temperature for 5-10 minutes before serving).






Get inspired and see breakfast differently! To save yourself time, pre-plan for your week, so that when Monday comes, you're all set with deliciously nutritious baked breakfasts to enjoy and energise you throughout your day.





Date Published:

01 September 2021