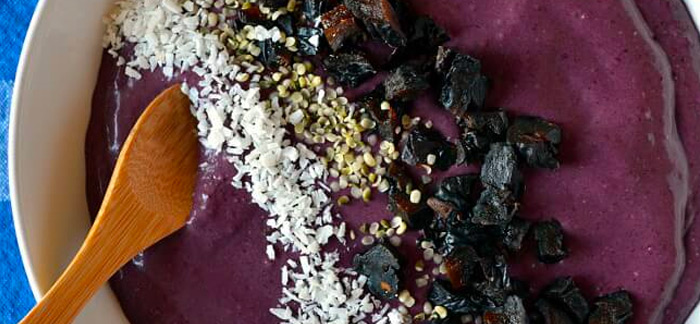 gluten-free, dairy-free, vegan, soy-free, egg-free, nut-free
Recipe type:
Breakfast
Serves:
1
Ingredients
¾ cup frozen blackberries
½ cup coconut milk
¼ cup water
4 prunes, soaked in warm water for 10 minutes (this helps them to blend easily)
2 tbsp wheat-free oats
2 tsp sunflower seed butter
¼ tsp cinnamon
¼ tsp ginger
Handful of spinach (optional)
To serve: additional chopped prunes, shredded coconut and hemp seeds (optional)
Instructions
Add all ingredients, except for the toppings, to a blender. Blend until smooth.
Add more liquid if needed, but be conservative – you still want the smoothie bowl to be thick and spoonable.
Pour the smoothie into a bowl and sprinkle with desired toppings.




Date Published:

26 February 2019