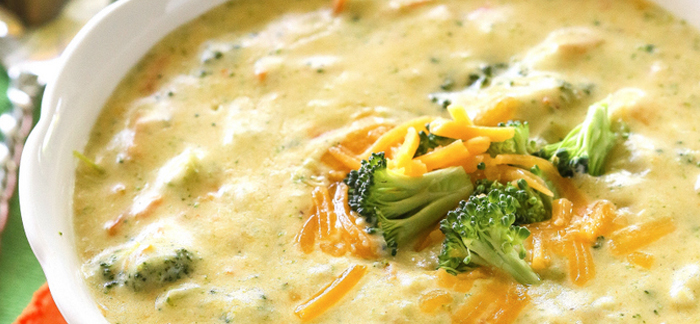 Prep time 10 min
Cook time 25 min
Total time 35 min
Serves: 6 serving
Ingredients
1 tablespoon melted butter
1⁄2 medium chopped onion
1⁄4 cup melted butter
1⁄4 cup flour
1 cup cream
1 cup milk
2 cups chicken stock
3 cups fresh broccoli, chopped into bite size piece
1 cup carrot, julienned
1⁄4 teaspoon nutmeg
2 cups grated sharp cheddar cheese
salt and pepper
Instructions
Sauté onion in 1 tablespoon of butter. Set aside.
Cook the ¼ cup melted butter and flour using a whisk over medium heat for 2-3 minutes. Stir constantly and add the half & half.
Add the chicken stock and simmer for about 10 minutes.
Add the broccoli, carrots and reserved onions. Cook over low heat 20-25 minutes.
Add salt and pepper. You can leave the soup chunky or blend about 1 cup of the soup and stir it in for a smoother soup (that's what I did). Return to low heat and add the cheese. If your heat is too high your soup can get grainy. Stir in the nutmeg.
Serve with crusty bread.
Healthy Ingredients



Broccoli contains a good amount of vitamin B2. A deficiency of vitamin B2 can make the eyes highly sensitive to light, which can cause inflammation, blurred vision and ocular fatigue. Vitamin B2 also plays a role in preventing cataracts or delaying their progress.

Broccoli also contains powerful phytochemical antioxidants, such as lutein and zeaxanthin, and vitamin A that are essential for healthy eyesight.

Carrots contain a lot of beta-carotene, which is a precursor for vitamin A. Vitamin A prevents night blindness, helps maintain a healthy and clear cornea, and protects the cells in your eyes and throughout your body.

Carrots also contain lutein, which helps increase pigment density in the macula, the oval-shaped yellow spot near the center of the retina.





Date Published:

29 June 2016