Tarts or quiches as known in South Africa are always quick and easy to knock up for dinner and can often be packed with healthy proteins and vegetables depending which recipe you use.
Below we share 5 classic crustless quiches, not only do you get the added benefit of the rich flavours but lowering your carb (mostly found in the crust) intake can decrease blood triglyceride levels and aid blood sugar control.
1. Pepperoni Pizza Keto Crustless Quiche
We highly recommend this as a breakfast option or as a healthy alternative for when you're craving pizza.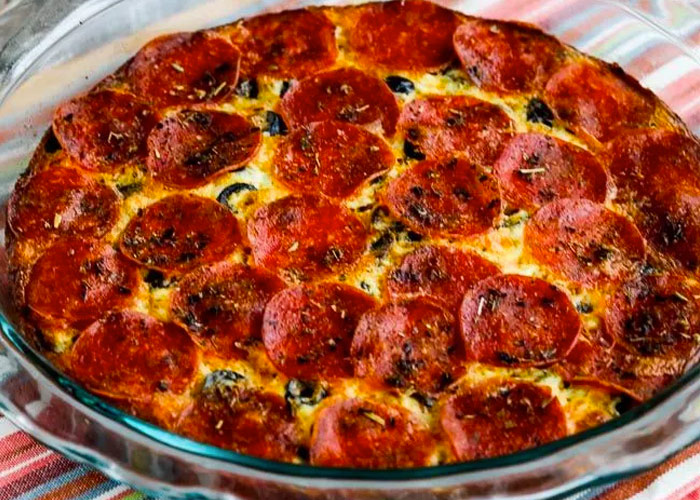 Ingredients:
240 grams sliced mushrooms
2 tsp. olive oil (for browning mushrooms)
360 grams can sliced black olives, drained well (Olives are optional but they're good if you like olives on pizza)
1 cup shredded Mozzarella cheese
1 cup shredded Italian Blend cheese
1 tsp. + 1/2 tsp. Italian herbs
4 eggs, beaten well
1/2 cup heavy cream
1/4 tsp. garlic powder
60 grams sliced pepperoni
Directions:
Preheat oven to 200 C. Spray a 30 cm glass pie dish with non-stock spray.
Heat the olive oil in a non-stick frying pan.
Add the sliced mushrooms and cook over medium-high heat until mushrooms release the liquid, the liquid evaporates, and mushrooms are cooked and lightly brown.
While mushrooms cook, dump olives into a colander placed in the sink and let them drain well.
Combine the Mozzarella and Italian Blend Cheese in a bowl and sprinkle over the 1 tsp Italian herbs. Stir the cheese with a fork so the dried herbs are evenly distributed in the cheese. Place the cheese in the pie dish.
Beat the eggs with a fork, then mix in the heavy cream and the garlic powder.
Mix the egg/cream mixture into the cheese in the pie dish, stirring well with a fork until all the cheese is completely coated with the egg mixture.
Make a layer of browned mushrooms on top of the cheese/egg mixture. Top that with the sliced olives if using.
Arrange the pepperoni slices in an overlapping layer over the top of the mushrooms and olives. Sprinkle with the other 1/2 teaspoon of Italian Herb
Bake the quiche 30-35 minutes, or until the eggs are completely set and the pepperoni is starting to brown.
Let quiche cool 3-5 minutes (it will sink down slightly as it cools. Serve hot.
This will keep for several days in the refrigerator and reheats well in the microwave or in a pan on the stove.
---
2. Crustless Salmon Quiche
Just the name of it has us celebrating. The flavours are outstanding.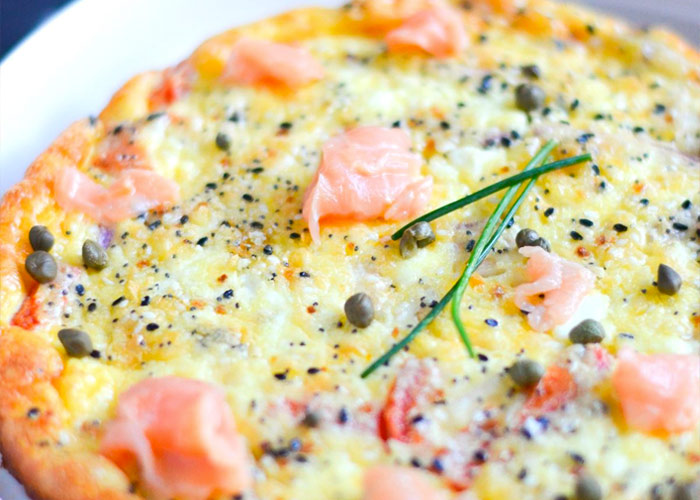 Ingredients:
213 g can salmon
5 eggs
2 cups milk
1⁄2 cup almond flour
1⁄2 teaspoon salt
1⁄3 cup dill relish
1 1⁄2 cups shredded cheddar cheese (or Swiss)
1⁄2 cup grated parmesan cheese
1⁄4 cup chopped green onion
Directions:
Drain salmon, reserving liquid. In blender combine salmon liquid, eggs, milk, flour, and salt. Blend until smooth. Pour into a greased deep 30 cm pie dish.
Sprinkle salmon, relish, cheeses, and onion on top, pressing in lightly to coat cheese with egg mixture. Bake @200 C 25-35 min until set and golden.
Let stand 5 min before serving.
---
3. Crustless Pumpkin Pie
Besides the fact that it's the perfect comfort combination, pumpkin is extremely rich in minerals and antioxidants. Its nutrients boost your immune system, protect your eyesight, lower your risk of certain cancers and promote heart and skin health.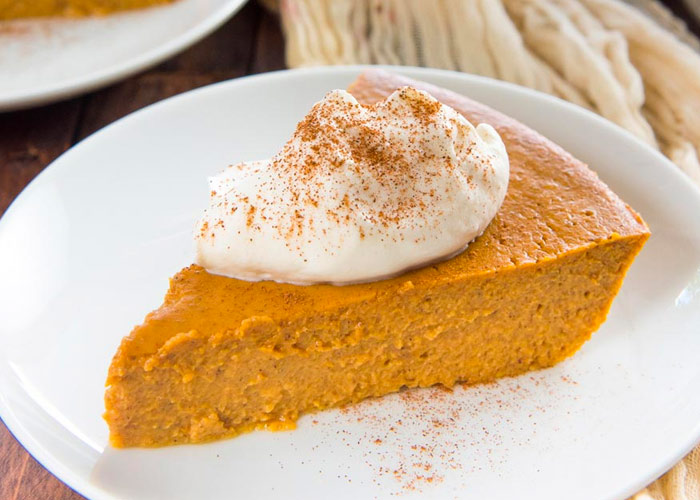 Ingredients:
1 can 100 % canned pumpkin puree
1/3 cup zero point brown sugar substitute (found as most health shops)
1 tsp cinnamon
1/2 tsp nutmeg
1/2 tsp vanilla
1 tsp pumpkin spice
2 large egg
240 grams unsweetened almond milk
Directions:
Preheat oven to 375 degrees.
Spray a 30 cm pie dish with nonstick cooking spray.
In a large mixing bowl, combine all ingredients and mix until all ingredients are well combined.
Pour into prepared pie dish.
Bake for 40-45 minutes or until knife inserted in the center comes out clean.
Remove from oven and let it cool for 10 minutes before serving.
Store in the fridge for up to a week.
---
4. Crustless Breakfast Tarts with Mushrooms
These make for a delicious meatless breakfast option that's perfect to make for any occasion! They also keep well in the fridge for a least a week and can be reheated in a microwave or hot toaster oven.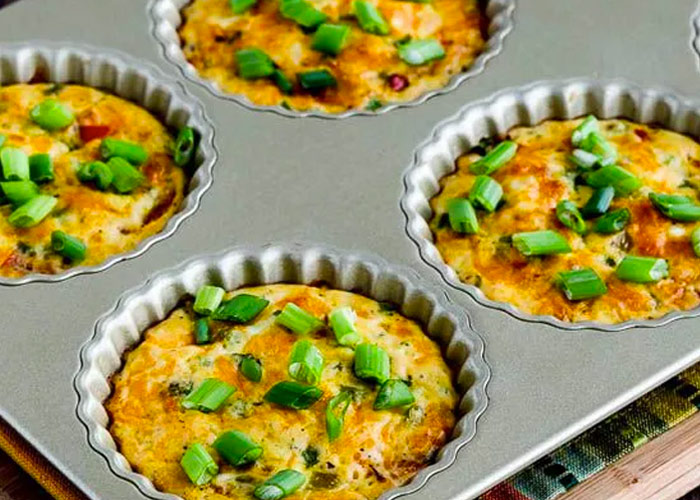 Ingredients:
120 grams goat cheese, crumbled and softened
1/4 cup cream
2 Tsp finely grated Parmesan
8 eggs, beaten
fresh-ground black pepper to taste
12 oz Cremini mushrooms, washed and sliced (see notes)
2 tsp. olive oil
2 green onions, thinly sliced
6 Tsp grated Mozzarella cheese
Instructions:
Remove goat cheese from the fridge, cut off 120 grms, crumble, and put it in a bowl to start to soften.
Preheat oven to 190C. Spray tart pan (or large muffin cups or gratin dishes) with olive oil or non-stick spray.
Wash the mushrooms and slice
Heat the oil in a non-stick frying pan (use the biggest pan you have so the mushrooms aren't too crowded.)
Cook mushrooms over medium-high heat until all the released liquid has evaporated, and mushrooms are starting to brown, about 10 minutes.
Divide mushrooms between the wells in the tart pan.
When the goat cheese has softened, use a fork to mix cream into the goat cheese; then mix in the Parmesan.
Beat eggs in a different bowl and then mix about 1/3 of the egg at a time into the goat cheese mixture, stirring each time you add more egg. (The mixture doesn't need to be completely smooth.)
Season the mixture with salt and black pepper.
Add the custard mixture on top of the mushrooms and gently stir to get mushrooms distributed evenly.
Then sprinkle a generous pinch of green onions on top of each tart, followed by one tablespoon of grated Mozzarella.
Bake 25-27 minutes (or slightly longer if you don't have this tart pan and your tarts are a little thicker.)
Cook just until the tarts are starting to barely brown on the top; the custard mixture should be soft. Serve hot.
---
5. Zero-Point Crustless Apple Pie
If you are itching to get your slow cooker going as the cooler months descend on us then give this Our Zero-Point Crustless Apple Pie a go. This recipe really allows the apples to steal the show.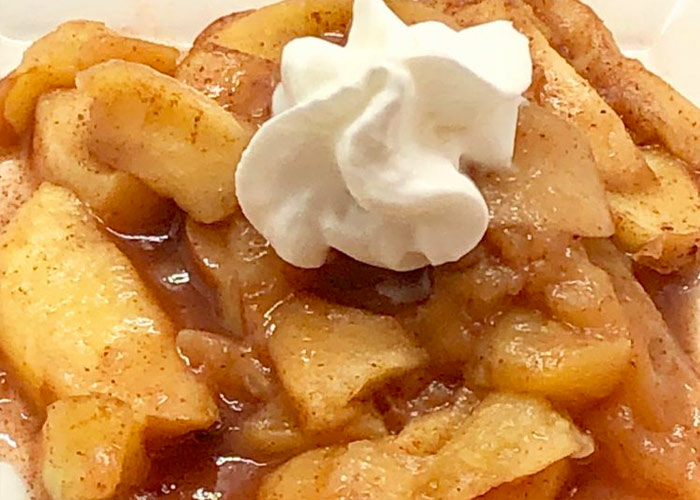 Ingredients:
10 apples, peeled and cored (Golden Delicious or Granny Smith work best)
3 tbsp cornstarch
1 cup water
1 tsp lemon juice
2 tsp ground cinnamon
1 tsp vanilla extract
1 tsp ground nutmeg
1/3 cup Stevia
Directions:
Spray coat the bottom of a large slow cooker. Use butter-flavored cooking spray if possible.
Peel and slice cored apples into apple pie slices. Place in the slow cooker.
In a medium bowl, dissolve cornstarch in water. Add the remaining ingredients to the cornstarch and gently stir.
Pour the cornstarch mixture over the apples in the slow cooker. Gently turn the apples to evenly coat.
Cook on low for 2-3 hours in the slow cooker until the apples are slightly soft and tender (similar to the consistency of apples in an apple pie). Let apples cool.
Enjoy as a topping to your favorite low-calorie ice cream or top your "apple pie" with a couple of tablespoons of low-fat cream.
Note: Don't overcook the apples, if using a slow cooker they will need to be watched.









Crustless quiches are easy, simple and quick to make up. They are also healthy and can be enjoyed by the whole family for an easy no fuss weekend meal or if you are pressed for time during the week. Most of the ingredients don't need much prep which is what makes these recipes so appealing.








Date Published:

14 April 2021