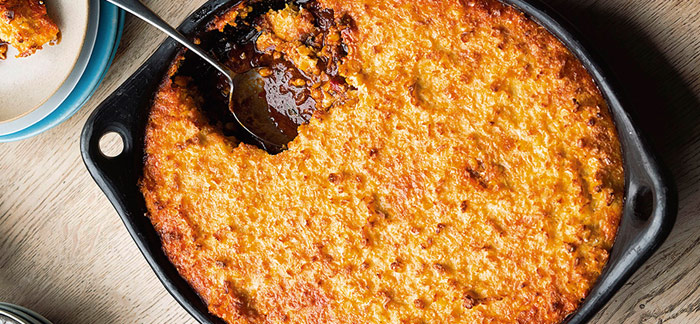 We suspect you've rekindled your relationship with your oven over the past two months. Perhaps you approach it with a bit more enthusiasm and curiosity. Maybe you've found that apron hanging decoratively in your kitchen to be quite useful when there's more than just a microwave involved during meal preparation routines.

As the heat of Summer subsides, we find ourselves craving hearty, comforting meals. We are entering the season that calls us to nourish and comfort the body; to switch from raw fruit to porridge, salads to soups, so that you can build up your immunity to ward off the Spring season colds and flus. We thought we'd give you some recipes to feast your eyes on in the hopes that they reach your taste buds and warm your entire body. The process of cooking your own meal from scratch will give you a sense of creative freedom and make you feel like you are giving yourself a big warm hug.


Slow cooked chicken with crisp corn crust (Yotam Ottolenghi)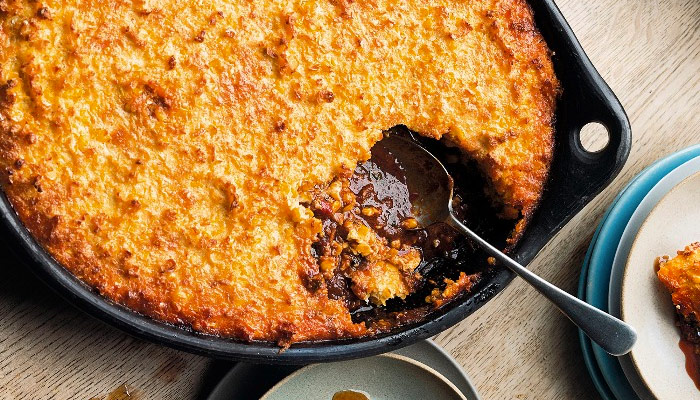 Best served with a crisp green, or warm/wilted greens salad. The topping is gluten-free and a welcome change from a heavier mash. The luxurious addition of dark chocolate is actually a healthy one; it's known to reduce inflammation and insulin resistance and improve brain function. This dish lasts in the fridge up to three days and can be frozen for up to a month.
Ingredients

3 tbsp olive oil
3 red onions, thinly sliced (500g)
2 garlic cloves, crushed
3 tbsp harissa (60g)
2 tsp sweet smoked paprika
850g chicken thighs, skinless and boneless (about 10 thighs)
200ml passata
5 large tomatoes, quartered (400g)
200g jarred roasted red peppers, drained and cut into 2cm thick rounds
15g dark chocolate (70% cocoa solids)
20g coriander, roughly chopped
salt and black pepper
Sweetcorn batter
70g unsalted butter, melted
500g corn kernels, fresh or frozen and defrosted (shaved corn kernels from 4 large corn cobs, if starting from fresh).
3 tbsp whole milk
3 eggs, yolks and whites separated

To Make

Heat the oil in a large sauté pan, for which you have a lid, on a medium high heat. Add the onions and fry for 8–9 minutes, stirring a few times, until caramelised and soft. Reduce the heat to medium and add the garlic, harissa, paprika, chicken, 1 teaspoon of salt and a good grind of black pepper. Cook for 5 minutes, stirring frequently, then add the passata and tomatoes. Pour over 350ml of water, bring to the boil, then simmer on a medium heat, covered, for 30 minutes, stirring every once in a while.

Add the peppers and chocolate and continue to simmer for another 35–40 minutes, with the pan now uncovered, stirring frequently, until the sauce thickens and the chicken is falling apart. Remove from the heat and stir in the coriander. If you're serving the chicken as it is (as a stew without the batter), it's ready to serve. If you're making the corn topping, spoon the chicken into a ceramic baking dish with high sides, that measures 20 x 30cm – and set aside.

Preheat the oven to 180°C fan.

Pour the butter into a blender with the corn, milk, egg yolks and ¾ teaspoon salt. Blitz for a few seconds, to form a rough paste, then spoon into a large bowl. Place the egg whites in a separate clean bowl and whisk to form firm peaks. Fold these gently into the runny corn mixture until just combined, then pour the mix evenly over the chicken.

Bake for 35 minutes, until the top is golden-brown: keep an eye on it after 25 minutes to make sure the top is not taking on too much colour: you might need to cover it with tin foil for the final 10 minutes. Remove from the oven and set aside for 10 minutes before serving.

Cauliflower soup with mustard croutons (Yotam Ottolenghi)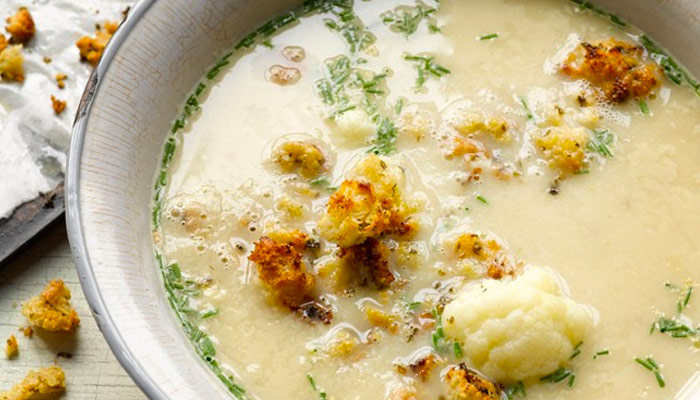 Be fancy and make homemade croutons for your soup - you'll earn extra respect from your family and add another dimension to the soup with their flavourful twist and crunch.
Ingredients

2 tbsp olive oil
10g unsalted butter
5g thyme sprigs
20g parsley
Shaved skin of 1 lemon, plus grated zest of ½ lemon
1 large onion, peeled and thinly sliced
2 large celery sticks, cut into 3cm pieces
2 bay leaves
1 tsp caraway seeds
Salt and white pepper
1 large cauliflower, broken into small florets
1 large potato, peeled and cut into 2cm dice
1.4 litres vegetable stock (or chicken stock for non-vegetarians)
2 tbsp chopped chives


For the mustard croutons:

90g unsalted butter
3 tbsp dijon mustard
3 tsp picked thyme leaves
3 tsp finely chopped parsley
150g crustless ciabatta, torn into 1cm pieces

To Make

First make the croutons. Heat the oven to 180C. Put the butter in a medium saucepan on a medium heat. When it starts to foam, whisk in the mustard, herbs and a quarter teaspoon of salt, take off the heat, leave for a couple of minutes to cool slightly, then stir in the ciabatta. Spread out on a parchment-lined baking tray and bake for 12-15 minutes, until crisp. Remove from the oven and set aside to cool.

For the soup, put the oil and butter in a large saucepan on medium heat. Tie together the thyme, parsley and lemon skin (or put them in a tied-up muslin), and add to the pan with the onion, celery, bay leaves, caraway seeds, three-quarters of a teaspoon of salt and a quarter-teaspoon of white pepper. Cook for eight to 10 minutes, stirring often, until the onion is soft but has not taken on any colour. Add the cauliflower, potato and stock, bring to a boil, reduce to a simmer and cook for eight minutes, until the vegetables are cooked but still have some bite.

Use a slotted spoon to lift a third of the cauliflower out of the pan – avoid removing any potato – and set aside. Let everything simmer away for another five minutes, then remove the herb bundle and the bay leaves. Using a hand-held blender, or in a food processor, blitz the soup until smooth, return to the pan and add the reserved cauliflower pieces. Stir in the grated lemon zest and chives, and serve, sprinkling the croutons on top at the last minute.

White bean mash (Nigella)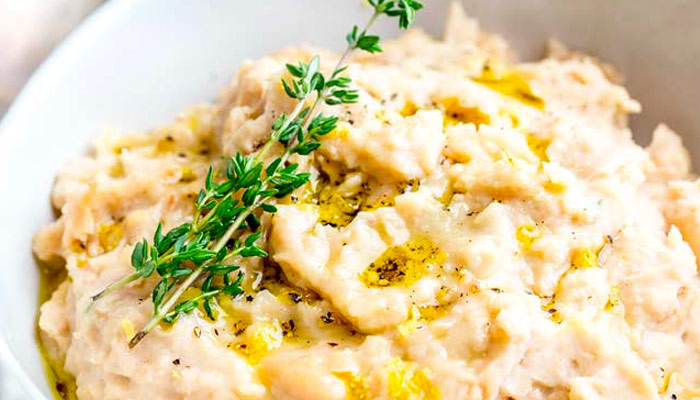 Garlicky, lemony, addictive bean mash - because traditional potato mash won't get you that master chef status. Serve as a side to any meal; would go especially well with roast lamb/beef.
Serves 2 - 4
Ingredients

60 ml olive oil (plus 2 teaspoons)
Most of 1 clove garlic (crushed)
1 sprig fresh rosemary (optional)
Grated zest 1 lemon
3 x 400 grams cans of white beans
Salt (to taste)
Pepper (to taste)

To Make

Put the 60ml / ¼ cup of olive oil in a saucepan and mix in the garlic. Add the whole rosemary sprig, if using, and the lemon zest and warm through.
Remove the rosemary, but do not throw away.
Drain the beans and rinse under a tap to get rid of the gloop and then add to the pan and warm through, stirring and squishing with a wide, flat spoon so that the beans go into a nobbly mush. Season to taste.
Serve the bean mash adorned with the reserved rosemary sprig.

Roly Poly Pudding (Nigella)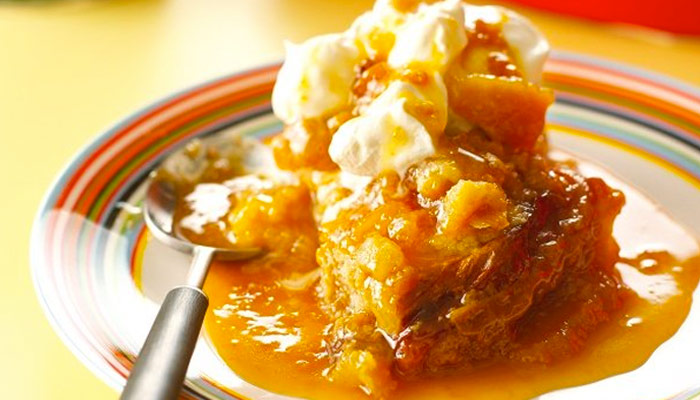 Sunday lunches on cooler days call for pudding! This takes just 30 minutes and oozes sweet comfort, setting you up for a delicious afternoon nap…
Serves 4
Ingredients

1 x 185 grams slab shop-bought short crust pastry (thawed, if frozen)
240 grams golden syrup
125 ml full fat milk

To Make

Preheat the oven to 180°C/200°C. Roll out the pastry to a size about 18 x 32.5cm.
Pour the golden syrup onto the pastry, leaving a 2cm margin around the edge.
With a buttered oval gratin dish (28cm long) at the ready, roll up the pastry from the short side into a fat sausage shape.
Transfer to the dish, placing the seam underneath, and pour half of the milk down one side of the roly-poly and half down the other side.
Bake in the oven for 30 minutes. Serve with or without ice-cream.

Scruffy Aubergine Lasagne (Jamie Oliver)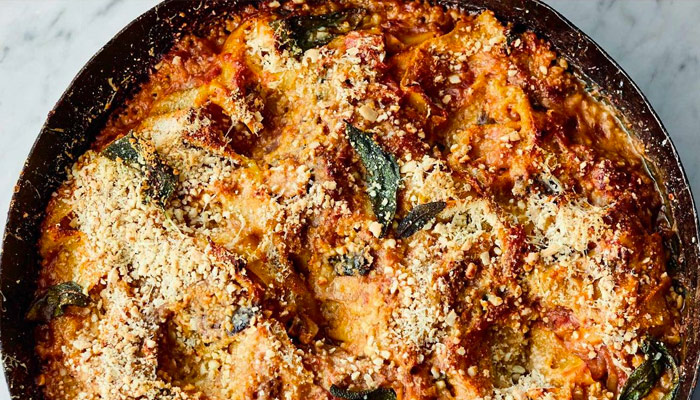 Cheezy, oozy and fun to make!
Ingredients

3 large aubergines (400g each)
3 onions
6 cloves of garlic
1 bunch of fresh sage (30g)
olive oil
1 teaspoon dried chilli flakes
1 lemon
2 x 400 g tins of quality plum tomatoes
80g mature cheddar cheese
80g parmesan cheese
300g fresh lasagna sheets
50g blanched almonds

To Make

Place a large shallow casserole pan on a medium heat with 250ml of water. Halve the aubergines lengthways and place in the pan. Peel, quarter and add the onions, then cover with a lid and cook for 20 minutes. Meanwhile, peel and finely slice the garlic, and pick the sage leaves. Preheat the oven to 200ºC.

Remove the lid, and once most of the liquid has cooked away, make a well in the middle. Add 3 tablespoons of oil, the garlic, chilli flakes and most of the sage leaves, then finely grate in the lemon zest. Once golden, scrunch in the tomatoes, pour in 2 tins' worth of water, and simmer for 20 minutes, stirring occasionally.

Remove the pan from the heat, grate in the cheeses, then season to absolute perfection with sea salt and black pepper. Tear in the pasta sheets and mix up really well to coat and separate, then pull some of the sheets to the top to create a top layer. Bash the almonds until fine and rub the remaining sage leaves with oil, then sprinkle on top. Use the back of a spoon to create some dips and wells, and bake for 25 minutes, or until golden and bubbling.
Happy cooking, creating and experimenting! We hope you're feeling inspired to relish nature's foodie gifts and whip them up into wholesome dishes, served with a side of love for those you share them with.


Date Published:

06 May 2020