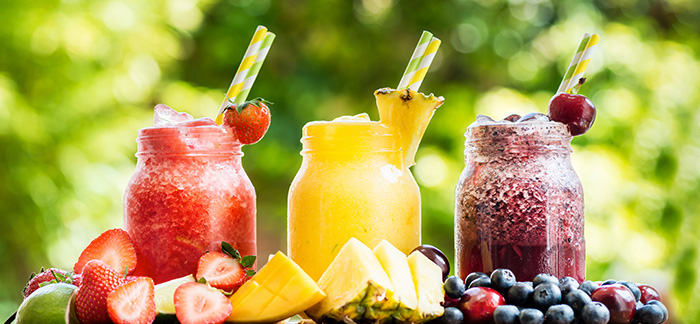 A fun and healthy way to keep yourself and your family ice cool this summer is by incorporating frozen smoothies into your poolside selection of drinks and snacks.
You need to know the holy grail of ensuring your frozen smoothies turn out like those beyond decadent ones you see on Instagram – the ones that will fool your kids into thinking this is the best ice cream they have ever tasted.
Firstly, it's not necessary to add ice to a smoothie. In fact, the ice will end up making the smoothie chunkier than smooth, and will also dull down the flavour of the fruits. Instead, use frozen fruit in place of ice to get that slushy consistency.
Secondly, fruit alone is healthy, but there are a few ways to boost the nutrition of a smoothie to really pack in the vitamins and minerals:
Grass-fed collagen. One scoop of collagen packs 10g of protein and is proven to help hair grow long and nails grow strong!
Healthy fat like almond butter, chia seeds, hemp seeds, ground flax seed, and avocado help to stabilise blood sugars and promote hormone balance.
Liquid – Dairy milk, non-dairy milk (almond milk, coconut milk, rice milk), orange juice, or water.
Vegetables – Spinach, kale, yellow beet, celery, cucumber, zucchini. Ratio matters: For every 1 vegetable, you need 2 fruits.
Creamy factor – Yogurt, mango, banana, avocado. Kefir is also good and doubles as the liquid as well.
Sweetener (optional) – Dates, stevia, overripe banana.
Using ice cube trays, you can freeze:
Greek or regular plain yogurt
Green tea
100% juice of any type
Coconut milk
Additional, optional nutrients can be added from:
Honey, maple syrup, or sweetener of choice added to taste
Ground cinnamon, to taste
Cayenne pepper (in small amounts), to taste
Pure vanilla extract
Smoothies are incredibly flexible, and are largely on a "use what you have" bases. However, sometimes it's helpful to have a starting point and a flexible "formula" of sorts.
Here's a few recipes that work well for frozen smoothie combos. Prepping these ahead of time is fast and saves you the time of chopping and peeling fresh produce for your morning smoothie. It's always handy to just grab a ready-made combination out of the freezer and add a few flavour enhancers just before heading out the door in the morning.
For all of the following combine all ingredients in a high-speed blender and blend on high until smooth and combined.
Green Day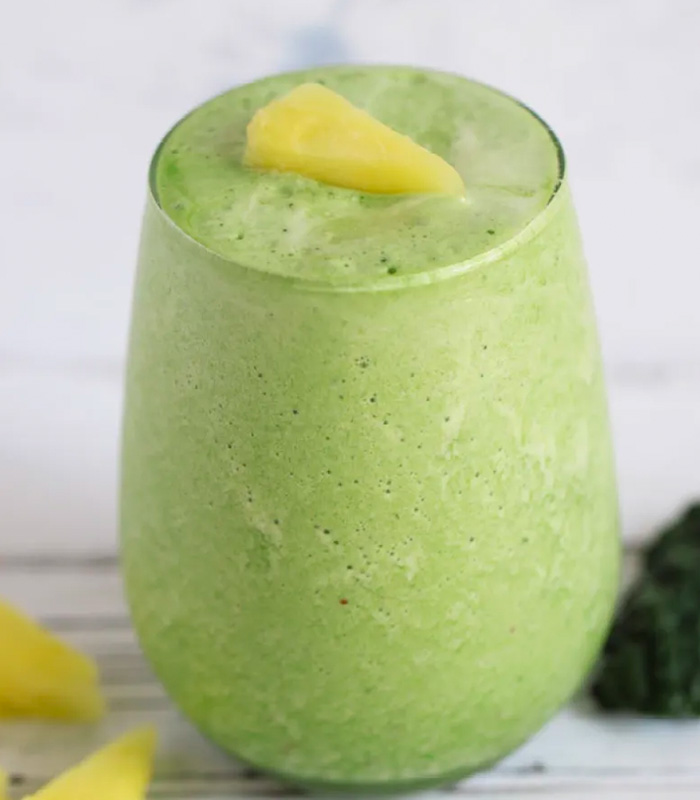 ½ cup frozen kale
½ cup frozen pineapple
½ cup yogurt
¼ cup water
Extras: Pinch of cayenne pepper
Blue Magic
¾ cup frozen blueberries
1 tbsp almond butter
½ cup almond milk
Extras: 2 tbsp shredded coconut, frozen banana, 1 tsp vanilla extract, 2 tbsp rolled oats, ½ inch fresh ginger
Not Easy Being Green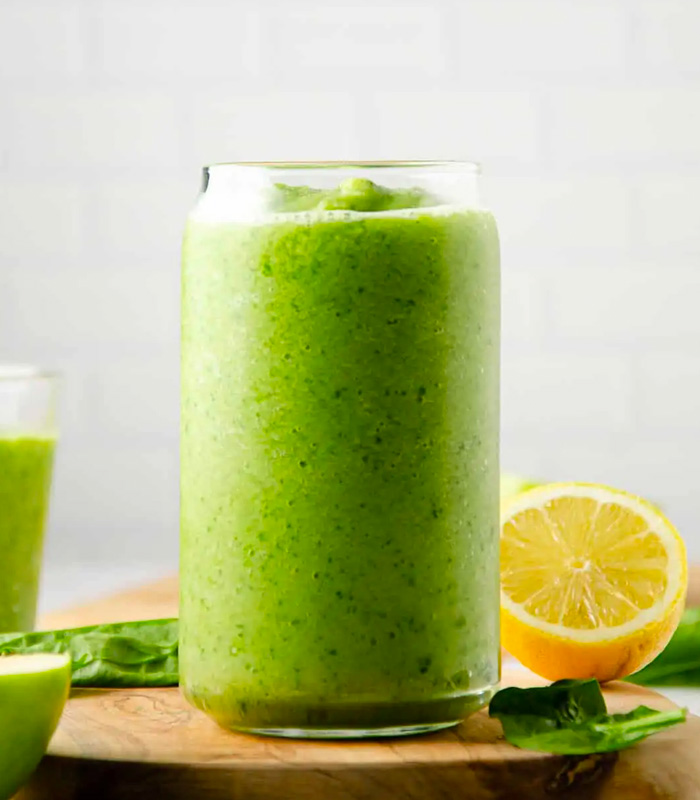 1 fresh green apple, in chunks
½ cup frozen spinach
½ inch piece ginger
1 ½ cup water
Extras: Blend in ½ of an avocado or fresh lime juice
Channel Orange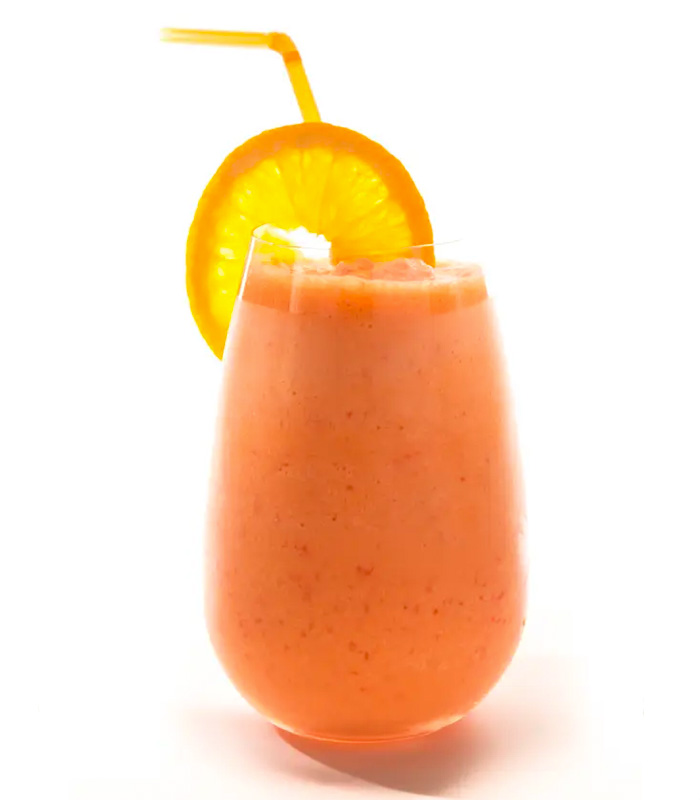 1 red bell pepper (quartered)
1 frozen orange (pieces)
1 tbsp coconut oil
Extras: Spice it up with cayenne pepper or ground cinnamon
Pumpkin Smoothie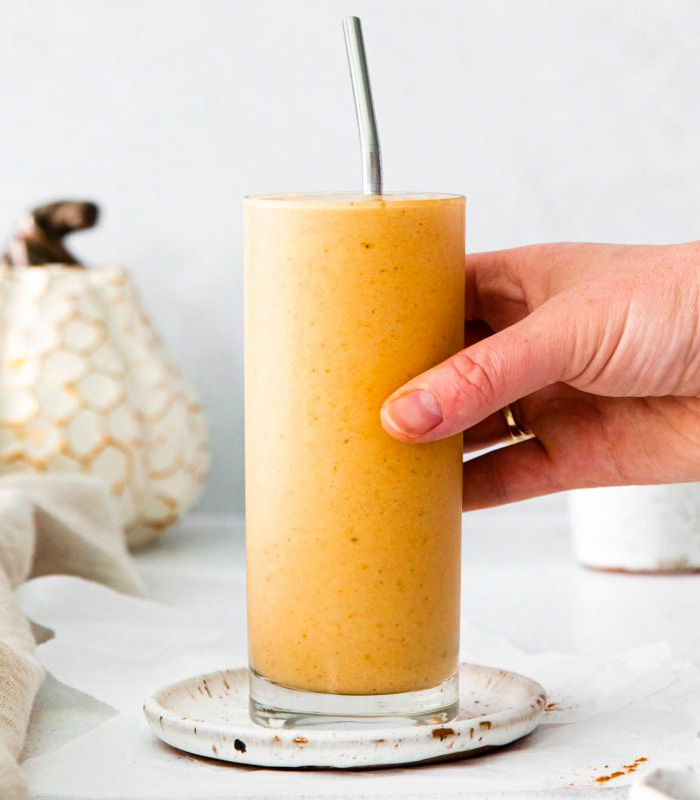 1 frozen banana
1/4 cup pumpkin puree
1 cup unsweetened oat milk
2 tbsp chia, ground flax or hemp seeds (optional)
1 tbsp creamy unsweetened almond butter
1 tsp pumpkin pie spice or cinnamon
3–4 ice cubes
1 serving collagen (optional; can also sub for vanilla or unflavoured protein powder)
Optional toppings:
Pumpkin granola
Pumpkin seed



Frozen smoothies are full of nutrients and flavour. They are an essential part of either a meal as a substitute or a snack filler, as they provide a power-packed any time of the day. A lot of protein along with many nutrients subdue food cravings and keep you away from eating junk food. Frozen produce will save you money because you can often buy it on sale, and nothing goes bad, providing you don't leave it in the freezer so long that it gets freezer burn. It's a great way to be sure you are getting your nutrients, saving money by not wasting food, and giving you a way to easily access ready-prepared, clean ingredients without the hassle of peeling and chopping.








Date Published:

01 December 2021