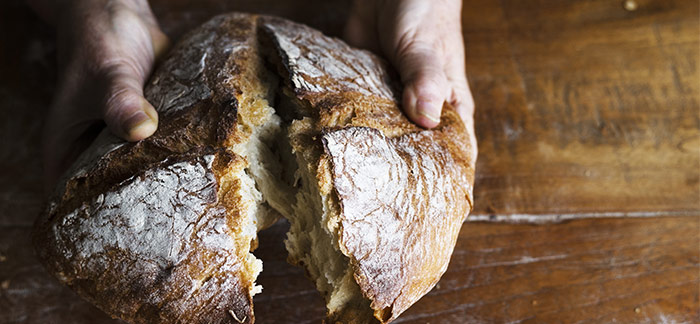 What we put into our bodies is ultimately what we get out. It's important to consume healthy food to ensure we're taking care of our wellbeing from the inside. Food is a natural medicine and a vital resource we can easily access on our quest for continued wellness.
Bread is one of the simplest staple starches, and baking your own loaf at home is easier and healthier than you think. After reading these easy homemade bread recipes, you'll want to head to your kitchen straight away.
The Benefits of Home-Baked Bread
Baking homemade bread is a money and time saver. While it might require an initial hour or two set aside each week for baking, your result will be the satisfying smell of freshly baked goodness which you can delight in immediately. The plus side is you can bake in bulk and freeze what you don't use. Simply take out a slice or two to defrost or pop in the toaster before eating each day.
By baking your own bread you're in control of what goes into the recipe, so you can be sure it'll contain no harmful preservatives. You can also add your preferred mix of healthy berries, fats, nuts, oils and seeds. Here are some delicious bread recipes to try out for yourself:
Banting-Friendly, Gluten-Free, Sugar-Free Seed Bread
Preparation time: 10-15 minutes| Bake time: 30 minutes | Makes: 1 small loaf | Difficulty: Easy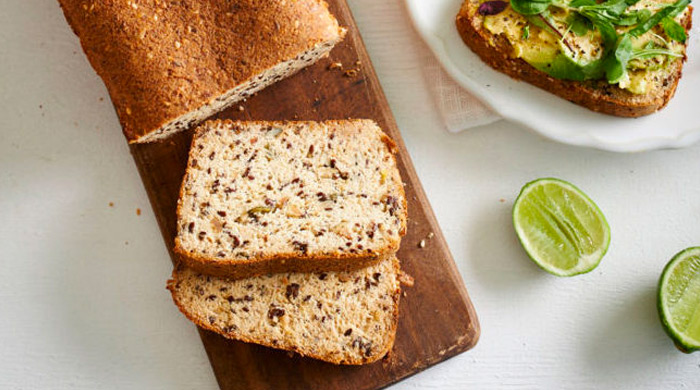 originally posted on sarahgraham.co.za
A light loaf that's best eaten with avocado, a boiled or scrambled egg or as an accompaniment to a hearty homemade soup.
Ingredients:

1 ½ - 2 cups water (start with 1 ½ and add more as needed. Coconut flour can be quite dry.)
1 cup almond flour
1 cup coconut flour
1 cup mixed nuts/seeds (linseeds, pumpkin seeds, raw almonds and sunflower seeds are a winning combination)
1 teaspoon bicarbonate of soda
½ cup coconut oil (lightly melted until liquid)
¼ cup natural yogurt (alternatives are coconut milk or extra water)
3 tablespoons psyllium husk (available from a health shop)
2 teaspoons honey (or a substitute healthy natural sweetener)
½ teaspoon salt




Instructions:

Pre-heat your oven to 180°C. Grease and line a small loaf tin.
Combine all ingredients. If it's too dry, add another ¼ to ½ cup of water. Your desired texture should resemble crumbly, grainy sand.
Spoon mixture into loaf tin. Smooth the top with the back of a spoon. Bake for roughly 30 minutes or until golden brown.
Take the loaf out the oven, allowing it to cool at room temperature. Remove from tin, slice and enjoy.
Ancient Grain Bread
Preparation time: 20-25 minutes| Rest time: 60 minutes | Bake time: 60 minutes | Makes: 1 loaf | Difficulty: Easy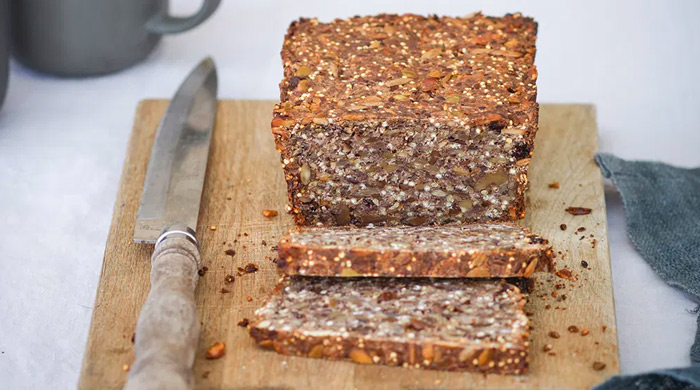 originally posted on daylesford.com
This unleavened loaf oozes with energy and nourishment. Gluten-free oats can also be used. A scale measures accurately for best results. Serving suggestion: top with sardines, pickled onion, fresh herbs and lemon zest.
Ingredients:

300g water
150g teff flour (available from a health food shop)
100g hulled millet
100g porridge oats
70g brown linseeds
70g pumpkin seeds
70g sunflower seeds
70g walnuts (roughly chopped)
60g coconut oil (melted)
50g raisins/dried figs (finely chopped)
40g chia seeds
3 tablespoons psyllium husk powder
2 tablespoons honey
1 teaspoon salt

Instructions:

Preheat oven to 200°C. Grease and line a standard loaf tin.
Sprinkle millet, linseeds, pumpkin seeds, sunflower seeds and walnuts onto a baking tray. Bake for 10 minutes until golden. Turn often during baking to prevent burning around the edges.
After cooling, add roasted nuts and seeds to a bowl, adding chia seeds, psyllium husks, oats, raisins, salt and teff flour, mixing it all.
Melt coconut oil and honey in a pan over a low heat. Pour mixture into bowl of seeds and grains. Add water, stirring it all until a thick dough forms. Set aside for an hour.
Place mixture in loaf tin, compressing neatly with a flattened top. Stick raisins completely in dough to prevent burning.
Bake for 50-60 minutes until you hear a hollow sound when tapping the loaf.
Cool and slice!
Whole Grain Zucchini Bread with Honey and Walnuts
Preparation time: 15 minutes| Bake time: 40 minutes | Makes: 1 loaf | Difficulty: Easy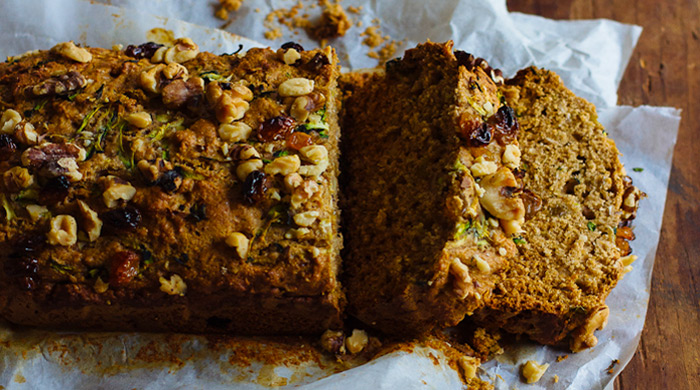 originally posted on theclevercarrot.com
A semi-sweet, spicy, soft and crunchy loaf that smells divine, this is a healthy but tasty teatime treat. Enjoy simply as is or serve with a spreading of butter and honey or fruit preserve for added sweetness.
Ingredients:

1 ½ cups grated zucchini (+- 1 medium zucchini)

Dry Ingredients:

1 cup white whole wheat flour
½ cup quick oats (not instant or traditional)
1 teaspoon baking powder
1 teaspoon cinnamon
½ teaspoon bicarbonate of soda
½ teaspoon ground ginger (optional)
A dash of nutmeg

Wet Ingredients:

2 extra-large eggs
⅔ cup honey
⅔ cup olive oil
1 capful vanilla extract/essence

Additions:

¼ cup golden raisins
¼ cup chopped walnuts

Topping:

2 tablespoons golden raisins
2 tablespoons chopped walnuts

Instructions:

Preheat oven to 180°C. Grease and line a 23cmx13cm loaf tin.
Grate zucchini and keep aside. Let the excess moisture remain.
Add dry ingredients to a large bowl, whisking thoroughly to combine.
In a separate bowl, add wet ingredients and whisk until completely blended.
Mix dry and wet ingredients but don't over mix—this makes the bread tough.
Gently fold golden raisins and walnuts into batter. Added grated zucchini, keeping the last pinch or two to garnish top of loaf. Pour into loaf pan.
Decorate top with a sprinkling of remaining raisins and walnuts. Pop them into batter to avoid burning.
Bake for 40 to 60 minutes. Check after 40 minutes (a toothpick test will confirm it's baked through on the inside.)
Cool for 10 minutes in tin before transferring to a wire rack for final cooling.
Slice and devour!
Low-Carb, Dairy-Free, Wheat-Free Almond Flour Bread
Preparation time: 10 minutes| Bake time: 30 minutes | Makes: 1 loaf | Difficulty: Easy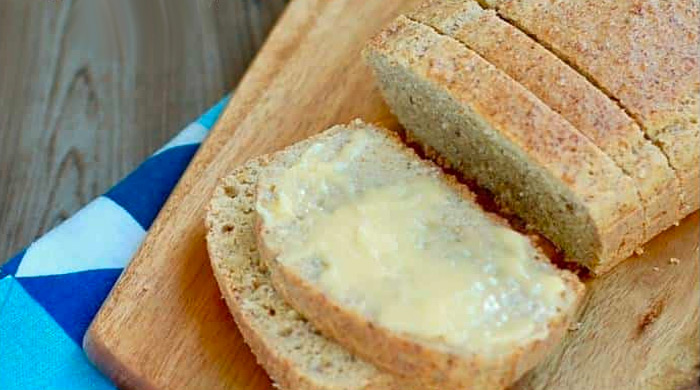 originally posted on ditchthecarbs.com
A sturdy loaf, this is ideal for a fresh or toasted low-carb Paleo sandwich and can also be used for a bread stuffing. Use a scale for accurate measurements and best results. Instead of buying expensive and processed gluten-free bread, opt for this low-carb recipe that's naturally gluten-, grain- and sugar-free.
Ingredients:

4 medium eggs
200g almond flour/meal
125ml warm water
50g coconut oil (melted)
20g psyllium husk
2 teaspoons baking powder
1 teaspoon salt (or add to taste)

Instructions:

Preheat oven to 180°C. Grease and line a loaf tin.
Transfer all dry ingredients into a mixing bowl.
Add eggs, coconut oil and warm water. Stir until well combined, but don't over mix.
Transfer to loaf tin. Bake for 30 minutes or until golden brown. Test with a toothpick.
Note: Some ovens require longer baking time, so keep an eye on your loaf until it's perfect.



There's no reason why you should buy another loaf of bread from the supermarket when you have the rewards of healthy home baked bread at your fingertips. You'll be the envy of your colleagues during your delicious lunch break. Let your hands get to work and the enriching results will soon speak for themselves.


Date Published:

25 February 2020