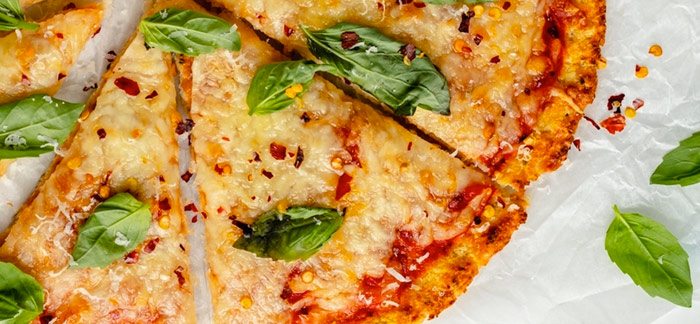 The reasons to try your own homemade pizza bases from scratch are endless. Options for more traditional recipes are great to start with but if you are ready to venture out and try a few more alternative options that are usually healthier try one of our delicious recipes below.
1. Arepa Pizza
This sounds cosmopolitan, but the truth is it's just a fancy way of saying cornflour pizza dough. Perfect for those who are gluten intolerant, and the ingredients are super simple.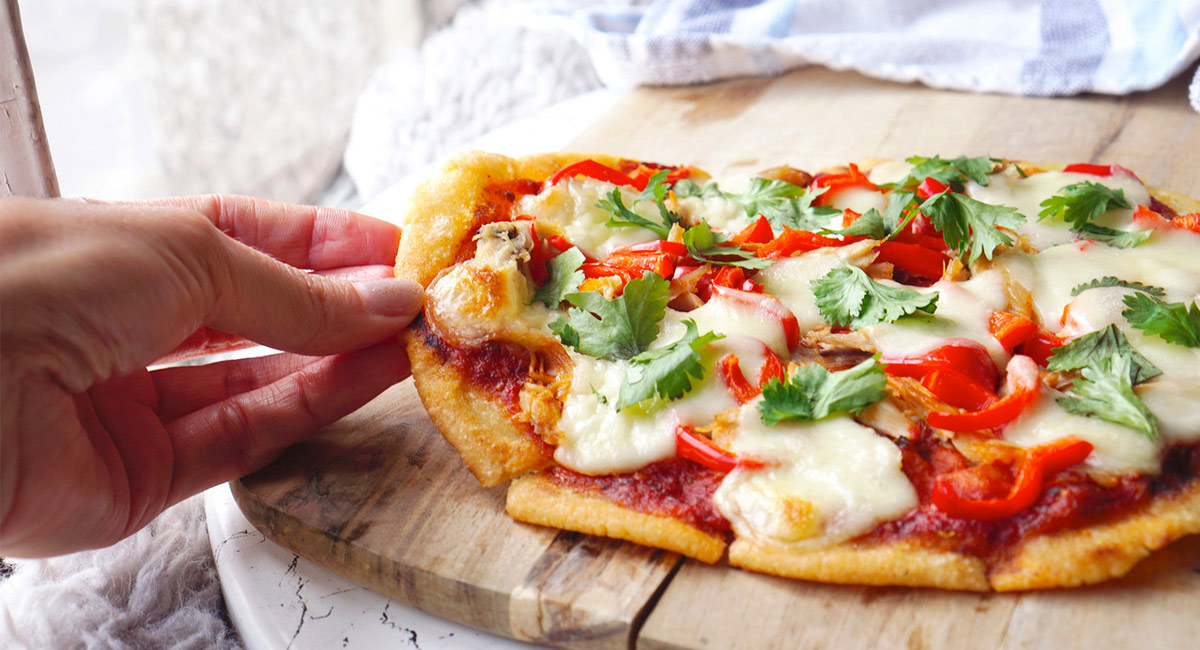 INGREDIENTS:
For the crust:
1 cup white cornmeal
200g warm water
1 Tbsp olive oil
½ tsp salt
Oil of your choice (to cook)
For the sauce:
Tomato purée
Garlic powder
Dried oregano
Cayenne pepper
Salt
Black pepper
Olive oil
Water
For the toppings:
Sweet pepper
Roasted chicken or protein of your choice
Mozzarella
Fresh coriander (to garnish)
DIRECTIONS:
PREPARE THE DOUGH:
Combine the cornmeal and salt together in a bowl, then add the olive oil and warm water little by little, kneading the dough with your hands, until you can form a smooth dough ball. Note: the consistency of the dough should be smooth (no cracks) and slightly sticky, but still easy to handle with your hands. If you accidentally add too much water, just make up for it by adding a little more cornmeal.
Divide the dough into 2 portions (or more if you want smaller pizzas).
Place one half of the arepa pizza dough between two sheets of baking paper or cling film (to prevent sticking) and flatten with your hands or a rolling pin until very thin.
Then fix any cracks around the edges with your fingers so it's as smooth as possible.
Pop in the oven at 220 C, once cooked and crispy, transfer it to an oiled baking tray along with pizza sauce and toppings of your choice.
Bake in a pre-heated oven (220C) until the toppings are cooked and the cheese has melted to your liking (about 10-15 mins).
BAKING TEMPERATURE: 220C
---
2. Cauliflower Pizza Crust
For so many cauliflower pizza crust is a real art. It all comes down to getting all of the moisture out of the cauli before turning into the best healthy crust you've ever had. This recipe comes as close as possible to turning that art into a reality.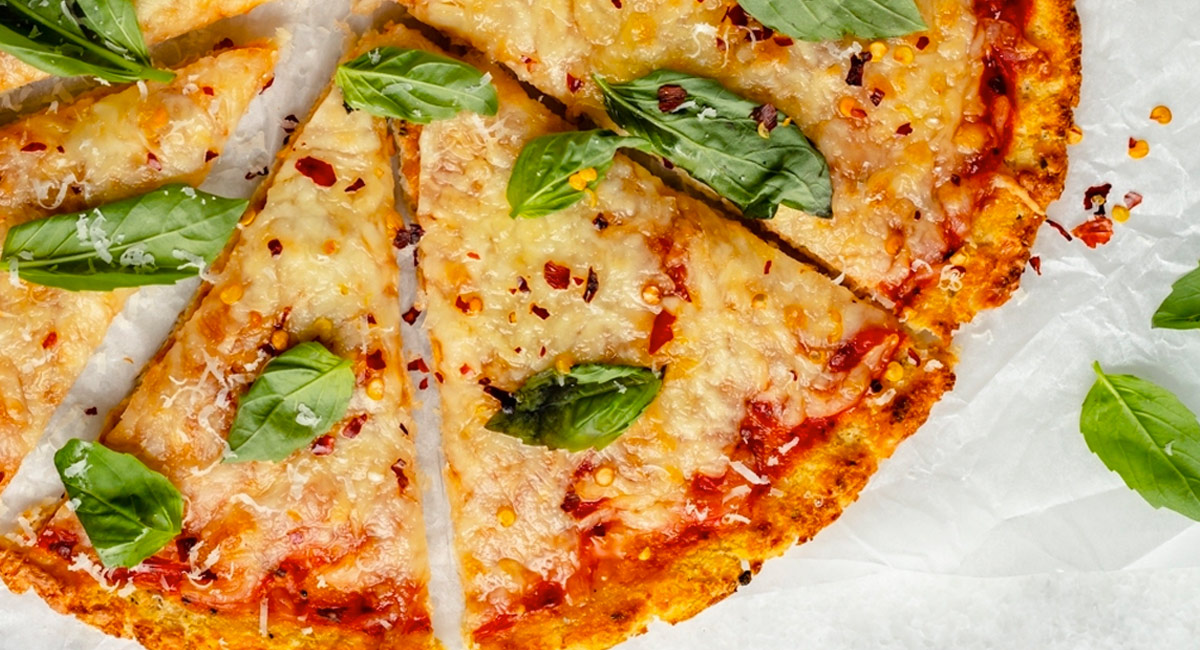 INGREDIENTS:
3 cups cauliflower rice
3/4 cup almond or coconut flour
1/4-1/2 cup psyllium husk
1 tbsp ground chia seeds
2 flax eggs or increase chia to 2 tbsp
1 tsp Italian seasoning
1/2 tsp Dried basil
1 tsp dried garlic powder or granules
1 cup vegan or fresh mozzarella or 1/4 cup nutritional yeast & cashew powder
Salt and pepper to taste
Toppings:
olives, onions, jalapenos, cheese, fresh basil, spinach artichoke or any protein of your choice
INSTRUCTIONS:
Start by making some cauliflower rice. After finely mincing the cauliflower, add dry ingredients, herbs, and salt & pepper. Add chia seeds powder and husk to make it more doughy. Transfer everything to a large bowl, add psyllium husk and chia seeds powder. Set aside for 5-7 minutes. After five minutes, the mixture will look doughy and workable. Scoop out few tablespoons of the mixture onto the baking pan and spread it really well.
Cook in the preheated oven for 25 minutes. After 25 minutes, add freshly made sugar-free tomato pizza sauce or marinara and top with your favorite toppings, and herbs. Bake again for 15 minutes until the edges are brown.
At this point, add cheese or cashew cream or nut cheese and leave in the oven for just 2 minutes.
---
3. Polenta Pizza
Wow, such an easy twist to a traditional base, with the added benefit of low calories. And it's so simple! Not familiar with polenta? It is made from corn, it's gluten-free and it's vegan too! It has a mild, nutty corn flavour.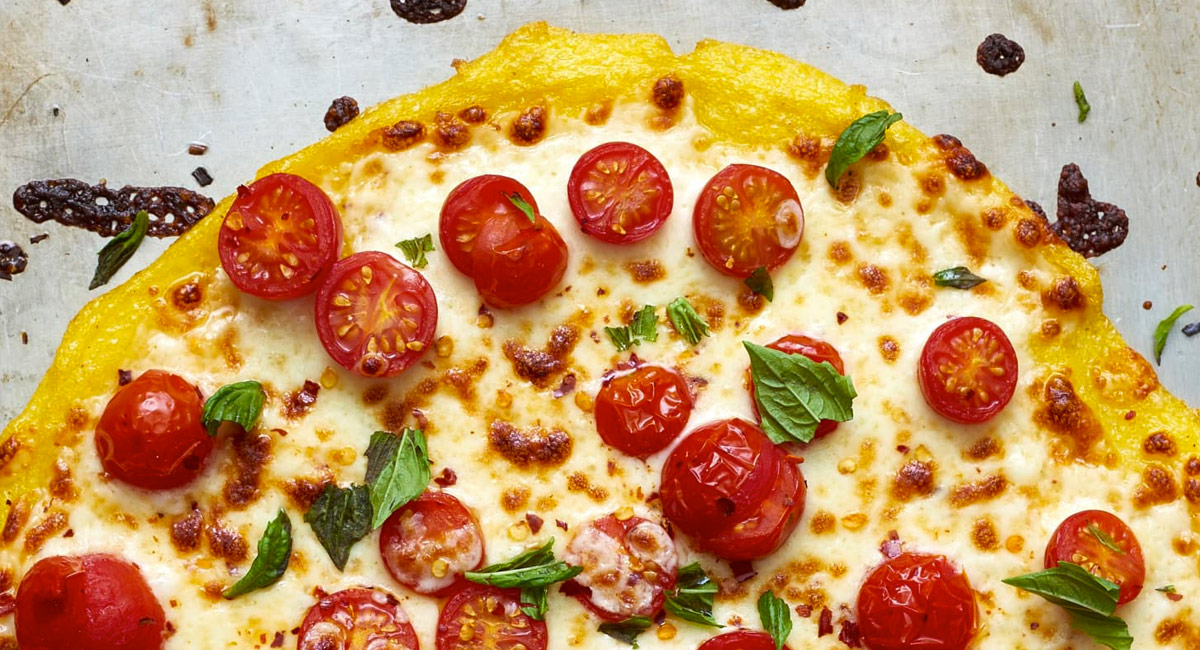 INGREDIENTS:
For the polenta:
1 tablespoon olive oil
4 cups water
1 teaspoon kosher salt, plus more for seasoning
1 cup polenta
For the pizza:
1 tablespoon olive oil, divided
2 cups shredded mozzarella cheese
2 cloves garlic, thinly sliced
1 1/2 cups cherry, halved
1/4 cup grated Parmesan cheese
1/8 teaspoon red pepper flakes (optional)
Kosher salt
1/4 cup
coarsely torn, loosely packed fresh basil leaves
INSTRUCTIONS:
Make the polenta:

Brush a rimmed baking sheet with the oil and set aside.
Bring the water to a boil in a medium saucepan over medium-high heat. Whisk in the salt and polenta. Reduce the heat to low and whisk the polenta continuously until slightly thickened and no longer sticking to the bottom of the pan, 2 to 3 minutes. Cover and continue cooking, stirring and scraping the sides of the pan every 10 minutes, until the polenta is soft and creamy, 25 to 30 minutes total.
Pour and spread spread the polenta out onto the prepared baking sheet into a circle about 1/3-inch thick. Cover with plastic wrap and transfer the baking sheet to the refrigerator and chill until firm, at least 1 hour or overnight.
Make the pizza:

Arrange a rack in the middle of the oven and heat to 220 degrees C
Remove the baking sheet from the refrigerator. Drizzle 1/2 of the the oil onto the polenta crust. Bake until it begins to crisp around the edges, about 15 minutes.
Remove from oven and top with the mozzarella, garlic, tomatoes, Parmesan, and red pepper flakes, if using. Sprinkle lightly with salt and drizzle with the remaining 1/2 tablespoon of oil.
Bake until the cheese is melted and bubbling, 10 to 12 minutes. Remove from oven, let rest for 5 minutes, and top with fresh basil before cutting and serving.
RECIPE NOTES
Make ahead: The polenta can be cooked up to 4 days ahead, poured onto the baking sheet, and stored in the refrigerator.
Storage: Leftovers can be stored in an airtight container for up to 4 days.
---
4. Veg of your choice pizza base
Want an easier way to ensure the kids get their daily veg intake. This recipe can be enjoyed with a vegetable of your choice, and the best part is your kids most likely won't know you've used your sneaky favourite veg – unless of course you go for the broccoli option – that one's hard to hide!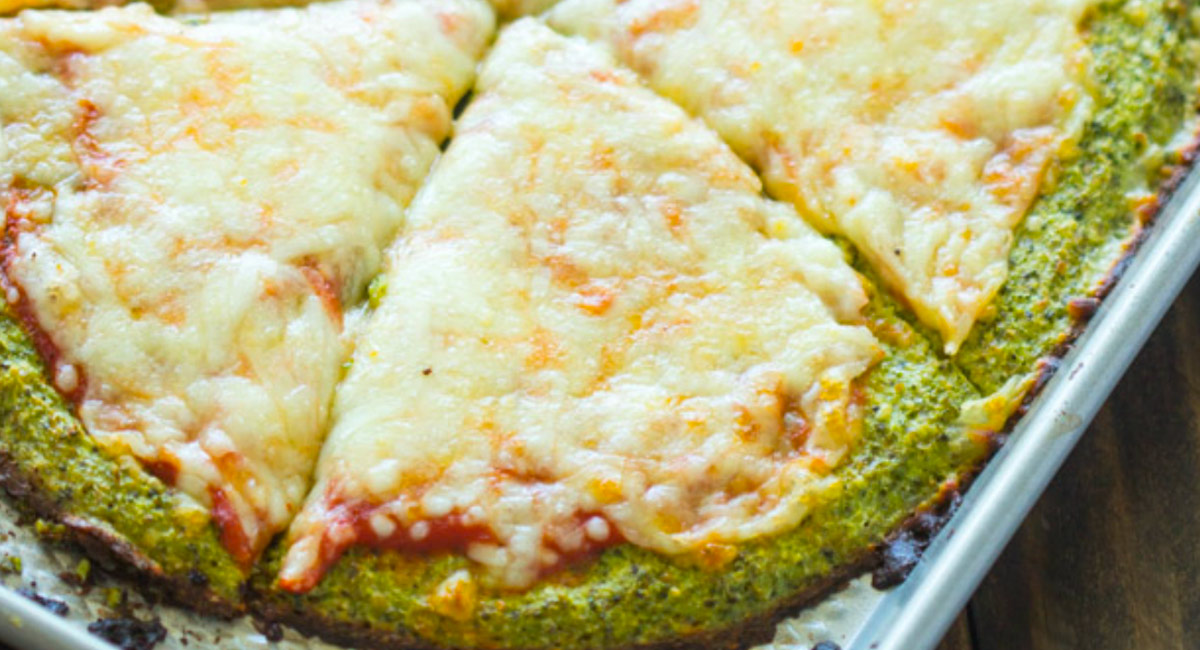 INGREDIENTS:
2 cups broccoli, spinach, kale, or zucchini
1/2 cup grated mozzarella cheese
1/4 cup grated parmesan cheese
2 large eggs
1 garlic clove, finely minced
1/4 teaspoon each: sea salt and black pepper
INSTRUCTIONS:
Preheat your oven to 220 degrees. Line 2 baking sheets with parchment paper.
Mix all the ingredients together in a medium-sized bowl. (See notes for how to prepare the veggies.) Divide between the two baking sheets and use your hands to flatten into an 20 cm circle.
Bake in the preheated oven for 20 minutes. Remove the veggie pizza crusts from the oven and, using the parchment paper, carefully flip the crusts over so the top is now face down directly on the baking sheet. Return the crusts to the oven and let them cook for another 5 minutes.
Top lightly with your pizza toppings and cook for a further 15 minutes.
NOTES:
TO PREPARE THE VEGGIES:
Kale and Spinach: place in your food processor and blend until finely chopped. Squeeze out as much liquid as you can using your hands.
Broccoli: add the florets and stems to your food processor and pulse until finely chopped.
Zucchini: grate using the small holes on your grater. Squeeze out as much liquid as possible, first using your hands and then with some paper towel.
---
5. Beet crust pizza
Last but not least our all time favorite Beet crust pizza, if not for the taste then for the magnificent colouring!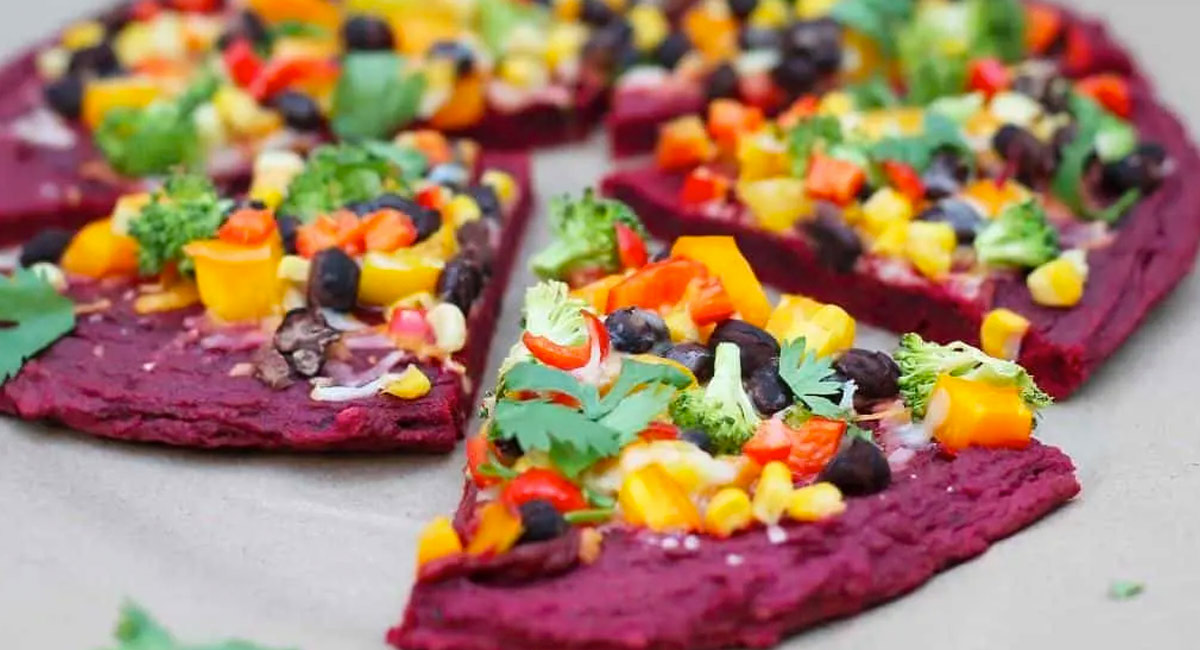 INGREDIENTS:
3 beets wrapped in foil and roasted at 200 degrees for 45 minutes
3/4 cup quinoa flour
1/2 cup almond flour
2 teaspoons baking powder
1/2 teaspoon salt
1 egg
1 tablespoon coconut oil
INSTRUCTIONS:
Preheat oven to 180 degrees.
Mix all the ingredients together in a blender - the mix will be wet.
Using a spoon, smooth out beet crust to about 1/3 inch thick onto a parchment lined baking tray.
Bake for 25 minutes.
Take out and top with tomato paste or hummus and other toppings of your choice.
Bake for another 10-15 minutes till cheese is melted.






Who'd have guessed everyone's favourite family meal could be so healthy!





Date Published:

19 July 2021