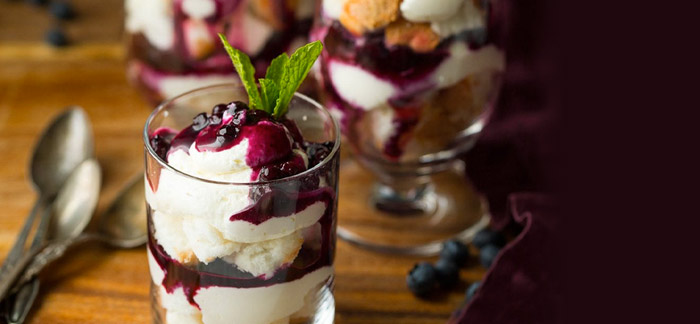 Decadent trifles are made with fluffy angel food cake, rich cheesecake topping and a sweet blueberry. A show stopping dessert! These are a breeze to prepare yet they're sure to impress everyone. Perfect for holidays or just an after dinner dessert.
Prep Time: 20 minute
Cook Time: 5 minute
Total Time: 25 minute
Ingredients
1 store-bought or homemade angel food cake / madeira cake
Fresh mint leaves, for garnish (optional)
Blueberry sauce
1/4 cup granulated sugar
2 tsp cornstarch
1/3 cup water
1 Tbsp fresh lemon juice
2 cups frozen wild blueberrie
Cheesecake topping
1 1/2 cups (355ml) heavy cream
12 oz . cream cheese , softened
1/2 tsp vanilla extract
3/4 cup (90g) powdered sugar
Instructions
For the Blueberry Sauce: In a medium saucepan whisk together granulated sugar and cornstarch. Mix in water and lemon juice. Add in frozen blueberries.
Bring mixture to a boil over medium-high heat, whisking frequently. Allow mixture to boil for about 2 minutes until thickened.
Let cool then chill completely (to speed chill I put it in a bowl in the freezer and stirred about every 5 minutes to until cold).
For the cheesecake topping: In a medium mixing bowl whip heavy cream using an electric hand mixer until stiff peaks form.
In a separate large mixing bowl whip cream cheese, vanilla and powdered sugar using hand mixer until smooth and slightly fluffy. Fold whipped cream mixture into cream cheese mixture.
To assemble trifles: Gently cut cake into small cubes using a serrated knife. Divide half of the cake cubes among cups.
Place cheesecake topping in a piping bag fitted with a large round tip and pipe half of the cheesecake filling over cake layer.
Top with 1 - 2 spoonfuls of blueberry sauce then repeat layering once more. Garnish with mint if desired and serve immediately.
Recipe Notes
You should be able to get about 7 - 8 cups filled but it will vary depending on the size of the cups. You can get more if you only do one set of layers in smaller cups.
Healthy Ingredients
The vitamin E in blueberries may help stop the formation of cataracts, or clouding of the eye lens. Blueberries also contain anthocyanins, which are flavonoid pigments that act as antioxidants. In addition to promoting similar health benefits to other antioxidants for the eyes, anthocyanins maintain general eye health.




Credit: https://www.cookingclassy.com/angel-food-cake-trifles-cheesecake-topping-blueberry-sauce/


Date Published:

27 November 2018