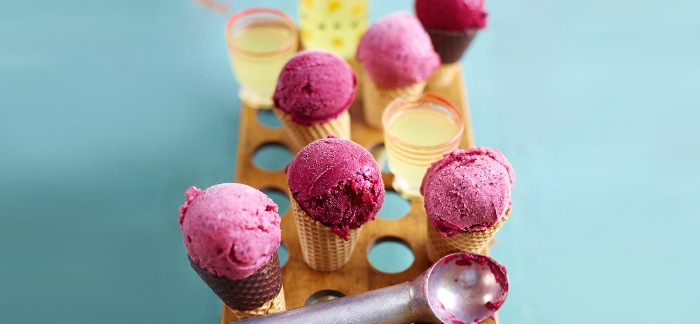 If you have any leftover fruit salad or fruit that's on the turn, chop it and freeze it until you want to make this. Lose the yoghurt if you want to go for a sorbet vibe.
---
Cooking Time

10 minutes plus freezing

Difficulty

Super easy

Make

1.4 litre
---
Ingredients
1 kg chopped mixed fruit , fresh or frozen
250 ml fat-free natural yoghurt
runny honey , to taste
75 ml limoncello , optional
ice-cream cones , optional
Instruction
Blitz the fruit, yoghurt, 2 tablespoons of honey and the limoncello (if using) in a food processor until smooth.
Taste and add more honey if needed.
Spoon into a dish and freeze for 1 to 2 hours, until frozen.
Take out of the freezer, pop it back into the processor and blitz again to break up any ice crystals.
Serve in cups or ice-cream cones, or return to the freezer until ready to eat.










Date Published:

29 May 2018