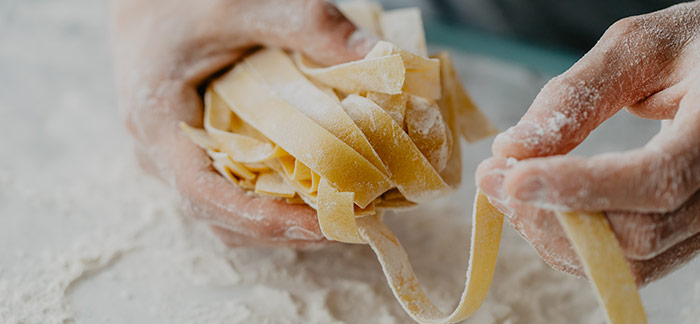 Channel the spirit of an Italian "nonna" and make your own pasta at home. You don't need a pasta machine to turn out a delicious plate of lasagne or tagliatelle, and, mamma mia, the silken texture and flavour of homemade pasta is sublime.

Regular pasta chefs say it can be quicker than baking a loaf of bread: it needs 15 minutes to make a smooth and elastic dough, 30 minutes for the dough to "rest", 15 minutes to roll out, and only a minute or two to cook which means you can have a pot of steaming hot noodles in around an hour.

The ingredients are simple: flour and eggs. When in Rome, do as the Romans do and use 00 flour, which has a higher protein count (look for Millstone Farina 00 at selected Checkers and Makro outlets). However, if you can't find this then you can use any finely milled flour such as cake (plain, not self-raising) or white bread flour. Each 100g of flour will make enough pasta to serve one person.
Recipe for Homemade Pasta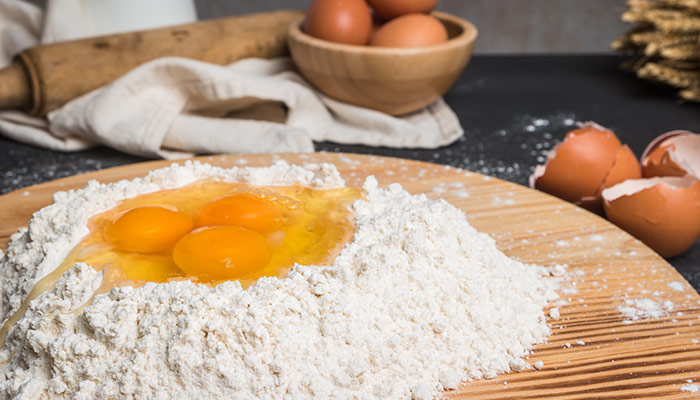 Ingredients
(serves four to six):

4 eggs, lightly beaten
½ teaspoon salt
4 cups flour
¼ to ½ cup water, or as much as you need to make a stiff but workable dough

Method

In a medium sized bowl, combine the flour and salt. Make a well in the flour, add the eggs and mix. The mixture should form a stiff dough but, if needed, stir in water. Once you have mixed your dough, place on a lightly floured surface (yes, the table will do for this, just clean it first!) and knead for 5 to 10 minutes. If the dough is too soft and sticky, add flour; if it is too hard and dry, add water. This is the muscle work but don't rush this stage because if you don't knead for long enough, it won't hold its shape when it cooks.

After kneading, cover the ball of dough in plastic wrap or a damp tea towel and let it rest for up to an hour.

From here on the whole family can help: Lightly flour a clean work surface, take your ball of pasta, split it into 3 or 4 pieces and get each person to start flattening their chunk. It's hard work, but fun!

The idea is to roll it out to be around 1mm thin, and then it is ready to cut: slice into ribbons for tagliatelle, pinch into bowties for farfalle, twist into twirls for fusilli, leave in wider strips for pappardelle, or whatever takes your fancy.
You also can dry the longer strips on coat hangers and store in an airtight container for a day or so, but it really is so yummy there may not be much left over.

To cook, bring a large pot of salted water to the boil and drop in the pasta. It should only need a minute or two. When done to your preference, strain through a colander, reserving a little of the cooking water, and serve according to your recipe.

HINT: Make sure the water is bubbling properly before adding the pasta, and never put the lid back on, or the pasta will boil over. Gluten-intolerant and still want to try make your own pasta?

Recipe for Gluten-Free Pasta
Ingredients (serves four)

1½ cups brown rice flour, plus more for dusting
½ cup tapioca starch or maizena
1 teaspoon xanthan gum
4 large eggs
Gluten-free plain flour (to dust the surface you roll the pasta out on)

Method

Prepare and cook in boiling salted water as for the regular recipe.

Bear in mind that a gluten-free dough will not be as flexible as wheat-flour pasta so you can't roll it out quite as thinly. You also can cut it into shorter noodles which will be easier to work on.


Fresh pasta is more delicate than the dry version so try one of these light and simple sauces, which everyone in the family can enjoy – and the kids can help smash the tomatoes in the no-cook tomato sauce recipe!

TAGLIATELLE PESTO GENOVESE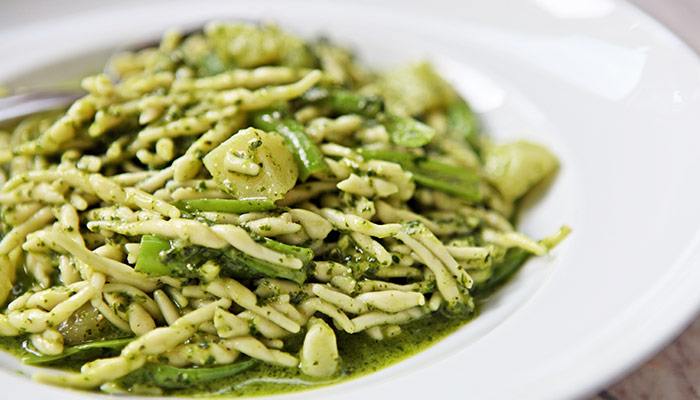 The classic way to cook basil pesto pasta in Genoa is with green beans and potatoes – and it makes an extremely tasty and inexpensive family supper packed with green vitamins.
Ingredients

300g baby potatoes, washed and cut in half (no need to peel)
200g fine green beans, topped and tailed and cut in half
400g tagliatelle (or one batch as per recipe above)
120g tub of fresh basil pesto
Olive oil and salt

Method

Fill a large pot half full with water and bring to the boil. Add potatoes and salt.

Cook for 7-10 minutes until the potatoes are almost tender. Add beans and cook for 2-3 minutes more, then add the fresh pasta and cook for another 2-3 minutes or until pasta is al dente.

Drain well, leaving ¼ cup of the cooking liquid in the pan. Return the potatoes, pasta and beans, then stir in the fresh pesto.

Season to taste, divide between four serving plates and drizzle with a little olive oil. Top with more grated parmesan cheese to taste.

NO-COOK FRESH TOMATO SAUCE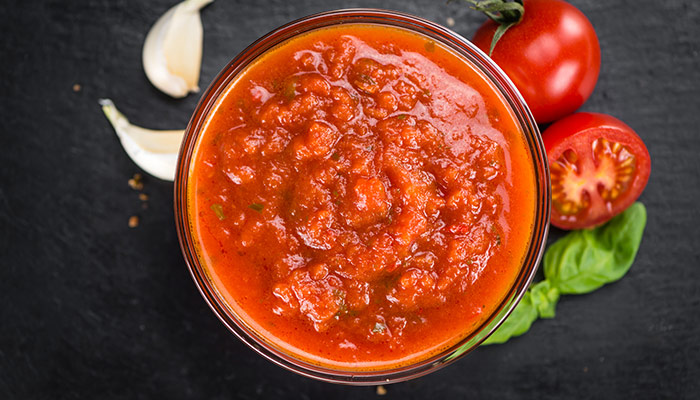 This is a no-fuss recipe for the family to dig its hands into so call on the kids to help you crush the tomatoes and get all the juicy flavour into the sauce. Because the tomatoes are left raw, it's also full of lip-smacking vitamin C.
Serves 4
Ingredients

400g pasta (as per recipe above)
24 cherry tomatoes, at room temperature
4 large tomatoes, also at room temperature
Handful of basil leaves
1 bunch of chives
16 olives, stoned (optional)
1 cup cheddar or parmesan cheese, grated
2 tablespoons olive oil
Salt and black pepper (to taste)

Method

Fill a large pot half full with water, add half a teaspoon of salt, and bring to the boil.
Put the cherry tomatoes into a large bowl, reach down into the bowl and squeeze each one hard until it bursts. Pull the tomatoes into pieces.
Squeeze the halved tomatoes on a lemon squeezer to juice and pour into the bowl with the crushed tomatoes (the remaining tomato shells do not go into this dish but can be frozen to use in a Winter stew, or added to a soup).
Tear the herbs into small pieces, halve or quarter the olives and mix into the tomatoes. The sauce can now sit for up to an hour or two, or may be used straight away.
Add the pasta to the pot and cook for 2-3 minutes or until al dente.
Drain the pasta, reserving a little of the liquid, drizzle with olive oil and add the raw tomato sauce. Toss well to heat but not cook the tomato mixture and serve, topped with the grated cheese.

If you want to splash out with an authentic Italian flavour, start with a plate of antipasto - perhaps salami, parma ham or prosciutto - then serve your pasta as the second course and round the meal off with a creamy gelato.

After the family has said "grazie" to the cook, all that's left is "fare una spaghettata", which literally means to eat spaghetti but has come to mean "let's get together and eat". Buon appetito!


Date Published:

22 June 2020