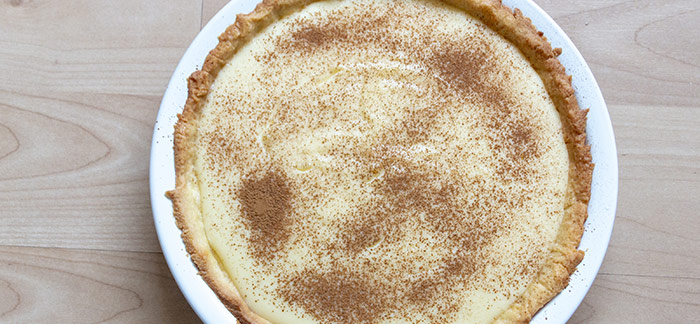 Spice up your festive dinner party with these classic South African recipes
With the festive season almost upon us, there's no need to look further for inspiration when it comes to eating and feasting. Some of the best kept secret recipes are found on South African soil, so let's not forget our home grown dishes and how lekker local can be! You'll have plenty of opportunities for dinner hosting this Summer, so perhaps these ideas will whet your appetite. Try out some of these simple, no-fuss recipes of familiar favourites which celebrate and combine the different cultures of our rainbow nation into a melting pot of divine culinary masterpieces.
Mielie bread
Preparation time: 5 minutes| Bake time: 45 minutes | Makes: 1 loaf | Difficulty: Easy
This scrumptious, sweet savoury snack was traditionally steamed over a fire and is best served warm with melted butter as a starter or side dish with braaivleis. For a sweeter version,try it with apricot jam. Mmm… can you smell it already?
Ingredients:

410g tinned creamed sweet corn
2 ½ cups self-raising flour
60g melted butter (salted) – halve into 2 bowls
2 eggs (beaten)
60ml warm milk
1 teaspoon salt
½ teaspoon paprika

Combine sweet corn, eggs, milk, salt and 30g of butter in a bowl and stir. Mix in flour and paprika to form a dough. Brush a loaf tin with melted butter, dust with flour and pour in dough.
Bake at 170°C for 45 minutes or until well-risen and lightly browned. Brush with remaining melted butter to keep the top soft.
Bobotie
Preparation time: 15 minutes | Cook time: 45 minutes | Serves: 6 | Difficulty: Medium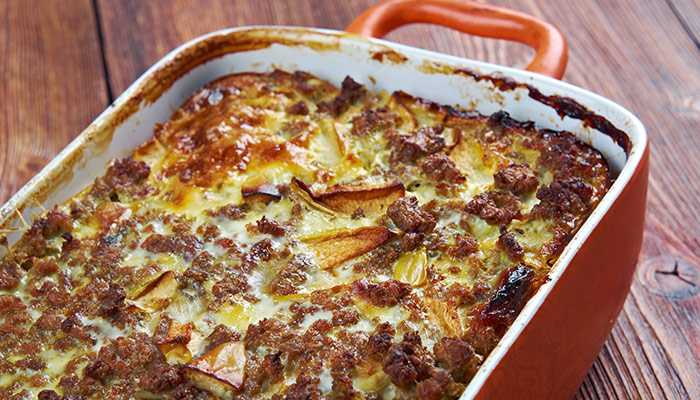 From the Cape Malay community, this delicious flavourful dish carries a hint of curry.
Ingredients:

900g minced beef
2 medium onions (sliced)
2 eggs
2 tablespoons cooking fat
2 tablespoons vinegar
1-2 tablespoons curry powder (depending on desired strength)
2 teaspoons sugar
1 tablespoon butter
1 thick sliced bread
1 cup milk
salt and pepper
1 bay leaf

Fry onions in fat until golden brown. Blend curry powder, vinegar and sugar, pouring into the pan. Stir while cooking for a few minutes.
Drain the bread (soaked in milk), mash it, adding it to minced meat with the curry mixture. Bind with an egg and season well. Turn the mixture into a buttered ovenproof dish.
Beat the remaining egg, adding the milk in which the bread was soaked. Season and pour on top of the meat mixture. Stick with 1-2 bay leaves, dabbing with butter. Stand the dish in a pan of water and bake at 180 °C for 45 minutes.
Oxtail potjie
Preparation time: 20 minutes | Cook time: 3 ½ hours | Serves: 6 | Difficulty: Easy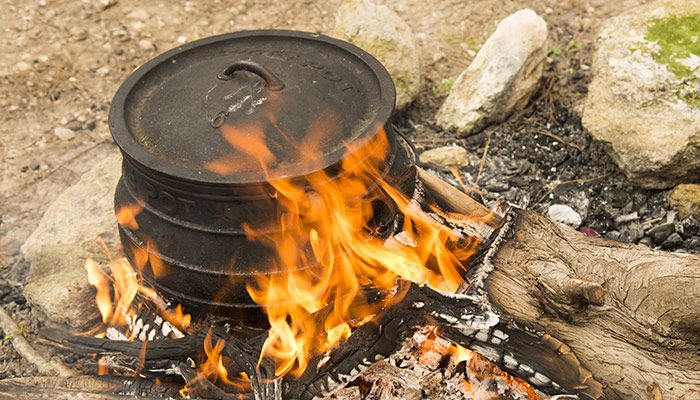 Originating with the Voortrekkers, this lip-smacking slow-cooked stew with vegetables can be enjoyed on your patio on a cool summer evening. With minimal preparation time, you can relax with your guests over a glass of wine while the pot does all the cooking.
Ingredients:

2-3 sliced ox tails
250g diced bacon
1 kg baby potatoes
3-4 large carrots (diced)
2 large onions (chopped)
1 clove chopped garlic
1 tin tomatoes (peeled)
salt
black pepper
thyme
4 bay leaves
300ml good red wine
250ml cream
olive oil

Season ox tails with salt and black pepper. Heat up the potjie and drizzle the inside base with olive oil. Add ox tails, bacon and braze.
Remove ox tails and bacon. Add onions, carrots, garlic, tomatoes, bay leaves and wine, bringing to the boil. Add ox tails and bacon, seasoning with salt, black pepper and thyme. Cook for 3 hours.
Add baby potatoes and cook for 15 minutes.
Add cream and cook for a further 15 minutes. Remove from heat and rest for 15 minutes.
Serve on brown rice with a side (try grilled vegetables or chakalaka).
Chakalaka
Preparation time: 15 minutes | Cook time: 25 minutes | Serves: 6 | Difficulty: Medium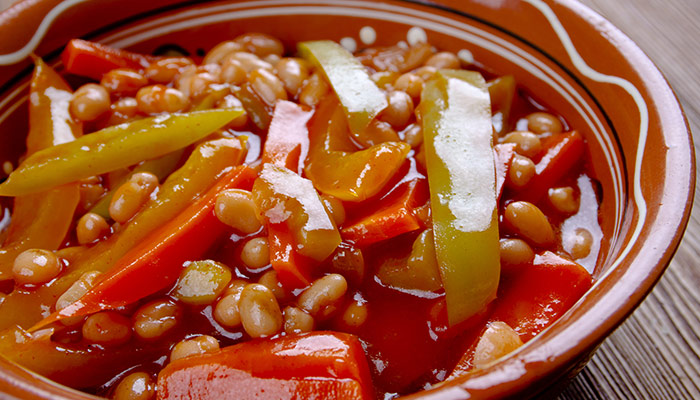 With possible origins from Johannesburg townships and surrounding gold mines, this spicy salad makes a delectable side dish.
Ingredients:

4 carrots (peeled, coarsely grated)
3-4 cloves garlic (chopped)
2-3 sweet peppers (chopped/sliced)
2 large tomatoes (chopped) or 1 tin tomatoes in own juice
1 tin white beans (drained)
1 large onion (chopped/sliced)
1 medium jalapeno chilli pepper (finely chopped)
2-3 tablespoons olive/cooking oil
2 tablespoons fresh ginger (finely chopped)
1-4 teaspoons curry powder (depending on desired strength)
salt
black pepper (ground)
½ cup coriander (finely chopped)

Heat the oil in a frying pan. Add onion and ginger, and cook for 5 minutes.
Add garlic, cook for 30 seconds. Add chilli pepper and curry powder, cook for 1 minute. Add carrots, cook for 1 minute. Add sweet peppers, stirring. Add tomatoes, salt and black pepper. After bringing to a boil, reduce to a low heat and cover, cook for 12-15 minutes. Remove the lid, adding beans and coriander. Cook for 5 minutes over medium heat. Sweeten to taste with ¼ - ½ a teaspoon of sugar if too sour.
Melktert
Preparation time: 15 minutes | Bake time: 45 minutes | Makes: 1 pie | Difficulty: Medium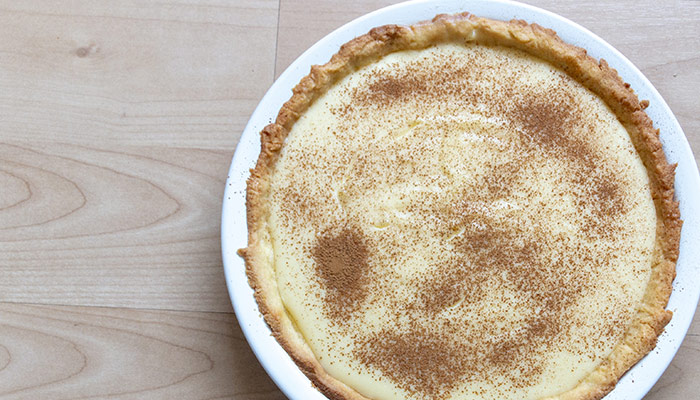 Finish off your meal with this divine, rich and creamy dessert which stems back to the Dutch settlers in the Cape, bringing back fond memories of ouma's house.
Ingredients:
Pastry:

2 tablespoons butter
2 teaspoons castor sugar
1 cup flour
1 egg
½ teaspoon baking powder
¼ teaspoon salt

Filling:

2 tablespoons butter
2 eggs (separated)
1 cup milk
1 tablespoon cornflour
1 tablespoon flour
1 tablespoon cinnamon sugar
¼ cup sugar
¼ teaspoon almond essence
¼ teaspoon vanilla essence
pinch of salt

Pastry:
Sieve the dry ingredients together. Rub in butter, mixing to a stiff dough with the beaten egg.
Roll out the mixture on a floured board and line a 20cm pie dish.

Filling:
Blend flour and cornflour with a little milk. Heat the remaining milk, and pour it over the flour mixture. Return to the saucepan and bring it to the boil, stirring continuously. Stir for 3 minutes until the starch is cooked.
Remove the saucepan from the stove, add sugar and butter and stir until dissolved. Add egg yolks, salt and essences. Fold in the stiffly beaten egg whites and pour into the prepared pie shell.
Bake at 190°C for 45 minutes, until the pastry is cooked and the filling set. Remove from the oven and sprinkle with the cinnamon sugar (mix 1 teaspoon cinnamon with 1 dessertspoon sugar). Serve hot or cold.
Rusks
Preparation time: 15 minutes | Bake time: 45 minutes | Makes: 1 batch | Difficulty: Easy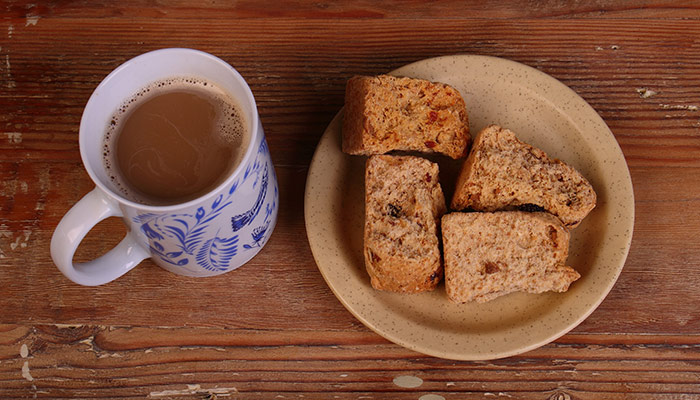 After your food has settled, and if you can muster up more space for an after-dinner sweet treat with tea or coffee, try this beskuit, a traditional Afrikaner breakfast meal or snack.
Ingredients:

1 kg flour (self-raising)
250g butter
200ml sugar
320ml buttermilk
10ml baking powder
2 eggs
1 teaspoon salt
25ml oil

Mix dry ingredients together, then start rubbing in the butter. Add eggs and oil, mixing well. Once satisfied with the dough, make a hole in the centre, adding buttermilk. Knead the dough well, rolling into balls in your desired size. Pack them tightly into a baking dish, pressing the dough evenly into a baking sheet. Bake at 180°C for 45 minutes.
Cut or break them into pieces, and dry out in a low oven after cutting.
For a variation, add bran, muesli or raisins.



Is your mouth watering yet? Even if you aren't a fan of cooking, these stress-free, tasty dishes make a memorable feast that will be savoured long after the last bite and crumb, and there'll be plenty of compliments to the chef. Go on and make that shopping list, invite your guests, and start planning your own festive proudly South African dinner party now


Date Published:

19 November 2019