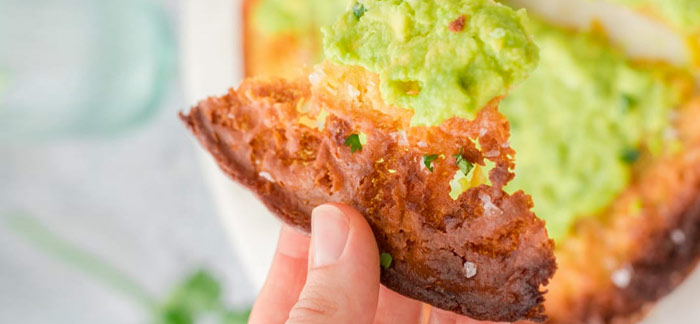 The fire has just been lit, the conversation and coals are taking a while to heat up, and the best thing you can take comfort in is the staple chip'n-dip. Although yummy, the calorie intake of just 16 crisps – let's face it who stops at just 16, and 1 tablespoon of dip is the equivalent of an entire meal.
It's time to jazz up your snack entrée's, get healthier and more spontaneous with our Top 5 next level snacks, whilst the braai coals smelter, you won't be filling up on empty calories.
1. Vietnamese Fresh Spring Rolls
These are seriously simple to make, taste amazing and won't fill you up.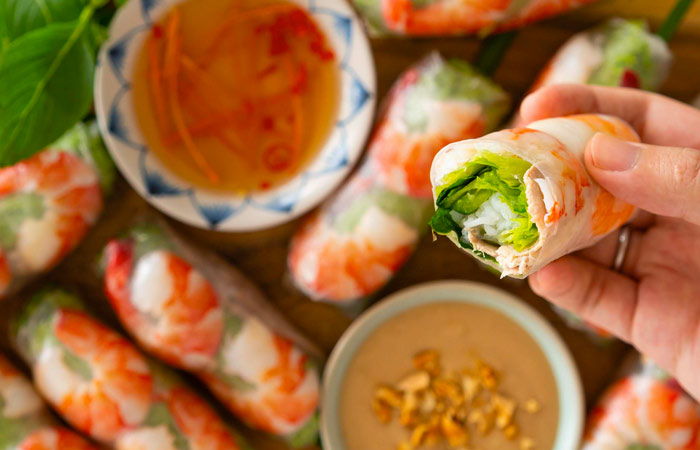 Ingredients:
14 round rice paper wrappers (the large ones are preferable)
1 cup fresh mint leaves
200 g cooked shrimp 200g, peeled and sliced in half lengthwise (you can omit if desired)
14 lettuce leaves
2 cups cooked rice vermicelli noodles cooled down
3 cups fresh bean sprouts
For the Sauce:
4 tablespoons rice vinegar
4 tablespoons fish sauce
1 cup water
1 tbsp sugar
1 clove garlic crushed (optional)
1 tbsp grated carrots (optional)
Method:
For the spring rolls:
Fill a large bowl with warm water. Dip two rice papers (or one) very carefully and gradually for about 1 minute, until totally soften.
Remove from the bowl carefully.
Lay rice papers on a clean cloth.
Make sure they lay flat and straighten out the odd wrinkle.
Arrange about 4 mint leaves at the bottom of the rice paper.
Then top with about 4 shrimp halves.
Top with a lettuce leaf, a small handful of vermicelli and a small handful of bean sprouts.
Fold uncovered sides inward, then tightly roll the rice paper. Repeat with remaining ingredients.
For the sauce:
In a saucepan, combine rice vinegar, fish sauce, water, and sugar. Heat until sugar is dissolved, then let cool completely. Add garlic and carrots.
Will keep for about a week in the fridge.
Serve your homemade spring rolls with the sauce and enjoy!
---
2. Crispy socca with avocado mash
Wondering what socca is? This is finally the pizza crust or flatbread answer for someone who is allergic to yeast, wheat, soy, dairy, gluten, and eggs! Thin, crunchy and beyond versatile you'll be making this all for yourself instead of sharing at the snack bar.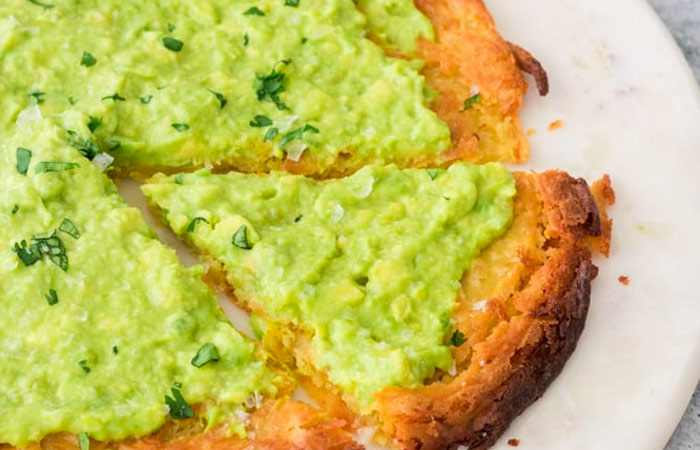 Ingredients:
For the socca
1 cup packed chickpea flour
1 1/4 cup filtered water
1 tablespoon avocado oil (or extra virgin olive oil) + 4 tablespoons more for the pan
1 tablespoon pure maple syrup
1 teaspoon fine salt
1/4 teaspoon garlic powder (optional)
Flaky sea salt for garnish
Avocado Mash
2 ripe avocados
1 teaspoon flaky sea salt(plus more for garnish)
squeeze of fresh lime juice to taste
Optional: fresh cilantro for garnish
Method
Preheat oven to 220°C. Add 2 tablespoons oil to a 10-inch cast iron skillet and set aside.
In a medium sized mixing bowl with a pour spout, whisk together chickpea flour, water, 1 tablespoons oil, maple syrup, salt and garlic powder if using. Once no clumps remain and batter is smooth, divide into two even parts.
Once the oven has reached 220 C, place the oiled skillet in the oven for 5 minutes. During this time, you can make the avocado mash. In a small mixing bowl mash the avocado. Add salt and small squeeze of lime juice. Taste and adjust salt and lime juice to your liking. Set aside in your refrigerator.
After five minutes, remove the skillet from the oven. Swirl the oil around to evenly coat the pan. Place the skillet on a flat surface and pour 3/4 cup of the batter in the center. Allow the batter to form into a large circle covering the entire pan. You may need to swirl it around slightly while wearing your oven mitt. Place the skillet back in the oven and cook for 15 minutes.
Carefully and gently flip with a large spatula and return to oven for 3 minutes. Immediately garnish generously with flaky sea salt. Remove the first socca from the skillet and onto a serving plate and garnish with flaky sea salt.
For the second batch, add 2 tablespoons of oil to the skillet. Add the final 3/4 cup of the socca batter and swirl around to evenly coat the skillet. Repeat the cooking process (bake for 13-15 minutes, flip and bake for another 2-3 minutes). Remove from oven and garnish with flaky sea salt.
Serve the socca out of the pan or carefully move to a serving plate. Serve with avocado mash on the side for dipping or place the avocado mash on top of the socca. Add more flaky sea salt and cilantro as an optional garnish. Slice and serve immediately.
---
3. Parmesan zucchini bites
Parmesan zucchini bites are a perfect low carb and low-calorie snack. Zucchini is also really good for you. It helps lower your blood sugar and aids in digestion. It's rich in Vitamin B which helps boost energy and combat fatigue. It also has a lot of fiber, which is great for any weight loss routine.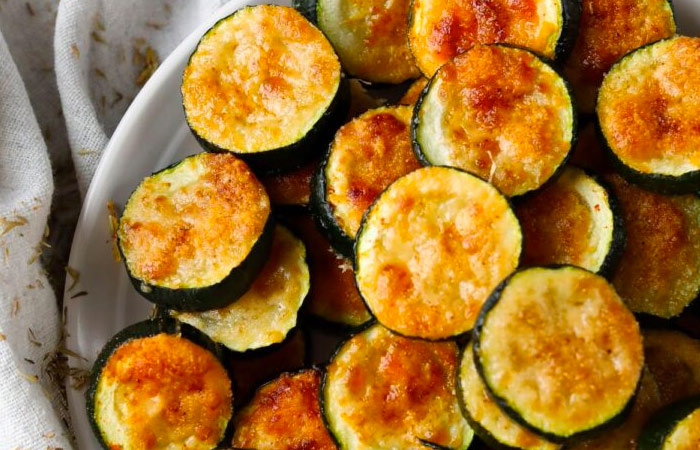 Ingredients:
Zucchini
Crushed garlic
Salt
Parmesan (powder preferably)
Paprika powder
Instructions:
Preheat the oven to 220°C. Get a large baking tray and line it with parchment paper.
Next, slice the zucchini into round discs about 65cm thick.
Dry the zucchini after it has been sliced. This will remove some of the water from the vegetable that might also cause it to get soggy when cooked. Do this by patting the slices with paper towels.
pray the parchment paper with no-stick spray. This will help the bites from sticking to the paper.
Next, lay the slices flat on the baking tray. Make sure they are not touching or overlapping.
Sprinkle some garlic powder and salt over all the zucchini slices.
Sprinkle a small amount of parmesan cheese on each zucchini bite. (Use a fine, flakey parmesan cheese for this recipe.)
Finally, top each bite with a pinch of paprika. This adds flavour and a burst of colour.
Bake them for 15-20 minutes at 220°C or until the parmesan cheese begins to brown. Remove the bites from the oven and allow to cool for five minutes before serving.
Don't forget to serve with your favourite dipping sauce.
---
4. Green Beans with Olive-Almond Tapenade
A great way to get the kids to eat their greens. The almond flavours take over and the lemon adds just the zest this snack needs.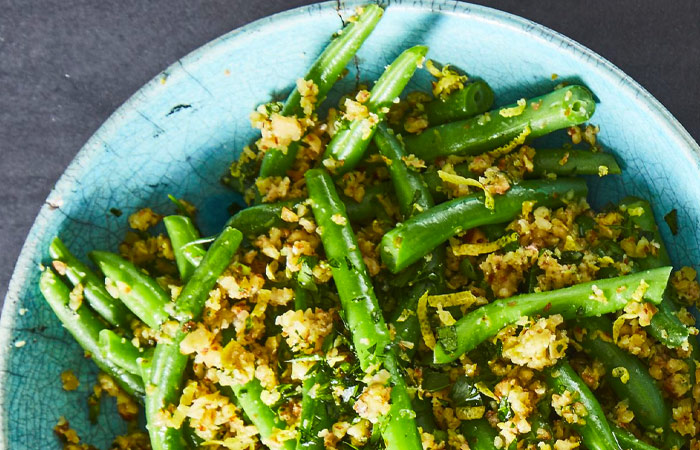 Ingredients:
1/4 cup whole almonds, toasted
1/2 cup large pitted green olive
1 tsp grated lemon zest
3 tbsp packed parsley leaves, plus more for garnish
2 tbsp extra virgin olive oil
680 grams green beans, trimmed
Method:
In food processor, pulse almonds until finely chopped. Add olives, lemon zest and parsley; pulse until finely ground. Add oil and pulse until well blended; season with 1/8 teaspoon salt and 1/4 teaspoon pepper.
Heat large covered pot salted water to boiling on high. Add green beans; cook 4 minutes or until crisp-tender. Drain well; place in serving bowl.
Add tapenade to beans; toss until evenly coated. Garnish with parsley. Serve warm or at room temperature.
---
5. Crispy Roasted Chickpeas
This protein-based snack is similar to crisps in a way, you just reach and pop them in your mouth. Mindless eating without the calories!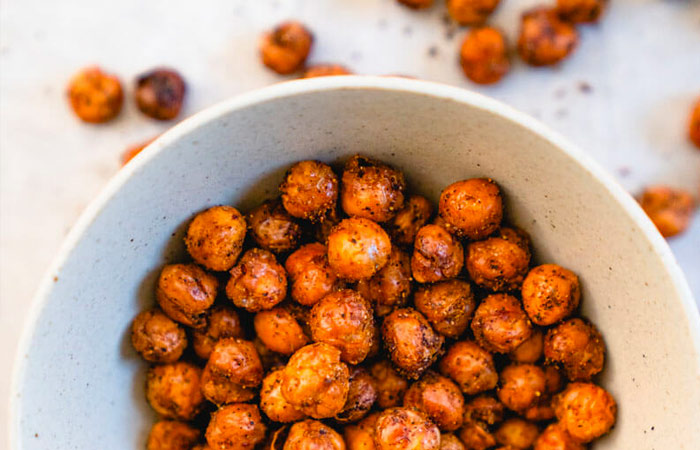 Ingredients:

1 1/2 cups cooked chickpeas, drained and rinsed

Extra-virgin olive oil, for drizzling

Sea salt

Paprika, curry powder, or other spices (optional)

Method:

Preheat the oven to 220°C and line a large baking sheet with parchment paper.

Spread the chickpeas on a kitchen towel and pat them dry. Remove any loose skins.

Transfer the dried chickpeas to the baking sheet and toss them with a drizzle of olive oil and generous pinches of salt.

Roast the chickpeas for 20 to 30 minutes, or until golden brown and crisp. Ovens can vary, if your chickpeas are not crispy enough, keep going until they are!

Remove from the oven and, while the chickpeas are still warm, toss with pinches of your favourite spices, if using.

Store roasted chickpeas in a loosely covered container at room temperature. They are best used within two days.







As with everything, moderation is the key to smart snacking. Enjoying healthy snacks prior to your main meal can assist with not overeating. It also leaves space for your daily calorie counter to give the nod for you to enjoy a roasted marshmallow over the dwindling coals.


Date Published:

02 March 2021