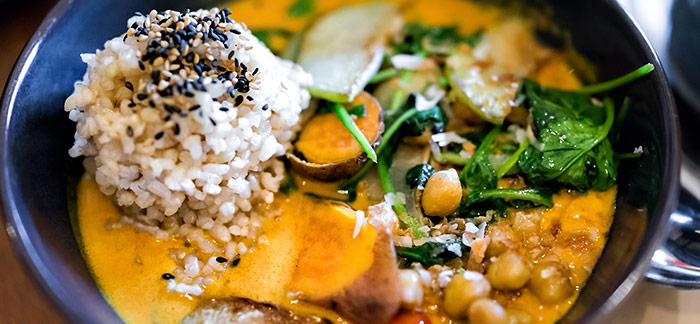 If you've heard that a vegan lifestyle is simple, easy, and often less costly, it's true! It's vastly less costly on the planet, and even when it comes to your personal spending, cutting out meat has many pro's. Vegan living is healthier for our bodies and the environment. When we know that 83 % of global farmlands go to meat production, which supplies only 18 percent of our calorie intake, the maths isn't hard to understand. The holistic benefits of vegan living are undeniable.
For those who simply want to add a vegan meal or two into a weekly diet, it's an easy thing to do. It's also one of the biggest contributions a person can make to a healthier planet. One step at a time is a good route to more vegan thinking, whether you're looking for a more balanced, healthier diet, or heading for a completely vegan lifestyle.
Vegan meals make for a small carbon footprint
A single glimpse at how vegan lifestyles aid the environment allows us to see how powerfully people can effect change simply by eating a single vegan meal. Although carbon emissions are not the whole story, almost 20 percent of greenhouse gas emissions do stem from animal farming. Right there, is a huge amount of change waiting to happen. Any first-source consumption we practise (being plant-based materials and food) eliminates the need for the whole second-source, polluting chain (factory farm meat).
Easy (and yummy) vegan recipe
SATAY SWEET POTATO CURRY
This dish, courtesy of the BBC GoodFood recipes, will give you that yummy, full-tummy feeling - no skimping on the hungry here!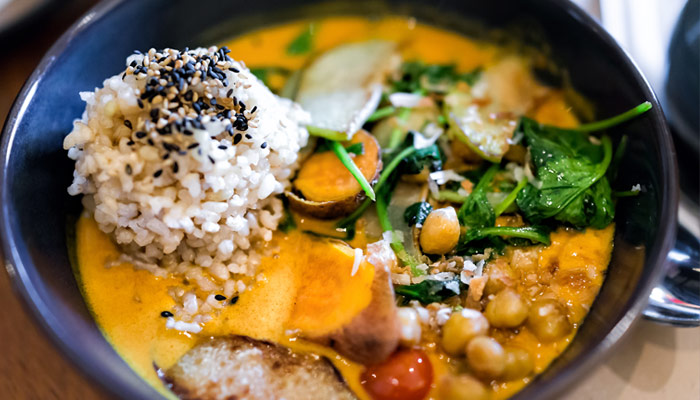 You'll need:
1 tbsp coconut oil
2 granted garlic cloves
1 chopped onion
A thumb-sized piece ginger, diced or grated
3 tbsp Thai red curry paste (look on the label to ensure it's a vegetarian/ vegan pack)
1 tbsp smooth peanut butter
500g sweet potato, diced into chunks
1 x 400ml coconut milk can>
200g shredded spinach
1 lime, juiced
Cooked rice of your choice, optional
Handful of roasted peanuts, optional

Method:
Melt the coconut oil in a pan over medium heat, and fry the diced onion for 5 minutes. Add the grated garlic and ginger, and stir over the heat for another minute.

Stir in the Thai red curry paste, peanut butter and add the sweet potato, all the coconut milk and 200ml water.

Bring all to the boil, turn the heat back down and simmer without a lid for 25 - 30 minutes or until the sweet potato is soft. Just before taking it off the stove, mix in the shredded spinach and lime juice. Wonderful to serve on rice with sprinkled peanuts.
SPICY AUBERGINE BAKE
This is a really easy vegan dish, again courtesy of the Good Food blog - layers of aubergine in a spiced coconut milk with tomato sauce - that makes for a cosy, comforting meal.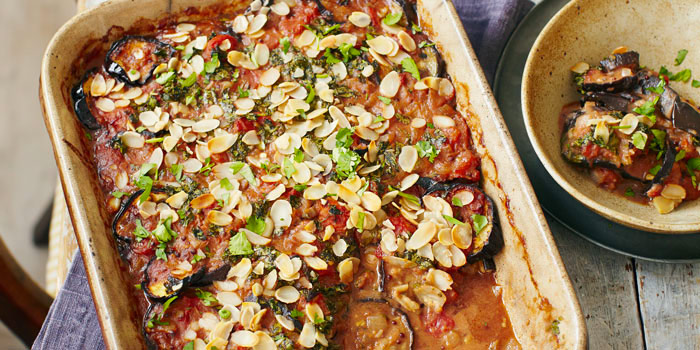 You'll need:
4 aubergines (eggplant), cut into slices
3 tbsp vegetable oil
2 tbsp coconut oil
2 onions, sliced and diced
3 garlic cloves, sliced and crushed
1 tbsp black mustard seed
½ tbsp fenugreek seeds
1 tbsp garam masala
A pinch of chilli powder, more to taste
1 cinnamon stick
1 tsp ground cumin, and another of ground coriander
2 standard tines of chopped tomatoes
200ml coconut milk
2 tbsp flaked almonds
Sugar to taste
Chopped fresh coriander as preferred, for serving

Method:
Heat your oven to 220. Brush each slice of aubergine liberally with some of the vegetable oil, and place them in one layer in a baking tray. If there are plenty, making two layers is also good. Place on the low shelf and cook for around 10 minutes, flip them to revel their other side, and bake for another 5 - 10 minutes until they're golden. Turn the oven down to 180.
In a large enough, preferably heavy-base frying pan, heat the coconut oil. Add the diced onion and let it cook on a low heat for 5 minutes. Add the fenugreek and mustard seeds, the garlic, garam masala, chilli powder, cumin, coriander, and cinnamon stick. Blitz all in the pan for only a moment until everything smells fragrant and delightful.
Add the chopped tomatoes and the coconut milk, and keep stirring well. Add some sugar, or salt and pepper, as you prefer.
With a spoon, apply a third of the tomato sauce on the bottom of a large ovenproof dish, then layer with half of the aubergine slices. Spoon over another third of the tomato sauce, and then place the remaining aubergine slices, then finish by pouring the rest of the tomato sauce all over the top. Now you can sprinkle the flaked almonds and fresh coriander, keeping some of the latter for serving, and bake for 25-30 minutes until deliciously edible.



VEGAN MAC AND CHEESE
This yummy meal comes from the good people at Cookie and Kate and, for anyone who has had to whip up macaroni and cheese for fussy kids, this could be a crowd-pleasing, cheese-free lifesaver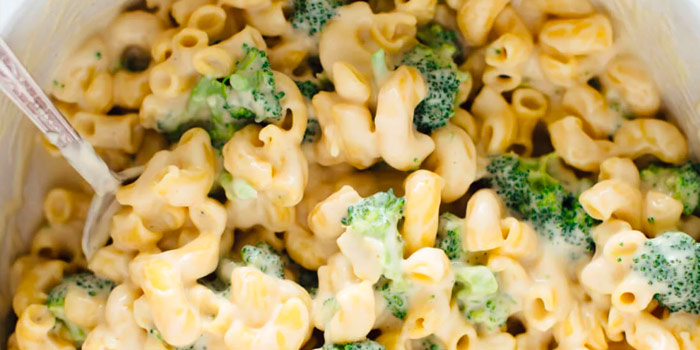 You'll need:
200g whole-grain macaroni
An average head of broccoli florets, diced into bite sizes
1 ½ tablespoons extra virgin olive oil or avocado oil
1 small onion, finely diced
1 cup peeled and grated potato
3 garlic cloves, pressed or minced
½ teaspoon garlic salt or pure garlic powder
½ teaspoon dry mustard powder
1 teaspoon pink rock salt
5 or 6 peppadews, diced
⅔ cup raw cashews
1 cup water, to add more if needed
¼ cup nutritional yeast
2 or 3 teaspoons apple cider vinegar, to taste

Method:

Boil a large enough pot of salted water for the macaroni. Cook until al dente, adding the broccoli 5 minutes before the pasta is done. Drain in a colander and tip into a large serving bowl.

Once the pasta is underway, warm the oil over a medium heat. Fry the onion with a salt pinch by stirring often, until the onion has turned golden. Add the grated potato, garlic and mustard powder, garlic, salt and peppadews. Mix well, and cook while stirring constantly to prevent sticking.

Add the cashew nuts and water, and mix all well. Simmer this mixture with frequent stirs, on a medium heat - not too fast - until the potatoes are done. Taking care not to spill, pour into a blender. Add 2 spoons of the vinegar and the nutritional yeast. Blend until the mixture is completely smooth, and water can be added to thin the sauce smoothie as required. If bland, add the other spoon of vinegar.

Pour the sauce over the pasta, and stir until everything is well mixed.



There are literally thousands of tasty, easy and often quick vegan meals you can enjoy on a regular basis. Dive in, check it out, and take your taste buds to new and exotic places. Finding a yummy vegan recipe for a weekly meal is fun, healthy for you and yours, and so very good for our planet too!





Date Published:

27 January 2020