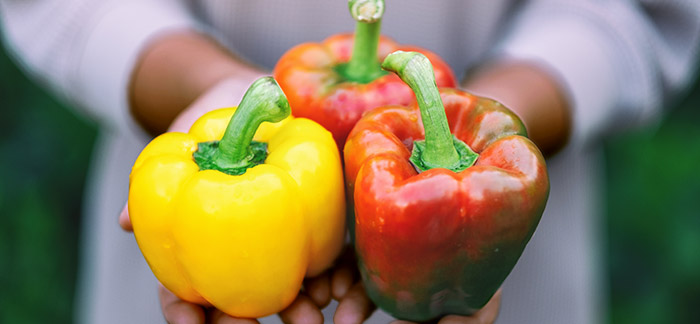 Our miracle ingredient is the sweet bell pepper which unbeknown to many is a wonder worker of the veggie world, packing a healthy punch while also being deliciously versatile at the dinner table.
Easy to use either raw or cooked, crunchy or soft – bell peppers, also known as capsicums, come in a green, yellow or red array of colours giving them visual appeal. Plus, their flavour is at home in the global kitchen of soups, salads and sauces, curries, pizzas, pastas and more.
What really makes bell peppers the little miracle workers they are, however, is the healthy nutrients they contain.
An alphabet of vitamins
Let's dig into their benefits, vitamin by vitamin. Bell peppers are high in Vitamin C, Vitamin A, and are also a good source of Vitamins B2 (riboflavin), B6, E, niacin and folate. As if that isn't enough, you also find potassium, iron, magnesium, manganese and other macro-nutrients in these shiny beauties.
Vitamin A and C help to ward off infections that can lead to colds and flu; Vitamin E helps protect your cells from damage and supports a strong immune system, while riboflavin helps the body break down carbohydrates, proteins and fats.
Then there are the carotenoids bell peppers contain, such as zeaxanthin and lutein which help to build immunity and decrease inflammation. As a natural source of manganese, this veggie produces bone-building enzymes and the magnesium aids in preventing neurological disorders.
When you are choosing bell peppers, it's worth picking red as these have five times the antioxidants of their green sisters. As they ripen and change colour from green through yellow to red, they also taste sweeter. Red capsicums are richer in Vitamin B6 which can help lower the risk of breast cancer, as well as lycopene, an antioxidant which helps to prevent prostate cancer – red is a winner for men and women's health.
Try out some of our suggested recipes below to increase your intake of peppers:
Sweet pepper pasta
Try this easy Italian-inspired recipe for a week-night supper. It serves 4-6.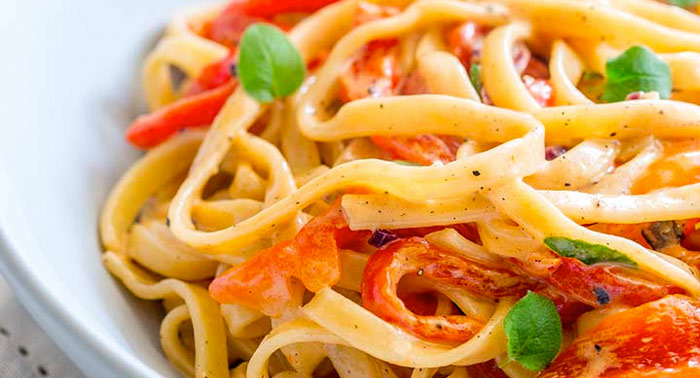 Ingredients:
500g packet of pasta of your choice – spaghetti or linguini are good
½ a yellow, ½ a red, and ½ an orange sweet bell pepper, diced
2 cloves garlic, minced
1/4 cup (80g) butter
2 T olive oil
¾ cup freshly grated parmesan cheese
Sea salt and black pepper
Optional: 1 small red chilli pepper, finely chopped
Method:
Cook the pasta in a pot of boiling, salted water.
While the pasta cooks, melt the butter in a pan, add the oil and gently fry the peppers and garlic until softened. Add the chilli if you are using.
Drain the pasta and toss through the pepper mixture. Season to taste, stir through half of the parmesan cheese, and serve topped with the remainder.
Easy roast bell peppers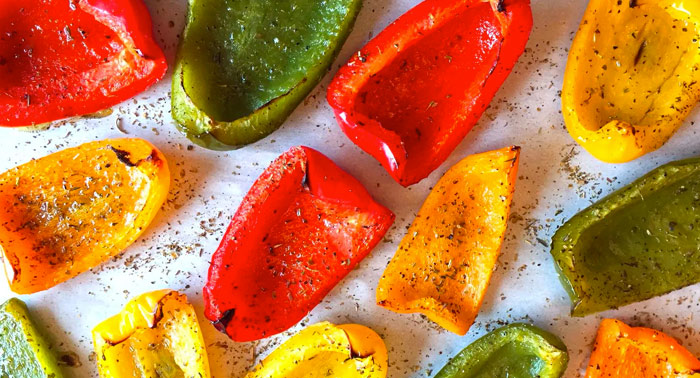 Ingredients:
4 peppers (red, yellow, or orange), halved and seeded
2 T olive oil
2 garlic cloves, thinly sliced
½ t dried oregano or thyme
Coarse salt and ground pepper
Small handful of fresh basil
Optional: 8 anchovies and 8 small tomatoes (see tip below)
Method:

Preheat oven to 200°C. Place peppers, cut side up, on a baking sheet. Divide garlic among peppers. Sprinkle with oregano and season with salt and pepper. Drizzle with olive oil. Roast until flesh is tender and skin is blistered in spots, between 25-35 minutes. Transfer peppers to a platter, roughly chop and top with torn basil leaves.




Optional: place an anchovy and a tomato into the hollow of each pepper half along with the garlic. Proceed as above, or until the tomatoes are soft and the peppers are filled with flavourful juices.

Leave to cool and serve warm or at room temperature. Great with ciabatta!




Shopper's tip: Choose peppers that feel heavy for their size and have glossy, smooth skin. Buy organic whenever possible – bell peppers are among the vegetables grown with the most pesticides.




Want to grow your own? Choose a sunny spot in the veggie patch with loamy soil, and keep the plants moist but not too wet. There is little to beat the crunchy taste of healthy, organic pepper, fresh from the garden.





Date Published:

15 April 2021