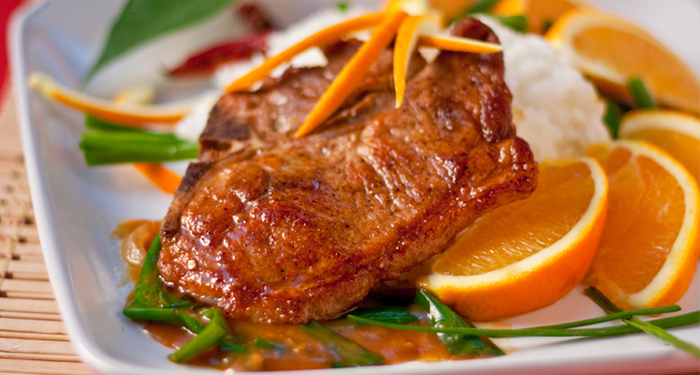 Ingredients
4 center-cut loin pork chops (each about 2cm thick)
3/4 teaspoon cumin seed
3/4 teaspoon coarse-ground pepper
Salt
1/3 cups fat-skimmed chicken broth
1 orange
How to make it
Trim and discard fat from chops; Press cumin seed & pepper onto both sides of chops. Sprinkle lightly with salt. Place each chop between sheets of plastic wrap; with a flat mallet, gently pound meat to 1/2cm thick, pounding as close to the bone as possible.

Set a nonstick frying pan over high heat. Add chops, in a single layer, and turn as needed to brown on both sides, 3 to 4 minutes total. As chops are cooked, transfer to a rimmed plate.

Meanwhile, rinse orange; cut in half lengthwise, then cut 1 half crosswise into thin slices, discarding seeds. Cut remaining orange half into 4 wedges. Return all chops and any accumulated juices to pan. Add sliced orange and 1/3 cup broth; cover and simmer over low heat until meat is no longer pink in the center (cut to test), about 4 minutes.

Spoon couscous or rice onto plates. Arrange chops and orange slices alongside; drizzle pan juices evenly over meat. Accompany with orange wedges to squeeze over pork. Add salt to taste.
Healthy Ingredients - Vitamin A & C
Oranges are high in vitamin C, which may reduce the risk of cataracts and macular degeneration. These tasty citrus fruits , may help improve the health of your eye tissue, according to the Age-Related Eye Diseases Study, a major clinical trial sponsored by the National Eye Institute. In the eye, vitamin C may help regenerate other important antioxidants, such as vitamin E.





Date Published:

25 August 2015