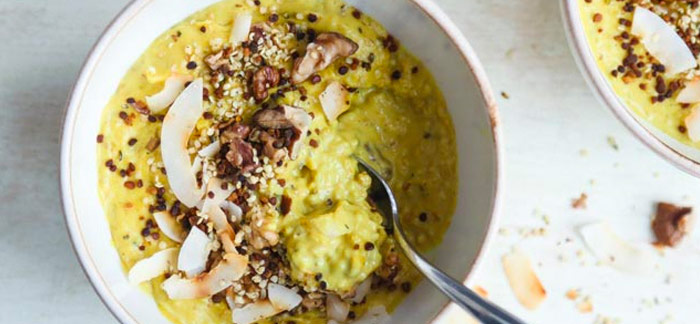 After all the festive season feasting you might feel like you are in need of a major detox. Inflammation that's caused from a diet too high in inflammatory foods such as added sugar can increase your risk for chronic diseases like cancer, heart disease, Alzheimer's disease and more.
Kickstart your day with one of our suggested anti-inflammatory breakfast recipes below, we've selected what we believe will be quick and easy for you to prepare. A healthy satisfying breakfast can be a sure-fire way to a productive day.
1. Superfood Blueberry Raw Cacao Smoothie
We love the idea of waking up to a smoothie, especially this one that is packed with blueberries.
What makes it healthy
Blueberries are loaded with a hefty dose of dietary fiber to keep blood sugar levels in check and they overflow with antioxidants and anti-inflammatory properties. Toss in some raw cacao nibs for added antioxidants and a magnesium boost. This one is especially for those with a sweet tooth!
Ingredients:
· ½ cup full-fat unsweetened coconut milk
· ½ cup unsweetened almond milk
· 1 cup of frozen blueberries
· 1 Tbsp. raw cacao nibs (available online or at health stores)
· 1 Tbsp. almond butter
Add everything into a blender and blend until creamy. Enjoy!
---
2. Crunchy Cinnamon Granola
We love, love, love this recipe! It's as simple as: measure and mix and it's done. The kids will be in love with the taste and will almost certainly join in the fun of making it.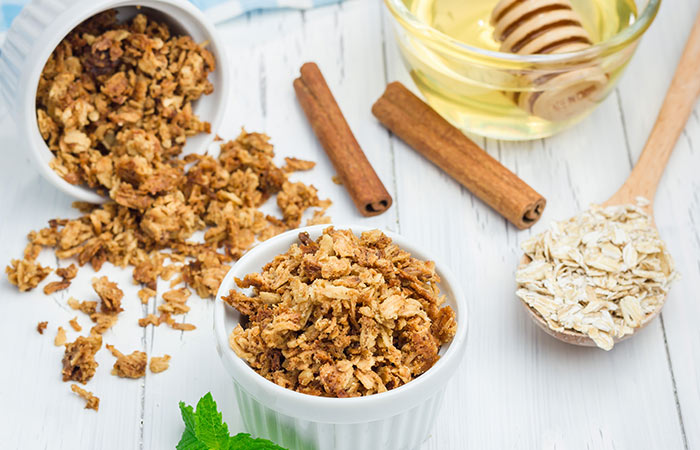 What makes it healthy
Oats are a concentrated source of fiber and nutrients while providing energy and stamina. Start your day with a handful over yogurt topped with berries and a dollop of pure honey.
Ingredients (Makes 3.5 cups)
2 cups old-fashioned rolled oats
¼ cup unsweetened shredded coconut
¼ cup chopped walnuts
2 tablespoons pumpkin seeds
½ teaspoon ground cinnamon
¼ teaspoon ground cloves
¼ teaspoon ground nutmeg
¼ cup honey
4 tablespoons unsalted butter, melted
¼ cup raisins (optional)
¼ cup chopped dried apricots
¼ cup dried cranberries
Instructions:
Preheat your oven to 300 degrees Celsius.
Line a baking sheet with parchment paper.
In a large mixing bowl, combine the oats, coconuts, walnuts, pumpkin seeds, and spices, and set aside.
Meanwhile, combine the honey and melted butter in a separate bowl, and pour it over the oat mixture. Stir well.
Spread the oat mixture out on the baking sheet. Reduce oven to 150 degrees Celsius. Bake for approximately 25 minutes, until golden. Remove from oven and allow to cool.
Once cool, break up the granola, and mix in the dried fruit. Store in an airtight container.
* Can burn easily so keep a watchful eye!
---
3. Mashed Cauliflower Breakfast Bowl
Quick and simple, this is a perfect on the go breakfast. The ingredients can be prepped the day before and reheated for a quick breakfast bowl, or eaten straight from the fridge.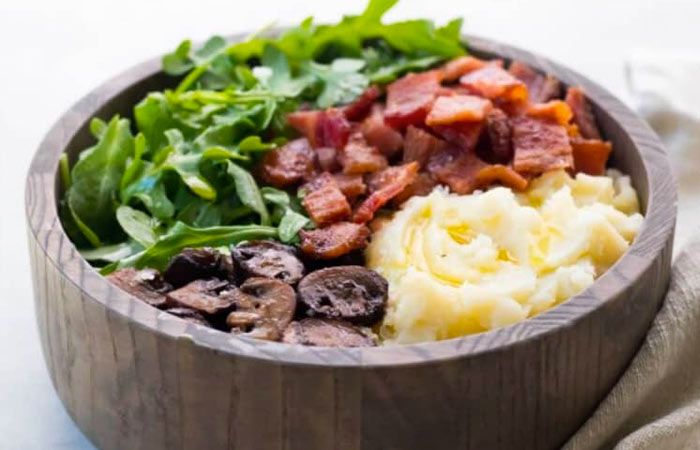 What makes it healthy
Cauliflower is known as an antioxidant because it contains high amounts of vitamin C.
Ingredients:
1 full head cauliflower mash (steam and use hand blender to mash, add butter and spices to taste)
1 1/2 cups whole baby portobello mushrooms (sliced in half and sauté slowly in a pan)
4 cups fresh green
6-8 slices of bacon (lay bacon on a rimmed, parchment lined baking sheet.) Cook until crisp, about 12-15 minute
3 Tbsp bone broth or 1.5 Tbsp balsamic vinegar
2 Tbsp coconut oil or avocado oil
1 Tbsp olive oil
sea salt to taste
Instructions:
Divide ingredients along with 1/2 a batch of mashed cauliflower among 2 bowls, and drizzle with olive or avocado oil. Sprinkle with coarse sea salt.
---
4. Anti-Inflammatory Low-Carb Golden Porridge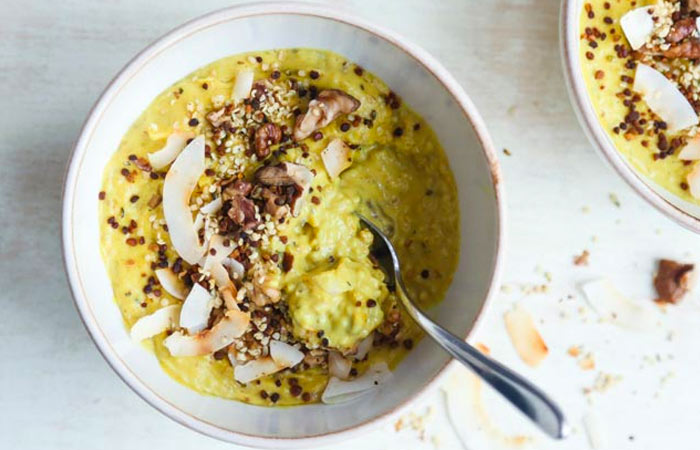 This keto porridge is filling and delicious. Just one serving of this porridge will provide almost 50% RDA of magnesium and potassium. And FYI, for those keto fans amongst us, there's no tastier way of beating keto-flu!
Why is it healthy
Loaded with turmeric which is a spice that is a powerful adaptogen, which protect our body from environmental factors such as stress and toxins. For those that opt for the bee pollen option this has anti-inflammatory and immune-boosting properties with several therapeutic applications.
Ingredients (makes 2 servings)
2 tbsp hemp seeds
1/4 cup walnut or pecan halves
1/4 cup unsweetened toasted flaked coconut
2 tbsp whole chia seeds
3/4 cup unsweetened almond milk
1/4 cup coconut milk
1/4 cup almond butter, preferably roasted
1 tbsp extra virgin coconut oil
1/4 - 1/2 tsp ground turmeric
1 tsp bee pollen or 1/2 tsp cinnamon
pinch ground black pepper (significantly improves absorption of turmeric)
Optional: 2 tbsp Erythritol or 5-10 drops liquid stevia
Instructions:
Roughly chop the walnuts. Place the hemp seeds, chopped walnuts and flaked coconut into a hot pan and roast for 1-2 minutes or until fragrant.

Toss a few times to prevent burning. When done, transfer the roasted mix into a bowl and set aside. In a small saucepan, mix the coconut milk and almond milk and heat over a medium heat. Once hot (not boiling), take off the heat. Add the almond butter and coconut oil.

Add chia seeds, turmeric powder, black pepper and Erythritol (optional). Mix until well combined and set aside for 5-10 minutes. Add half of the roasted mix from the bowl. If using cinnamon instead of bee pollen, mix it in with the turmeric powder.

Spoon the porridge into serving bowls and top with the remaining roasted mix. Finally, sprinkle with bee pollen.
Serve immediately or store in the fridge for up to 3 days.
* To keep the porridge crunchy, keep the roasted mix and bee pollen in a separate container at room temperature and add to the porridge just before serving.
---
5. Baby Kale Breakfast Salad with Quinoa & Strawberries
Salad at breakfast may seem a little odd but why not try front-loading your day with some extra veggies?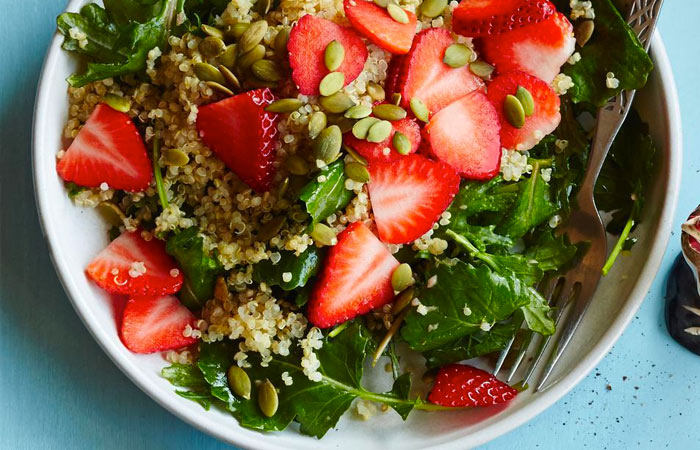 Why it's healthy
Leafy greens, like baby spinach and kale are top anti-inflammatory foods because of their antioxidants and bioactive compounds that reduce existing inflammation and prevent new inflammation from forming. Strawberries provide antioxidants vitamin A and vitamin C.
Ingredients:
1 teaspoon minced garlic
Pinch of salt
1 tablespoon extra-virgin olive oil
teaspoons red-wine vinegar
Pinch of ground pepper
cups lightly packed baby kale
½ cup cooked quinoa
½ cup sliced strawberries
1 tablespoon salted pumpkin seeds
Instructions:

Mash garlic and salt together with the side of a chef's knife or a fork to form a paste. Whisk the garlic paste, oil, vinegar and pepper together in a medium bowl. Add kale; toss to coat. Serve topped with quinoa, strawberries and pumpkin seeds.







There are literally thousands upon thousands of food recipe's available on platforms such as Pinterest to help beat and combat inflammation. The trick is to remember a high fibre diet and to include fruit and veg such greens, berries and probiotic-rich yogurt. Also, minimize added sugars or avoid them all together by using a banana, pitted dates or a little 100% fruit juice to sweeten naturally.





Date Published:

21 January 2021