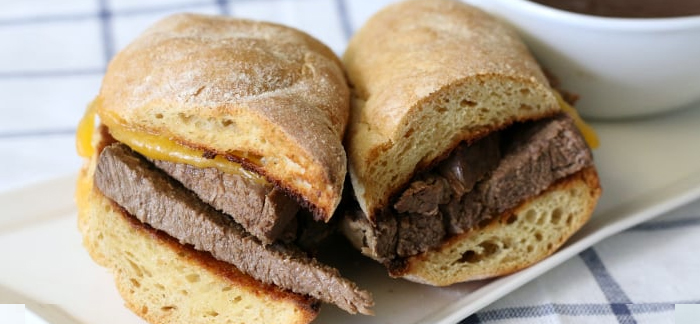 INGREDIENTS
1 (3-4 lb.) boneless beef roast (chuck roast, bottom round, etc.), thawed
1/2 cup gluten-free soy sauce
1 tsp. beef bouillon
1 tsp. garlic powder
3 cups water
8-10 French Rolls, Hoagies, Baguettes or Hamburger Buns
4 Tbsp. melted butter or non-dairy alternative
thinly sliced cheese (Swiss, Monterey Jack, Cheddar, etc.)
DIRECTIONS
Trim away extra fat from the outside of the roast. Place the trimmed roast in a slow cooker/CrockPot.
In a 1 cup measuring glass, measure the 1/2 cup soy sauce. Stir the beef bouillon and garlic powder into the soy sauce. Pour the mixture over the roast.
Using same measuring cup, add 3 cups of water to the slow cooker.
Place lid on slow cooker and set to cook on LOW heat for 8-10 hours, or until meat is very tender. There is flexibility with timing, so set it for what works for your schedule!
After cooking, remove the meat from the broth. Slice the meat with a knife if you prefer slices, or shred with two forks if you prefer shredded. Return sliced or shredded meat back to slow cooker and keep on warm setting until serving.
Slice hoagie buns in half and lay cut side up on foil lined baking sheet. The foil is for easy clean-up!
Brush each hoagie half with melted butter or non-dairy butter.
Place in oven under hi broiler setting for 1-2 minutes, watching carefully, pulling out when edges start to brown.
Top one side of each hoagie bun with thinly sliced cheese if desired. Return to oven on broiler setting for another 30-45 seconds or until cheese is melted but bun isn't burned.
Remove from oven and add meat to hoagies.
Spoon the broth from the slow cooker into ramekins or glass bowls for a dipping sauce (au jus). Enjoy!










Date Published:

07 March 2018