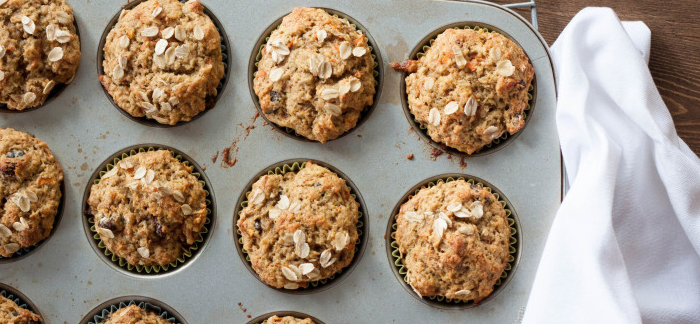 Prep time 20 min
Cook time 20 min
Total time 40 min
Serves: 12 serving
Ingredient
1/2 orange, with peel on
3/4 cup orange juice
1/2 cup butter, melted
2 egg
1 teaspoon vanilla
1 cup grated carrot
2 cups flour
1/2 cup brown sugar (plus an extra 1/4 cup if you like your muffins sweeter)
1 and 1/2 teaspoons cinnamon
1 teaspoon ground ginger
1/2 teaspoon nutmeg
1 teaspoon baking powder
1 teaspoon baking soda
1/2 cup raisins

Instruction

In a blender, add the orange half and orange juice and blend until smooth. Add melted butter and blend, then add eggs and vanilla and blend again until smooth. Pour into a medium-size bowl. Add grated carrots and stir until combined. Set aside.
In a large bowl, stir together the dry ingredients: flour, brown sugar, cinnamon, ginger, nutmeg, baking powder, baking soda, and raisins. Add the wet ingredients to the dry and stir until just moistened.
Line a muffin tray with liners (or grease instead) and scoop a heaping spoonful of batter into each liner.
Bake at 200 degrees C for 17-20 minutes.
Healthy Ingredient
Carrots contain a lot of beta-carotene, which is a precursor (inactive form) to vitamin A. Vitamin A prevents night blindness, helps maintain a healthy and clear cornea, and protects the cells in your eyes and throughout your body. Vitamin A, helps the retina and other parts of the eye to function smoothly.

Oranges are high in vitamin C, (Average of 70mg of vitamin C per medium fruit – the recommended daily value is 60mg) which may reduce the risk of cataracts and macular degeneration. These tasty citrus fruits, may help improve the health of your eye tissue


Date Published:

26 October 2016