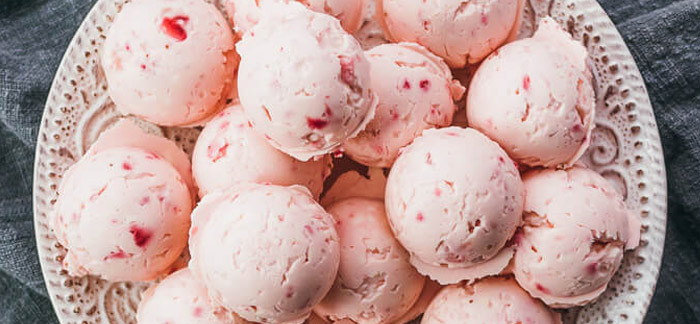 Prep Time 10 minute
Servings 18 serving
Calories 60 kcal
Ingredients
175g cream cheese
70g strawberries or raspberries (can be fresh or frozen)
4 tbsp salted butter
2 tbsp granular sweetener (stevia/xylitol)
1 tsp vanilla extract
Instructions
Let the cream cheese, strawberries, and butter sit at room temperature for about an hour to soften before continuing with the recipe.
Puree the strawberries using a small blender like the Nutribullet. Alternatively, you can mash them by hand, but the texture will be less smooth.
In a bowl, combine pureed strawberries, sweetener, and vanilla, stirring until well-mixed.
In a separate bowl, microwave the cream cheese for 10 seconds until very soft and pliable. This is an optional step, but it makes the cream cheese softer and more easily combined with other ingredients.
Add butter and cream cheese to the bowl with the strawberry mixture. Use an electric hand mixer and beat until well-mixed, ideally without any large cream cheese clumps remaining.
Divide the batter into 18 round silicone molds, smoothing the surface with a spatula. Freeze until solid, about 2 hours, before serving. Store leftovers in the freezer.
Healthy Ingredients
The antioxidant properties in strawberries may also help to prevent cataracts, the clouding over of the eye lens, which can lead to blindness in older age. Our eyes require vitamin C to protect them from exposure to free-radicals from the sun's harsh UV rays, which can damage the protein in the lens. Vitamin C also plays an important role in strengthening the eye's cornea and retina.
TIPS FOR MAKING CHEESECAKE KETO FAT BOMBS
For best results, the strawberries should be room temperature and pureed using a small blender. You want them to be thoroughly mashed.
Measure out the appropriate amount of strawberries by weight. If you accidentally add too much, it can make the batter too watery and the texture will be off.
The cream cheese and butter should be room temperature, to avoid big clumps of cream cheese in the final batter. Use an electric mixer to get the batter as well-mixed as possible.
Use any kind of mold shape — ideally each fat bomb should be bite-sized, about 1.5 inches in length. You might have some candy molds lying around. I used round silicone mold.




Date Published:

18 November 2019