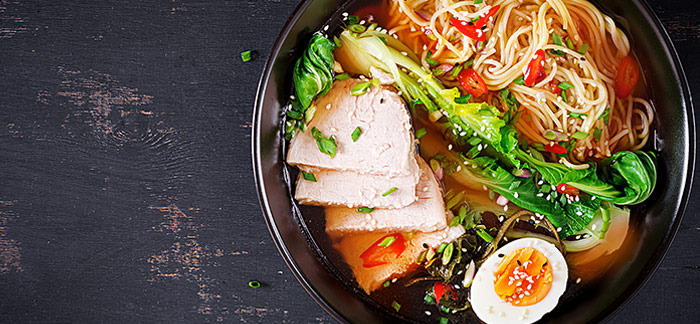 Winter may be on its way out but there's been enough chill in the evenings to invoke a serious longing for a bowl of hearty soup. Nothing like a steaming broth of wholesomeness to warm our very souls.
To keep those souls a-simmering, we've gathered together some delectable soup recipes. Time to haul out that chef's knife and get chopping!
1. Rasam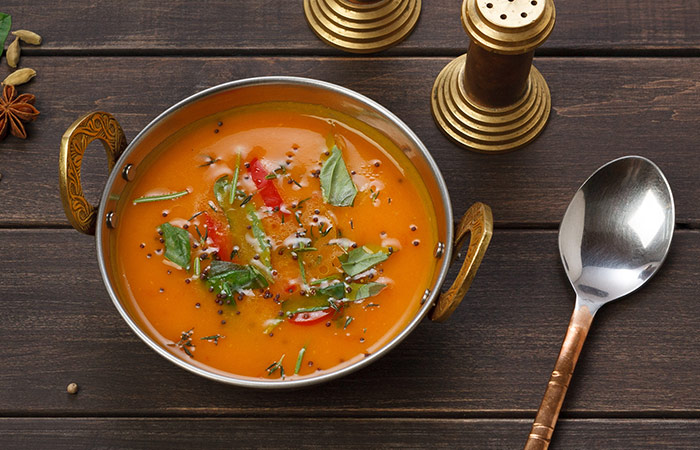 This zesty Rasam, also known as King Soup, will knock your socks off with its flavourful spiciness. The South Indian dish is pretty easy to make but you'll be dreaming about its deliciousness for weeks afterwards!
How? Crush a head of garlic plus a dash of salt together with 1T each of pepper, mustard and cumin seeds until it produces a fine paste. Then fry a thinly sliced medium onion and add the garlic-spices paste along with 4 dried red chillies. Stir in 1t turmeric, followed by a chopped tomato and the tamarind juice from your 4-5T tamarind pulp soaked in 2 cups water (be careful to get rid of any pips first though). Once it's been brought to a boil, it only needs 15 minutes of simmering 'til ready and the flavour improves overnight so it's worth making enough for leftovers!
2. Cauliflower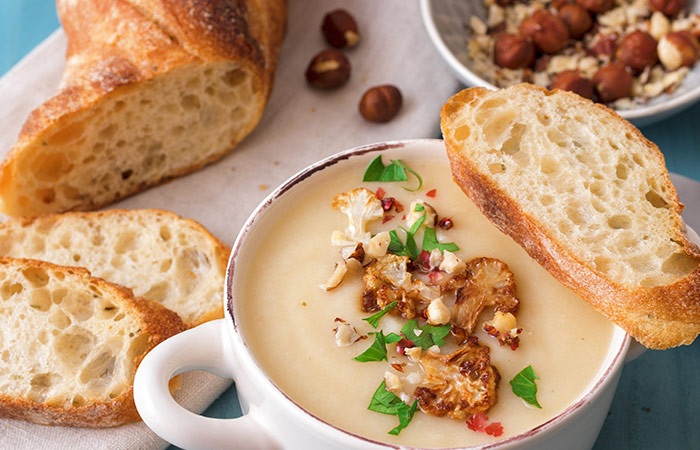 This ultra-creamy Cauliflower Soup with Bacon and Hazelnuts hits all the spots in both texture and taste. This is no one-pot dish though – its particular deliciousness is drawn from roasting and frying the key ingredients before adding them to the soup pot.
How? First roast half a cup of hazelnuts, roughly crushing them once they're ready. Then roast your head of cauliflower cut into florets, seasoned with salt and pepper and tossed with 2T olive oil. Make sure it is nicely browned all round. While the cauliflower's a-roasting, cut 4 slices of thick-cut bacon into 2cm sized pieces and cook until crispy and brown, resting thereafter on paper towels. Then chop 1 small bulb of fennel, 1 small onion and 1 clove of garlic and cook until soft. Add in a third of a cup of dry white wine and cook until almost evaporated. This is when you add the roasted cauliflower along with 6 cups of chicken broth, 3 quarters of a cup of cream, 2 bay leaves and a dash of salt and pepper. Bring it to a boil and simmer for 25 minutes, then remove the bay leaves and puree the mixture until smooth. Once you've ladled your soup into serving bowls, you can add the final flourish of bacon and crunchy hazelnut bits and drizzle with olive oil.
3. Cheeseburger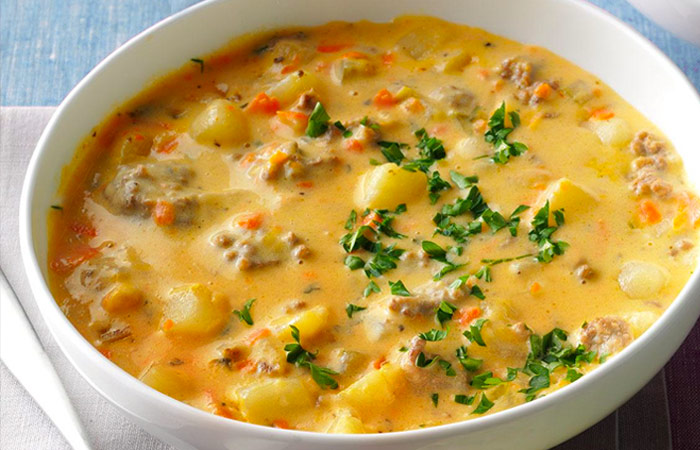 Ever heard of a Cheeseburger Soup? Well this meaty bowl of tastiness might just win you over and get your kids excited about soup again!
How? In a large saucepan, cook and crumble 2kgs beef until nicely browned, then set it aside. In the same saucepan, melt 1T butter and sauté 3 quarters of a cup each of chopped onions, carrots, and celery, along with 1t each of basil and parsley, until the veggies are tender. Then add 4 cups of cubed potatoes as well as your browned beef and 3 cups of chicken broth, bringing it all to a boil and then simmering for around 10 minutes. Meanwhile, melt 3T butter in a small skillet, add a quarter cup of flour and cook until it is bubbling before adding it to your soup. Next, stir in 2-4 cups of shredded Velveeta cheese (or make your own) along with 1 cup of milk and a dash of salt and pepper, cooking until the cheese melts. Remove it from heat, blend in a quarter cup of sour cream and enjoy!
4. Lentil
This Easy Lentil Soup with lemon zest, garlic and parsley recipe takes the hearty goodness of lentils and supercharges its deliciousness with this mouth-wateringly zingy grematola.
How? Starting with the grematola, combine 2T grated lemon zest with 2T fresh lemon juice, half a cup of chopped fresh parsley, 6 cloves of garlic, minced, and a quarter cup of olive oil. Season with some salt and pepper and set aside. Then heat another quarter cup of olive oil and add 1 leek, 1 onion, 1 large carrot and 2 stalks of celery, all finely chopped. Once they've softened, stir in half the grematola, followed by 500g of washed brown lentils. Then add 2 bay leaves and about 2,5L chicken or vegetable stock. Cook for an hour and then blend part to your desired consistency. Garnish each dish with a spoon of the remaining grematola.
5. Pork Ramen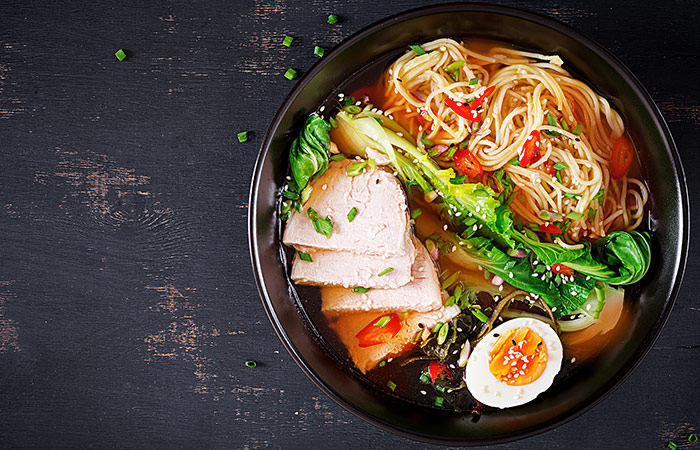 This celeb favourite Pork Ramen Soup combines all the best elements into a deeply flavourful broth. Of course, this depth of flavour comes from a fairly long prep and cooking time, but it is so worth it! Plus, who doesn't love ramen?
How? This recipe starts the day before, when you make your marinated eggs and prep a 750g pork belly by sprinkling it with 10g coarse kosher salt, 20g brown sugar and 30ml soy sauce, rubbing the mix over the entire pork piece. Cover and marinate in the fridge overnight. The next day, brush off the excess salt and sugar from your pork belly, put it into a snug roasting tray, cover with tinfoil and roast for 4 hours at 160 degrees. Make your apple sofrito by finely chopping 1 onion, 4 cloves of garlic, 3cm ginger and 1 green apple and frying these gently for 45 minutes until softened. For the shoyu tare, pour 75ml each of sake and mirin into a pan and bring to the boil for 4 minutes. Then reduce the heat and add 100ml soy sauce along with the apple sofrito, cooking together for just 5 minutes. Now it is time to make the broth: add 1L chicken stock to 1L dashi and bring to the boil in a large pan, then simmer for 5 minutes. Thinly slice the pork and then cook your ramen, shaking off any excess water before you serve. Top each bowl of broth and ramen with a few slices of pork and half a marinated egg, as well as some finely sliced spring onions and fresh red chilli.

Keep these recipes in the bag for a delicious and nutritious addition to your weekly menu and you are sure to win more than a few brownie points with family and friends.


Date Published:

11 September 2019