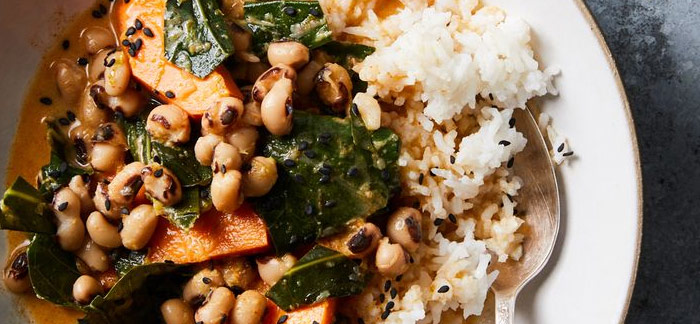 Ingredients:
1 tablespoon finely grated ginger (from a 2-inch piece)
1 tablespoon finely grated shallot (from 1 1/2- to 2-ounce shallot)
1Lime, finely grated zest (juice reserved for finishing the dish)
1 14-ounce can full-fat coconut milk
1 cup water or vegetable stock
3 tablespoons Thai red curry paste (brands vary greatly in spiciness, so add more or less to taste)
1 tablespoon fish sauce (or substitute soy sauce for a vegan version)
1 pound sweet potatoes (about 2 medium), halved lengthwise and sliced into thin, 1/4-inch pieces (note: thin slices ensure a faster cook time)
1 16-ounce can black-eyed peas (rinsed and drained)
3 cups roughly chopped collard greens (about half a bunch), stems and tough ribs removed
1/2 teaspoon kosher salt, or to taste
For serving: toasted black sesame seeds, warm rice, a handful of torn herbs (like cilantro or mint) if you have them!
Directions:
Heat oven to 400°F.
In a 12-inch ovenproof sauté or braising pan with 2- to 3-inch sides, combine first seven ingredients (ginger through fish sauce), stirring well to integrate, then stir in sweet potatoes, black-eyed peas, collards, and salt. Tip: for easy prep, use a Microplane (or other rasp grater) to grate the ginger, shallot, and lime zest directly into the pan; don't worry about the exact amounts. (Note: you may get mostly juice when grating your shallot--this is okay!) Alternatively, process the ginger and shallot to a fine paste in a mini food processor or mortar and pestle.
Bring to a simmer over medium heat, stirring a few times to make sure the sweet potatoes and collards are evenly coated in the sauce (if they're not fully submerged, that's fine!). Simmer for a minute or two, then transfer to the oven.
Simmer in the oven (uncovered) for about 30 to 35 minutes, or until the sweet potatoes are tender. Tip: Stir the curry after about 15 minutes to ensure even cooking, and check the tenderness of the sweet potatoes. (Lower heat, if needed, if simmering too vigorously.) Thin with a little extra stock or water, if desired.
Squeeze a little lime juice into the curry, and adjust seasoning to taste with salt or fish sauce. Serve warm over rice, topping with black sesame seeds and herbs, if using.
Healthy Ingredients:

Sweet Potatoes are a good source of beta carotene. Your body converts beta carotene to vitamin A, a nutrient that helps prevent dry eyes and night blindness. Beta carotene and vitamin A also may help reduce the risk eye infections.

Collard greens are also loaded with nutrients that are excellent for your entire body, but especially your eyes. They are a great source of vitamin A, and other antioxidant rich compounds that are highly beneficial for your eyes such as lutein, carotene and zeaxanthin.


Date Published:

26 March 2020