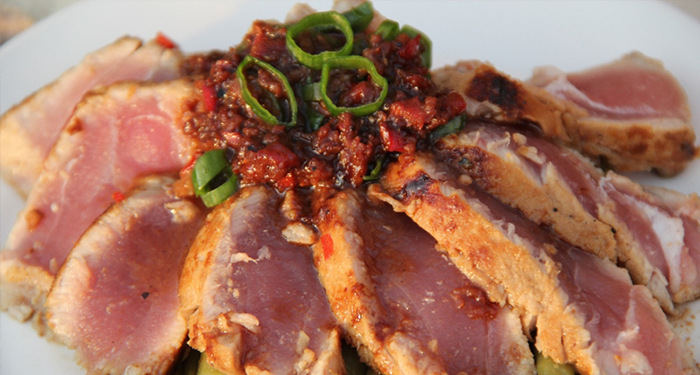 Ingredients
4 medium Fresh Tuna Steaks
1 Fresh Red Chilli - finely diced
1 teaspoons Minced Garlic
2 T mirin
2 T Teriyaki Sauce
2 teaspoons Rice Vinegar
2 teaspoons Fresh Ginger - grated
2 teaspoons Sugar
How to make it
Put the tuna steaks on a plate. Put all the ingredients on top of the steak, then gently mix with your hands. Leave to marinade in the fridge for at least 2hrs. When the time has passed, remove from the fridge, retaining the juice left from the marinade.

On high heat, heat a shallow non-stick pan - make sure the pan its very hot. Fry the tuna steak with no fat or oil at all, for 90 seconds on each side. Remove from the pan, ready to serve. Meanwhile, take the juice left from the marinade, pour it in the pan, lower the heat and simmer until you see the sauce starting to evaporate, then turn the heat off.

Slice the tuna and arrange it on top of your choice of green vegetable. Pour over the sauce and serve straight away. Garnish with spring onion.
Healthy Ingredients - Omega 3
Tuna can help prevent dry eye syndrome as well as lower the risk of age-related macular degeneration, a condition involving fine vision deterioration, which could eventually leads to blindness. Other good sources of omega-3 fatty acids include flaxseeds, flaxseed oil, walnuts and dark green leafy vegetables. However, your body cannot process the ALA omega-3 fatty acids from these vegetarian sources as easily as the DHA and EPA omega-3 fatty acids found in fish.





Date Published:

23 September 2015