The dreaded notification rolls in during the mid-afternoon. Grudgingly, you open the Whatsapp group, email or Gridwatch, and realise with dread that you've been cursed with the worst load-shedding slot imaginable – 19h00 to 21h30. You shake your fist at the heavens, spitting and sputtering. Eventually your rage filled expression changes to one of pleading. Puppy dog eyes and all.
Surely another message will arrive, saying it's all been a mistake or a big, well-coordinated joke. But nothing comes. A part of you hopes that you misread the schedule, but you're too afraid to look again and cement your fate. You do, and your fate is as good as strapped to a chair with big, cartoon cement shoes. Your night is sunk. Fear not! We've got you covered with this handy list of 7 Ways to Keep Busy in the Dark.
1. Quality Time

What better way to spend the time in the dark than to light hundreds of candles, distribute rose petals, consume oysters, strawberries and champagne, and to channel your inner eighties heartthrob and his unbuttoned oversized shirts minus the long flowing mane and large pecs? If you ask me, it's no surprise that there's a baby boom nine months after blackout season.
2. Read a Book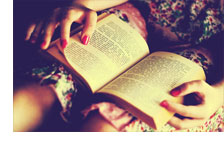 A real book. Nothing electronic. Since you're temporarily off the grid, why not go the full hog and read something that doesn't require batteries. Because – you know – batteries die. And you wouldn't want to get to the juicy bits and have the batteries go limp. Better just stick to good ol' inked paper and candles.
3. Get Gaming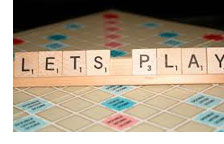 Believe it or not, computer games weren't the first version of gaming. Some of you will remember a time when we played board games and card games. Revisit the good ol' days by dusting off that deck of cards or Trivial Pursuit box. Play a round of Scrabble and find out whether Readers Digest was lying about it paying to increase your word power. If you're scheduled for a week of load shedding, consider getting embroiled in an epic Monopoly game (though it may last forever, driving you mad in the process). Consider more risqué versions of poker or Twista (be warned though, refer to point 1 above for the consequences).
4. Burn, Baby, Burn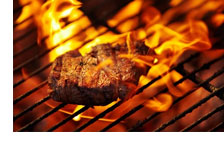 As South Africans, we don't need much motivation to braai. But if there's ever been a perfect opportunity for one, load shedding is definitely it. Start a fire, call it a very big candlelight and have dinner around it. Who said South African men aren't romantic? The fire also provides ample entertainment – just ask anyone who's spent hours feeding the fire in silence, nursing a drink while watching the flames flicker. Go a few steps further, and roast marshmallows with the kids while telling scary stories (PG scary stories – remember it is dark).
5. Eat Fancy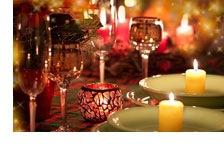 Order a takeaway meal from a fancy foreign restaurant where you've never eaten. Eat in total darkness, pretending you're eating at a dark dining establishment where" the basic concept is that the removal of vision enhances the other senses and increases gastronomic pleasure" (https://en.wikipedia.org/wiki/Dark_dining). Better yet, pretend you're a contestant on Dating in the Dark while eating your fancy meal, and share the experience with your loved one.
6. Bring Technology to the Dark Ages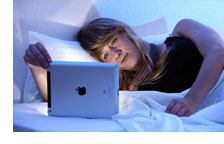 It's said that most smartphones are more powerful than the computers used to send the Apollo astronauts to the moon! Make sure that you charge your phone before the load is scheduled to be shed. Use it to snuggle up closed to your partner and watch a movie (http://lmgtfy.com/?q=build+your+own+mobile+phone+projector). Experience virtual reality (build your own or buy a viewer https://www.google.com/get/cardboard/). Mesmerise your better half with your Travolta moves and host a dance party (boost the speaker power of your smartphone for next to nothing https://www.youtube.com/watch?v=IefJsVLoa9A)!
7. Reflect & Meditate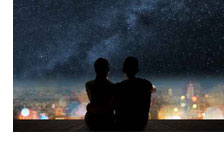 Historian Charles A. Beard (interestingly he was a normal bloke, not a beard as his name suggests) said that "[w]hen it is dark enough, you can see the stars". So, stop. Go outside. Look up. Reflect. Meditate. And, within moments, enjoy blissful sleep. Let's be honest, there's only so much time you can spend standing in the cold, looking up at the sky.

Enjoy (okay, maybe not enjoy, but survive?) load shedding and remember when in doubt there's always point 1.


Date Published:

09 July 2015