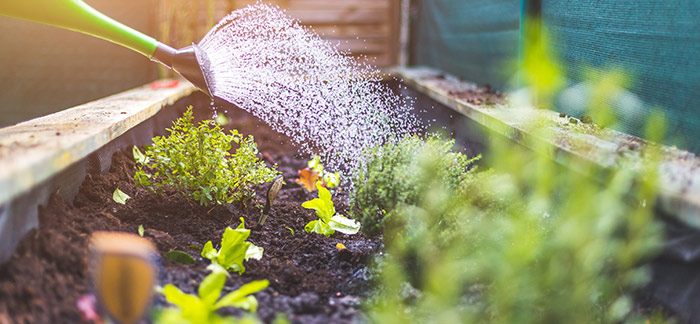 Always dreamed of having your own herb garden but don't have the greenest fingers? It's actually easier than you think! An organic kitchen herb garden is a sure way to spice up your favourite recipes, and with the added health benefits you're pursuing wellness from the inside out.
Why have an organic herb garden?
Growing your own organic kitchen herb garden means:
easy maintenance
no synthetic fertilisers, pesticides, or other toxic chemical
you'll know exactly what's going into your herbs and manage their growth yourself
24/7 access to fresh herbs for your cooking convenience
tastier and more fragrant fresh herbs than commercially dried shop-bought dried herb
the healthiest kind of herbs for your herbal remedies and meal
Where can I grow my own herbs?
The key is matching the right herb plant to the right conditions. Most herbs favour a full-sun location with a minimum of six hours of direct light daily.
Examples of sun-loving herbs are:
basil
parsley
rosemary
thyme
Herbs that fare better in shade or partial shade with more consistent watering include:
If you already have an established flower or vegetable garden, planting your herbs in the ground is an excellent addition. Don't have much outdoor space? Growing herbs in containers helps you better control the soil conditions and water each plant according to its own needs.
Make sure you plant herb varieties with the same growing requirements together. Keep your soil:
neutral (add well-decomposed compost to alkaline soil to gently and gradually balance your soil pH)
well drained (create drainage holes for pots) organic (mixed with compost or manure)
Most herbs prefer to dry out a little between watering sessions, but basil thrives in moist soil.
How do I grow my own herb garden?
You can either buy organic herb seedlings from your local nursery or start your garden with organic herb seeds that haven't been contaminated by any fertilisers, fungicides, or synthetic pesticides.
Costs to consider include herbs seeds vs. plants, soil, and pots. While it takes a few weeks longer, it's fairly simple to grow most herbs from their seed, and you'll save more money than buying transplanted herbs. Rosemary grows well from cuttings, while chives and mint grow well from division.
In a pot
Plain terra cotta plant pots are the superb starting point until you upgrade to a garden planter or planter box. Sew container herb seeds in a pot filled with organic seed-starting soil. Cover the container with plastic wrap to create a greenhouse effect until the seeds sprout.
In the ground
You can either sow seeds in the ground in springtime, or start seeds in small pots or growing trays indoors and later transplant them. Keep about 30cm to 1.2m in diameter of space around your planted herbs in the ground. Rosemary and mint require the maximum surrounding space, whereas basil and thyme require less, and chives and parsley the least.
If you plant your herbs in the ground, lightly cover the seeds with soil, keeping them moist until germination. Most popular herbs sprout within one to two weeks. After your herbs are about 5cm tall, transplant them to their permanent location. Thin out container herb seedlings to keep only the biggest, healthiest herb plants. Regular harvesting of your herbs primes them for new growth.
What herbs should I grow and why?
The herbs you already buy and use in your daily life are the ones you should plant. Knowing the health benefits of some herbs that can easily grow in containers can also motivate you to grow them yourself and enjoy them garden-fresh:
Basil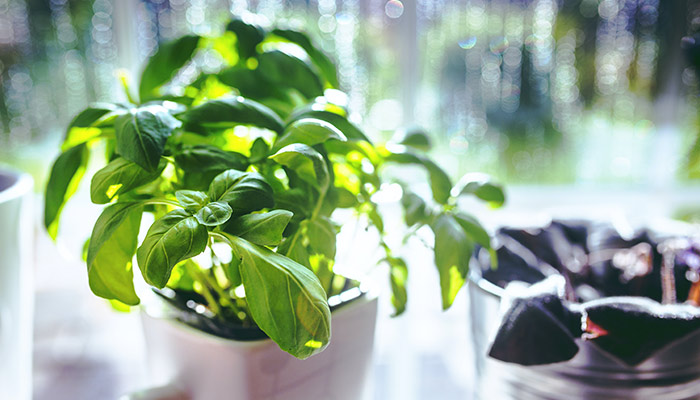 contains vitamin K
boasts antioxidant and anti-inflammatory properties
Sweet basil is used in many Italian dishes.
Chives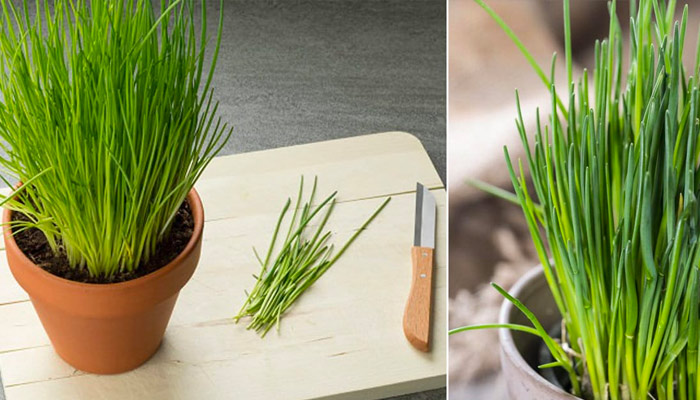 packed with vitamin C, garlic chives help prevent the common cold and fever
their elements assist in blood count increase, maintaining blood pressure and increasing your immunity power
Finely chopped chives are the ideal sprinkling to dips, fish, omelettes, soups, or potato dishes.
Mint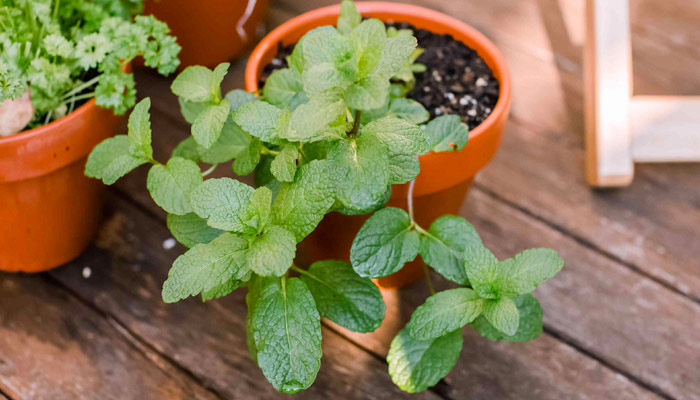 rich in vitamin A, vital for eye health and night vision
may also improve IBS symptoms and help relieve indigestion
Mint is popular in alcoholic drinks, teas, desserts, salads, and sauces.
Parsley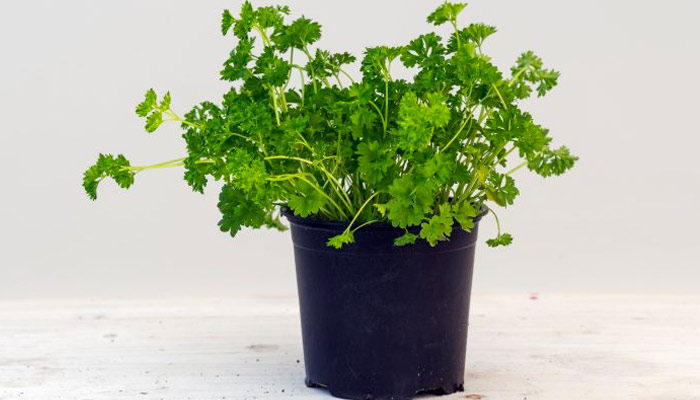 one of the most potent disease-fighting plants
can treat high blood pressure, allergies, and inflammatory diseases
Low-calorie count makes it brilliant in salad dressings, marinades, and seafood dishes.
Rosemary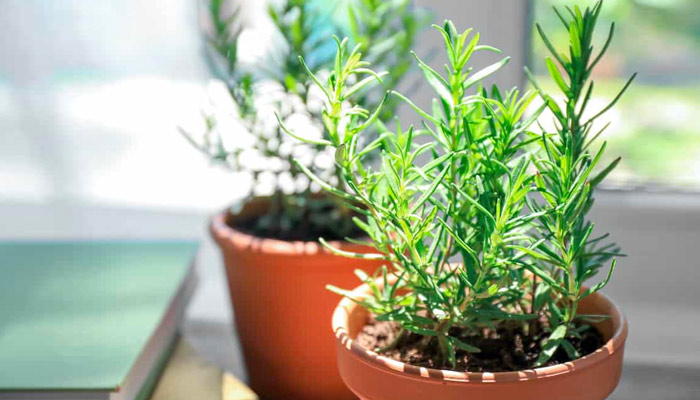 high in antioxidant, antimicrobial and anti-inflammatory compounds
rosemary tea can help fight infections, lower your blood sugar, and improve your memory and mood
Added to roasted potatoes, chicken, lamb or infused with olive oil, fresh rosemary is beautifully aromatic.
Thyme
has antibacterial properties
helps treat acne and high blood pressure
Thyme is especially enjoyed with fish and poultry in Mediterranean cuisine.
Here are two recipes you can whip up using your fresh organic garden herbs in five minutes flat.
Easy fresh herb vinaigrette
(Prep time: 5 minutes | Total time: 5 minutes | Serves: +-1/2 cup)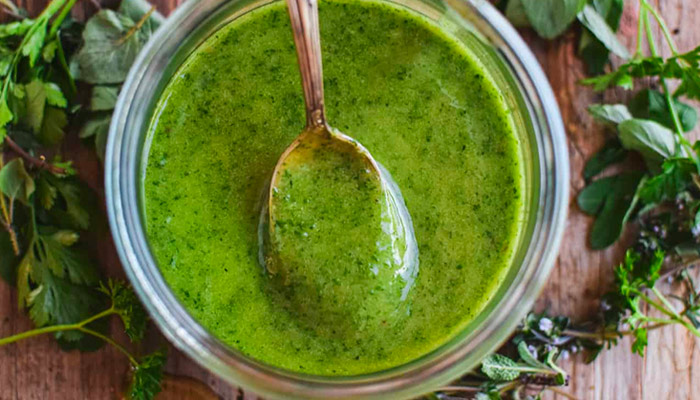 Fresh and flavourful, this vinaigrette is the perfect addition to spruce up any summer salad.
Ingredients:
1 garlic clove
¼ yellow onion
¼ cup olive oil
3 tablespoons apple cider vinegar
2 tablespoons lemon/lime juice
Large handful of fresh herbs (basil and parsley with a little mint and thyme)
¼ teaspoon cayenne
¼ teaspoon pepper
½ teaspoon salt
Instructions:
In a blender, add the apple cider vinegar, cayenne, garlic, herbs, lemon juice, olive oil, onion, salt, and pepper, blending until smooth.
Refrigerate until ready to use.
---
Basil pesto
(Prep time: 5 minutes | Total time: 5 minutes | Serves: 1 cup)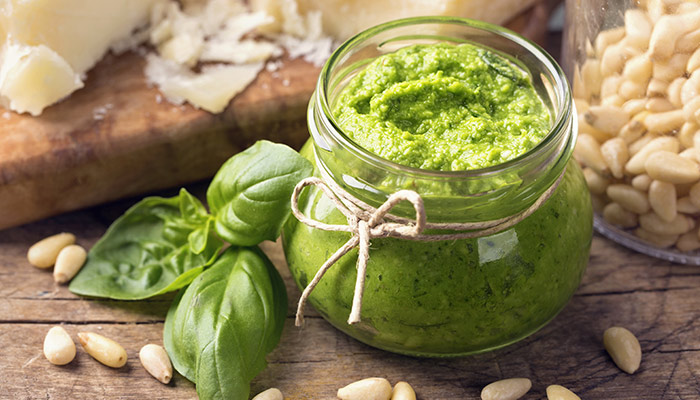 Added to eggs, pasta, pizza, roasted vegetables, toast, salads, sandwiches and wraps, classic basil pesto instantly transforms the taste of everyday meals and snacks.
Ingredients:
2 cups basil leaves
½ cup toasted pine nuts
¼ cup extra virgin olive oil
¼ cup grated Parmesan cheese (optional)
1 small garlic clove
2 tablespoons lemon juice
¼ teaspoon sea salt
Freshly ground black pepper
Instructions:

In a blender, combine the garlic, lemon juice, pine nuts, salt, and pepper until they're finely chopped.

Add the basil, pulsing again until combined.

While the blender is still running, drizzle in the olive oil, pulsing until combined.

Add the parmesan cheese, pulsing briefly to combine. For a smoother pesto, add more olive oil. Refrigerate in an airtight container for a few days.




Tip: To avoid the surface of the pesto turning brown in the fridge, covering it with a thin layer of plastic wrap before sealing your container keeps it fresh and green. Vegan? Just skip the cheese!







From food to medicine, decorations or aromatic bouquets, herbs have multiple purposes. Growing your own organic garden herbs is affordable, accessible, and advantageous to your health. It'll brighten up your garden, give you a new hobby, awaken your senses and positively impact your wellbeing as you embrace a healthier diet and lifestyle. It's time to go green and let it grow!





Date Published:

10 November 2021