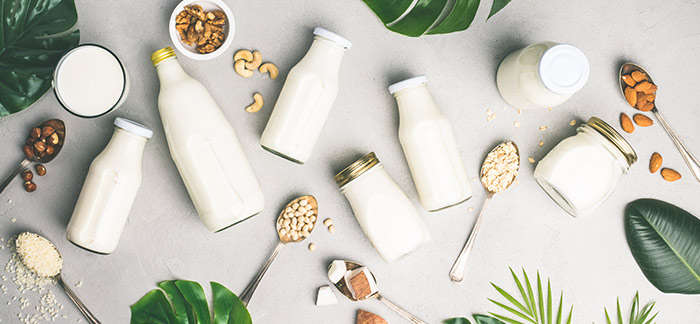 Some people try to avoid consuming too much dairy due to an allergy, lactose intolerance, dietary restriction, gut health or sinus struggles and the accompanying unwanted, uncomfortable side effects. Others do it as a personal preference or switch to plant-based milks to be kinder to the planet.
Making the move from milk to an alternative
Even though cow's milk is a staple in many people's diets, it's not always a suitable option for everyone. It may be overwhelming initially to think of cereal, coffee, baking and desserts without milk. What can you drink instead of milk?
For improved health and wellness or whatever your motive for moving away from milk may be, there are nutritional bean milk and nut milk alternatives. Here are five dairy-free milk options you can try:
Almond milk
Made from either whole almonds or almond butter and water, almond milk is light with a sometimes slightly sweet, nutty flavour. It's perfect with hot drinks, smoothies, baking and desserts, plus it's one of the lowest-calorie milk alternatives. Almond milk is also a natural source of vitamin E which helps protect your body from disease-causing substances.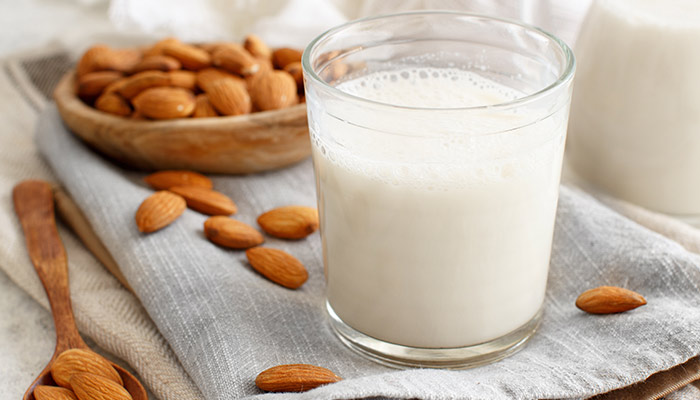 How to make your own almond milk
(Preparation time: 10 minutes | Servings: 10)
Store-bought milk alternatives can be quite pricey. Try this simple almond milk recipe to make your own at home:
Ingredients:
1 cup raw almonds (soaked overnight in cool water in the fridge)
5 cups filtered water
1 pinch sea salt
2 whole dates (optional)
1 teaspoon vanilla extract (optional)
2 tablespoons cocoa powder (optional)
½ cup berries (optional)
Method:
Add the salt, soaked almonds and water to a high-speed blender, blending until creamy and smooth. Include any optional add-ins for sweetness. Keep blending for a minimum of 1-2 minutes to maximise your almonds.
Strain using a thin dish towel (lay a clean dish towel over a mixing bowl, pour over the almond milk, carefully gather the corners and lift up. Squeeze to extract all the liquid and discard the pulp).
Pour the milk into a jar or covered bottle and refrigerate. Consume within 4-5 days or freeze up to one month.
Tip: Served best fresh. Shake well before drinking.
---
Coconut milk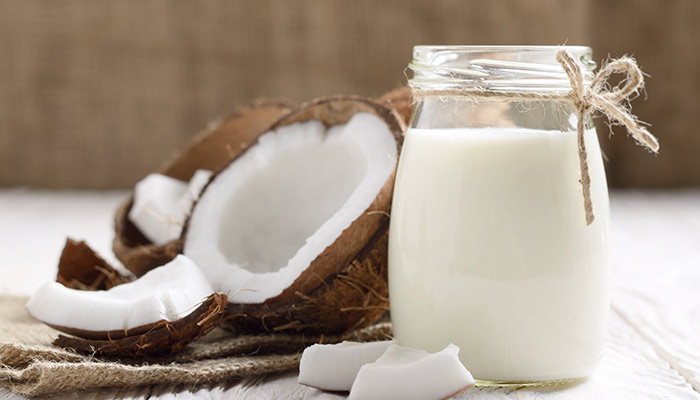 Creamy, sweet and subtle, coconut milk is made from water and the white flesh from brown coconuts. With the lowest protein and carbohydrate content of milk alternatives, coconut milk boasts a high content of saturated fat, which may help with weight loss and improve blood cholesterol levels compared to other fats. Coconut milk is rich in vitamins C and E with their antioxidant properties, plus it's packed with iron, potassium, magnesium and phosphorous. It's available from your local grocery store and is best used for various kinds of baked foods.
---
Oat milk
Using a mix of oats and water, oat milk is naturally sweet and mild. It's often mixed with gums, oils and salt for improved taste and texture.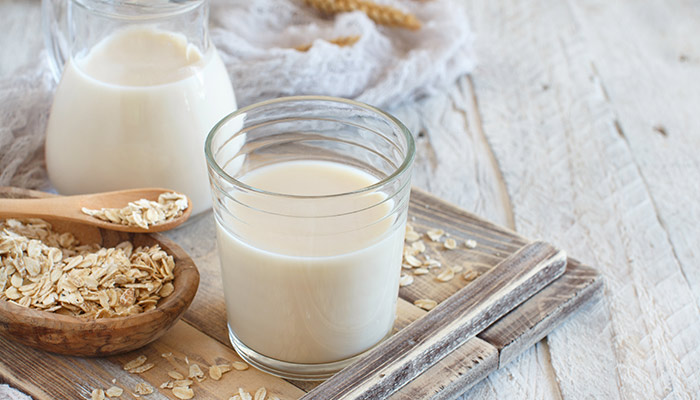 Used in cooking like cow's milk, it's delicious with cereal or smoothies. Containing a similar number of calories to cow's milk, oat milk is high in total fibre and helps lower cholesterol and blood sugar levels. It has more protein than most nut-based milk alternatives, and contains B vitamins.
You can make your own oat milk at home and control the creaminess and flavour, or purchase it from your local health shop.
---
Rice milk
From milled brown or white rice and water, rice milk frequently contains thickeners for better taste and texture. If you have a dairy, gluten, nuts or soy allergy or intolerance rice milk is a safe option to enjoy as a drink, in smoothies and with oats.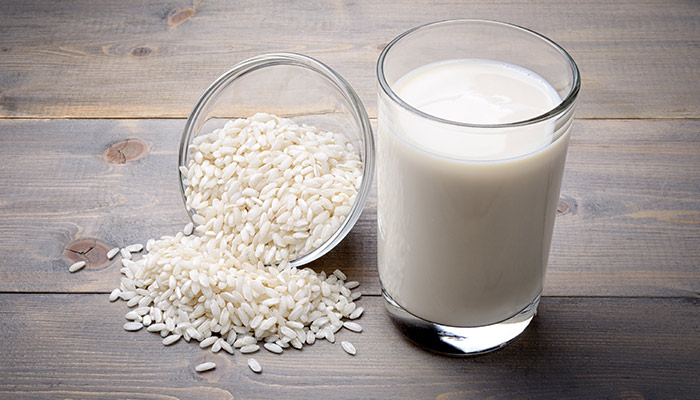 Although it contains a similar number of calories to cow's milk, it's the heaviest milk alternative in carbohydrate content and is absorbed quickly in the gut, quickly raising blood sugar levels. Fortified rice milk can be a good source of vitamins A, C and D. You can find it at your local health outlet or make it at home in five minutes using ½ cup cooked, drained, cooled brown rice and 2 cups water, blended until smooth and strained.
---
Soy milk
Made with either soy beans or soy protein isolate and often thickener and vegetable oils to enhance its taste and consistency, soy milk is mild and creamy.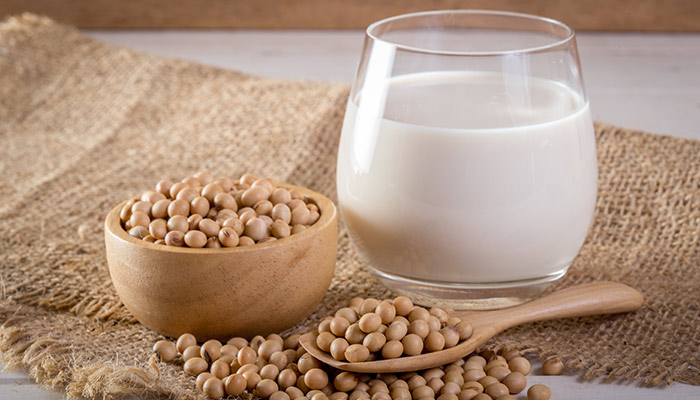 It's the most similar in nutrition to cow's milk and one of the few plant-based sources of high-quality "complete" protein, which provides all the essential amino acids. Soy milk boasts B vitamins and its isoflavone content can also help reduce heart disease.
Soy milk is ideal in savoury dishes, with cereal or coffee. It's best to buy it in-store and comes in flavoured, sweetened and unsweetened varieties.
Need some dairy-free dessert ideas?
Try these two fuss-free sweet treat recipes using nut milks:
Almond milk pudding
(Preparation time: 10 minutes | Cook time: 5 minutes | Serves: 4)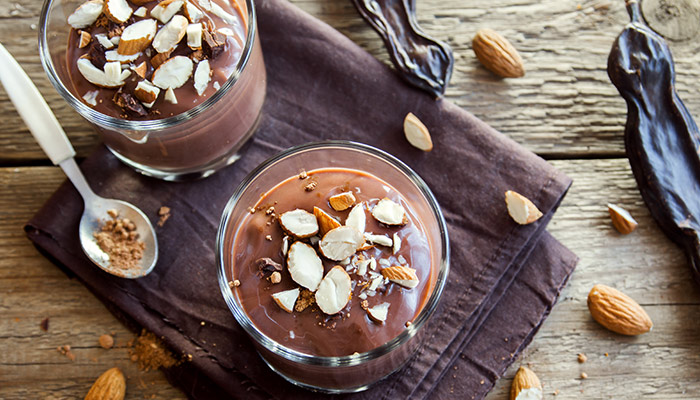 Creamy, rich, thick, and oozing with chocolatey goodness, this instant almond milk pudding is a flavourful dessert using only five ingredients, plus it's dairy- and egg-free!
Ingredients:
1 ½ cups almond milk (unsweetened)
¼ cup sugar (white)
¼ cup cocoa powder
3 tablespoons maize starch
2 tablespoons water
½ teaspoon vanilla extract
Instructions:
In a small saucepan, add the cocoa powder, milk, sugar and vanilla extract. In a small bowl, whisk the maize starch and water together, until all lumps are gone.
Whisk in the maize starch mixture into the saucepan, placing it over medium heat. Stir regularly, until it begins simmering. Reduce to a low heat, continuing to mix for an extra 5-6 minutes, until thick. Remove the saucepan from the heat.
Allow the pudding to cool to room temperature, then refrigerate for minimum one hour, until chilled.
---
Coconut ice-cream
(Preparation time: 10 minutes | Cook time: 10 minutes | Serves: 4-5)
Is your mouth watering for some ice-cream? You don't even need an ice-cream maker to enjoy this refreshing and creamy dairy-free coconut ice-cream.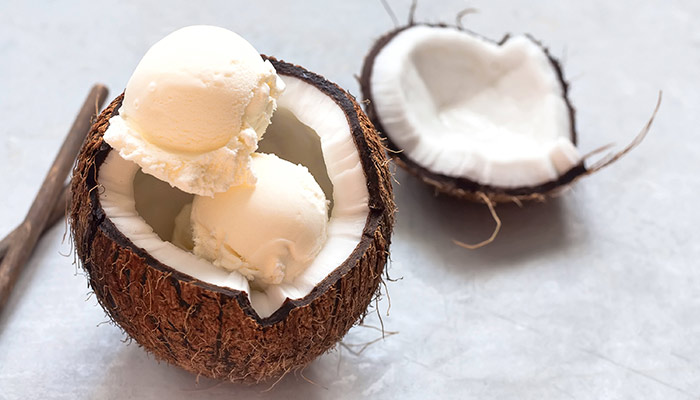 Ingredients:
1 ½ cup tinned coconut milk
½ cup additional coconut milk
¼ cup sweetener of choice (e.g. coconut sugar, honey or pure maple syrup, xylitol)
Pinch of stevia or additional tablespoon sweetener of your choice
1/8 teaspoon salt
1 ½ teaspoons pure vanilla extract
Instructions:

Stir all the ingredients together in a bowl. Transfer the mixture to your ice-cream maker and churn according to the manufacturer's directions for your specific machine.

No ice-cream maker? Freeze the mixture in ice cube trays, blending the frozen ice cubes in a high-speed blender.

Enjoy the ice-cream immediately or freeze for a few hours for a firmer texture.




Tip: Best served on the same day, but you can freeze it for a few weeks and thaw before devouring.







Although moving away from milk is an initial adjustment, these alternatives can help you make an easier transition. They're excellent accompaniments to low-carb or keto diets, and you'll find them at either your local grocery store or health shop. If a dairy-free diet is what you need to feel better and healthier, you may also find you enjoy exploring more creative baking and cooking options as a result!


Date Published:

15 November 2021