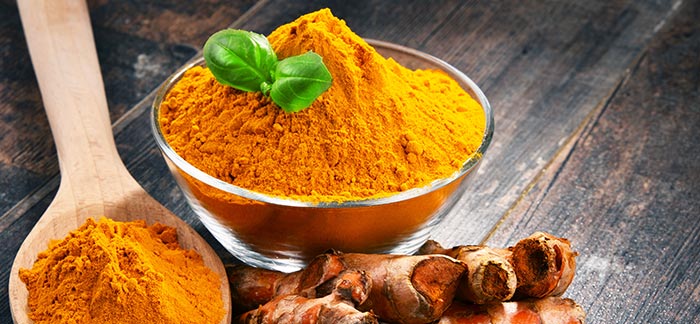 Move over coconut oil, turmeric has taken the stage, and it's not going anywhere soon! For some, it never left the cupboards of homes in the first place. That's right, turmeric has been used in teas and food for centuries in certain cultures. Now it's made its way into the smoothies and drinks of health fanatics, yoga lovers and overall wellness conscious individuals.
Why everyone should use Turmeric
Curcumin is the main active ingredient in turmeric and it's this compound that gives this miracle ingredient its bright yellow colour along with its healing properties. Speaking of healing, it has anti-oxidant, anti-viral, anti-bacterial, anti-fungal, anti-carcinogenic, anti-mutagenic and anti-inflammatory properties. From soothing your stomach, to relieving achy joints, and potentially helping to fight a long list of diseases, turmeric has been dubbed the golden star spice in anti-inflammatory foods!
What are the health benefits?
1. Relieves arthritic pain - The anti-inflammatory properties have been instrumental in treating osteoarthritis and rheumatoid arthritis. And the antioxidant in it destroys the free radicals in the body that damage the cells.
2. Improves brain health - Aromatic turmerone – another compound of turmeric promotes repair in the stem cells of the brain, the same cells that can lead to neurodegenerative diseases like Dementia and Alzheimer's.
3. Aids Digestion - Suffering with bloating and gas? Major components of turmeric stimulate the gallbladder to produce bile, instantly making the digestive system more efficient.
4. Healing - This amazing little spice even has a natural antiseptic and anti-bacterial property that makes it a pretty amazing disinfectant. Application? Simple, just sprinkle a bit on the wound or make a paste with turmeric, milk and honey and smear it on to speed up the healing!
5. Boosts your immunity - All the anti-viral, antifungal agents of turmeric help stimulate the human immune system. Start your day with a teaspoon of the spice powder in a glass of warm milk and dodge the flu! Tip: Add cinnamon or a teaspoon of vanilla essence for flavour.
6. Detoxing - By increasing the production of enzymes that detoxify our blood in the liver, turmeric promotes good liver health.
Side note - for the men – Taking turmeric or curcumin will promote prostate health and fight inflammation and inflammatory diseases like prostate cancer.
Tips on how to up your Turmeric intake
Add a teaspoon to your favourite smoothie
Blend a teaspoon with some organic olive oil and toss your vegetables in it
Add it to curries and get added benefit of colour and flavour
Add it to your scrambled eggs
Make a turmeric tea every now and then instead of traditional tea
Have to try recipes!
Turmeric Tea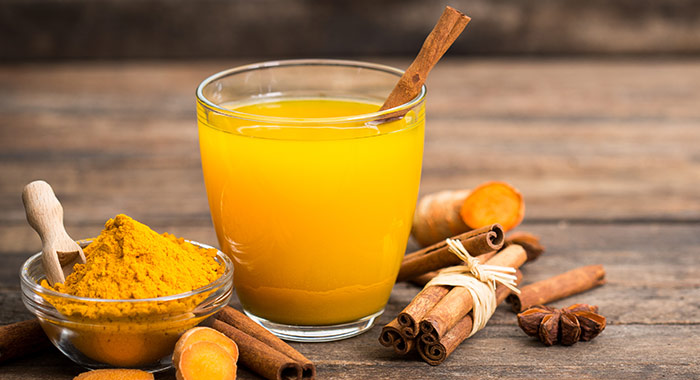 Ingredients:

3/4 tsp Turmeric Powder
1 pinch Grated Ginger
1/4 tsp Black pepper
1.5 cup water
1/4 tsp Cinnamon
Organic honey - optional

Method:

Add boiling water to a pot on the stove
Add the turmeric and grated ginger
Boil for 5–7mins
Transfer the tea in the cup and add pepper and cinnamon powder
Stir and enjoy

Turmeric egg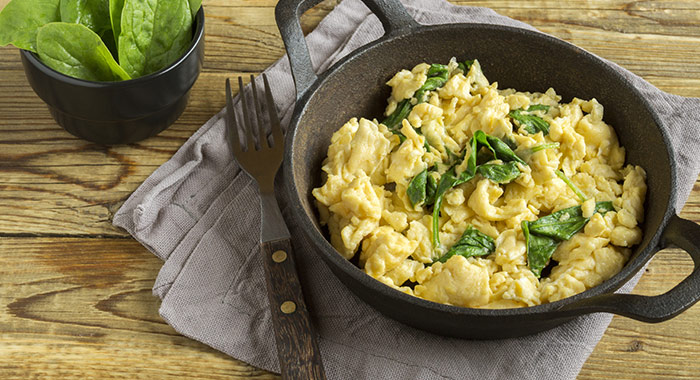 Ingredients:

1 tsp coconut oil
½ garlic clove - finely chopped
100g spinach leaves
4 large eggs
50ml coconut milk
2 tsp grated turmeric
2 slices wholewheat toast

Method:

1. Place coconut oil in a non-stick pan over a medium heat
2. Lightly fry the garlic
3. Add the spinach leaves and wilt for a few minutes
4. Whisk the eggs with the coconut milk and turmeric - Season well
5. Add to the pan with the spinach and stir continuously for 5-8 mins until the scrambled eggs are at the desired consistency.
6. Serve on slices of toast!

Turmeric Smoothie Bowl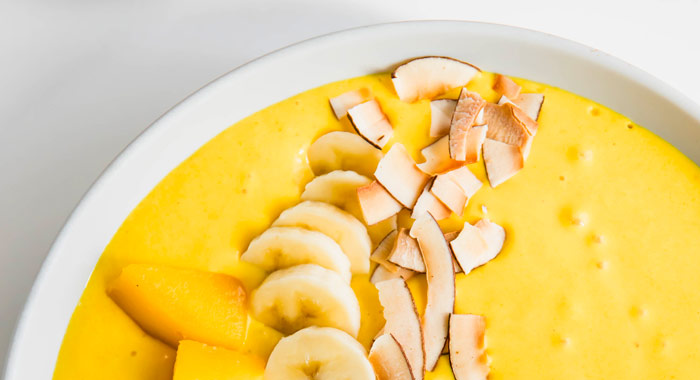 Ingredients:

2 tsp ground turmeric
Pinch of black pepper
3 tbsp coconut milk yoghurt
50g gluten-free oats
Handful of cashews
2 bananas peeled and roughly chopped
½ tsp ground cinnamon
1 tbsp chia seeds to serve

Method:

1. Put all ingredients in a blender with 600ml water and blend until smooth.
2. Serve in a bowl with chia seeds or some chopped nuts sprinkled over.

The Turmeric conclusion

Simple – if it's not in your spice cupboard, go and get it! The best kept secret behind the magic of turmeric is that its results are best achieved when it is combined with black pepper. This increases the absorption of curcumin by 2000 %!! So, the next time you're preparing a meal, think of the health benefits and add it to your recipe!


Date Published:

19 October 2020