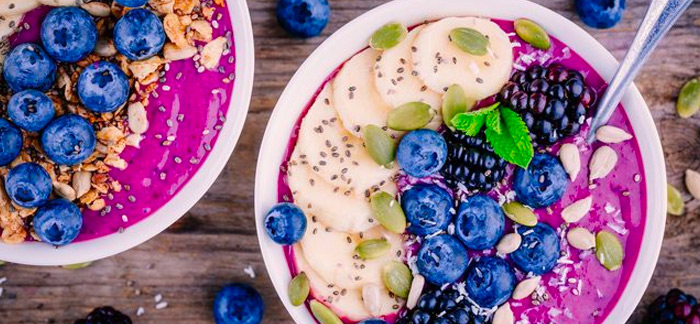 Smoothie bowls have been beautifying restaurant menus and Instagram feeds for some time, with their winning combination of guilt-free ingredients and a deliciously dramatic presentation. These reimagined smoothies, served in a (preferably striking) bowl with colourful toppings of various textures and hues, promise a potent vitamin and mineral boost. Plus, they're highly photogenic, and guaranteed to rack up the likes on your social media platform of choice with their undeniable aesthetic appeal.
Yet as wholesome as these dishes seem (and some of us thought our wildest weight-loss dreams had finally been answered), we must admit that all smoothie bowls are not created equal. If we are not careful, we could find ourselves overindulging in something closer to a dessert instead of the wholesome elixir we imagined.
Thankfully, there's no need to strike this scrumptious dish off your menu.

We have collected a few tips and tricks to help you ensure that the smoothie bowls you enjoy are as good for your waistline as they are for your social media feed.
Keep an eye on portion size. Before blending up your smoothie, lay your selected ingredients out in front of you. Would you eat all these fruits together in a normal sitting? If it seems a lot to plough through on its own, then it's a lot to consume as a smoothie too. While the resulting mixture fits neatly into one bowl, it still carries all the calories and the sugars of the original heap of unblended ingredients. Try out the Acai Berry Bowl.
Watch out for hidden sugars. Just because fruits carry natural sugars, it doesn't mean we should consume huge quantities in one go – not without bringing about a mini food-coma as a result! You can temper this by bulking your smoothie up with neutral-tasting greens like baby spinach, kale, romaine, to add valuable nutrients without the extra sugar as seen in this Stripped Green Smoothie Bowl. Then, make sure your liquid base is not hiding further added sugar, and rethink even healthy sugar alternatives like honey and maple syrup – fruit itself is more than sweet enough. You can also ensure you balance sweeter fruits like bananas and mango with less sugary ones like berries.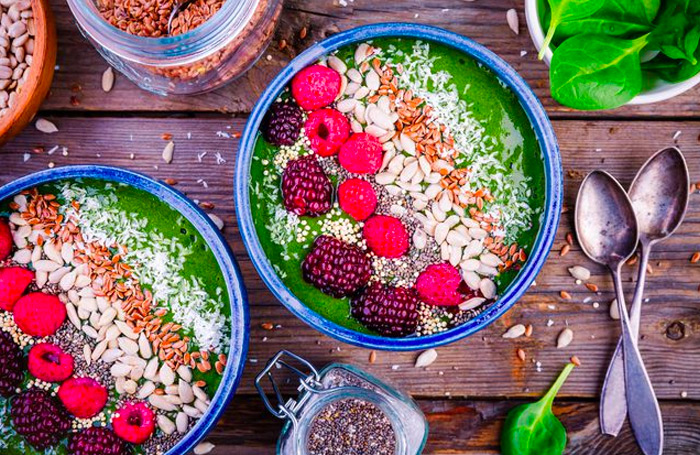 Turn your attention to toppings. It undeniably ups the appeal of the dish to have a combination of nuts, coconut shavings, seeds and some delectably crunchy granola sprinkled creatively on top. And let's not forget, more fruit (because we "definitely need" more after all the fruit that went into our smoothie blender!) But these add quite a few hundred calories to our supposedly healthy dish. Nutritionists recommend adding toppings sparingly, especially if you're having a snack. Take a look at this Superfood Smoothie Bowl with buckwheat topping for a nutritious alternative.
Meal or snack? Nutritionists have pointed out that most smoothie bowls do not qualify as a well-rounded meal at all, supplying heaps of carbohydrates without the balancing out of proteins and fats. One option is to treat your smoothie bowl as a snack, and make it an appropriate size and caloric value. Another option is to turn it into a well-rounded meal by adding in those oft-missing ingredients: including some avocado to boost the fats, some chia for the fibre, and for protein, adding some nuts, seeds, or even protein powder. Here's a wholesome Blackberry Prune Smoothie Bowl to try.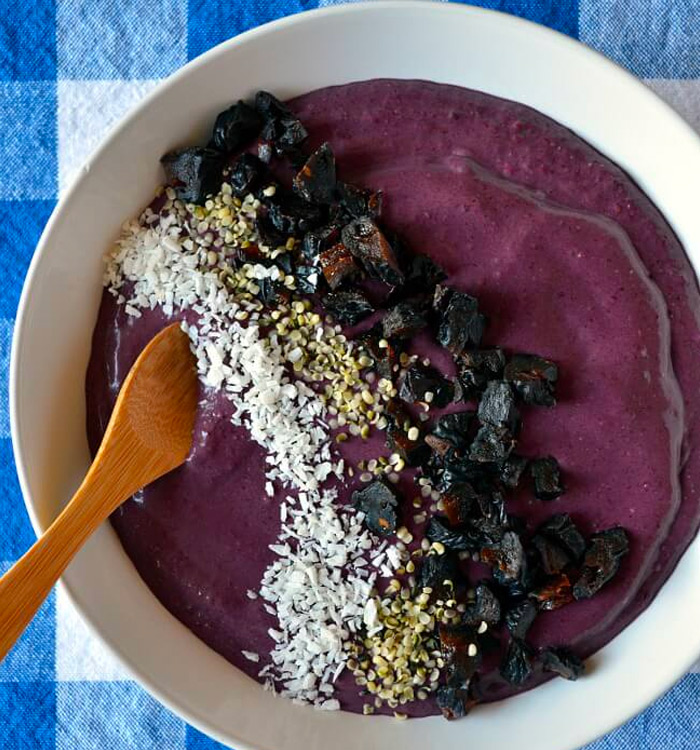 Share with a friend if you're out and the menu offers particularly indulgent smoothie bowl options. If you're whipping your own one up at home, use a smaller serving bowl, and an appropriate number of ingredients, as in this low-calorie Berry Smoothie Bowl.

With these tricks up your sleeve, you'll be able to relish the beauty and deliciousness of a healthy smoothie bowl without any downsides. And don't forget to snap a pic before you tuck in!


Date Published:

26 February 2019