Boxing might be a rather obscure interest for women on the whole, but boxing training can have amazing effects on your physique and fitness.
There's a reason boxers are known as the fittest sports people on earth, although most people are only now catching on to that reality. Boxing as exercise immediately catapults you into a higher league of fitness endeavour. Today, students, businessmen, housewives and girl scouts are all cottoning on to the huge health benefits of boxing training.
Your Inner Boxer Is Waiting
Boxing training asks of your body and mind a combination of movements and strikes that makes it simply awesome as a fitness and mental relief pursuit.Boxing is fitness like crazy!
The punching of boxing will strengthen and tone arms and shoulders. The running, skipping and movement around the bag will burn calories and make roadwork second nature in no time too. Gear to begin training is also inexpensive. You'll really only need a pair of gloves if there's a bag hanging in the gym, and a skipping rope.
The diversity and combination programme of boxing training might seem unfamiliar at first. Give it a few weeks and the spin-offs will start to become apparent in enhanced speed, flexibility and endurance. Not to mention the emergence of a sleeker you, typically with six-pack abs! That's right ladies. Clock a few months of regular boxing training and that elusive flat-board tummy typically emerges, no matter the years of other exercise that never got you there.
Your Inner Guru Is Waiting Too
Far from the misconception that boxing promotes personal aggression, you're most likely to kiss your usual stress levels a deserved goodbye a month or two into training. The social aggro and overall stress of the average day is contextualised and ameliorated, making most boxers affable people. In the real or imagined sparring of your boxing training, an entire truckload of road rage, work stress and family angst therapeutically falls away.
Boxing comprises roadwork, gym training, skipping, calisthenics, technical movement development… the list goes on.
Not only the nature of boxing, but also the journey into the world of boxing (to find a suitable training arena) can be exhilarating. Still excitingly daring for a woman, you can re-enact a proper Rocky experience and hunt for a suitably dingy, downtown boxing gym. For many women the route is easier, as the major chains typically have a bag or two hanging in the gym with "floating" coaches that can give you regular on-site training right there.
Needed equipment: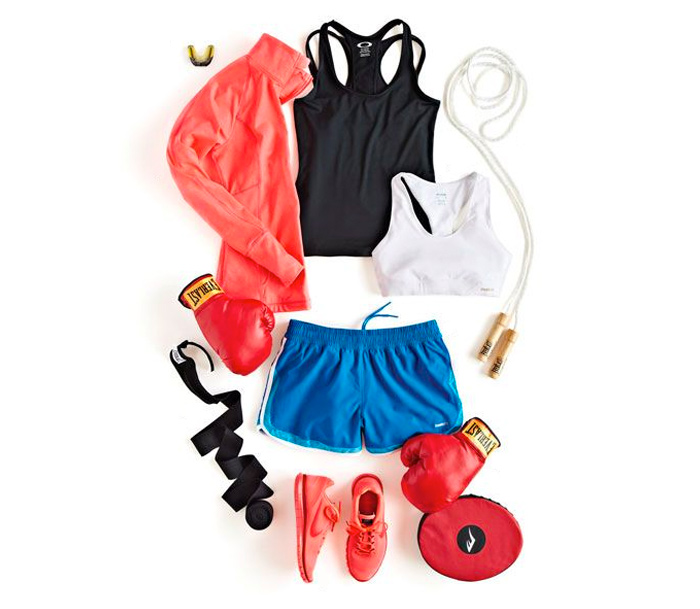 Gym shorts or tights and a T-shirt
Decent gym and/or running shoes
Skipping rope
Boxing gloves (either a standard pair - the big red ones - or that, and a pair of smaller training gloves too)
A swerve and speed ball - this can come after a few months of basic punchbag training and you'd ideally set it up in the garage somewhere
Modern aerobics classes can also be very boxing-centric nowadays, so it's worth asking around. Billy Blanks' Tae Bo videos are a firm favourite for DIY enthusiasts, and for many offer a good place to start. You can buzz organisations like BoxingHelp that are warehouses of boxing connectivity, or even SA's very own Fight Club, which will point you in the right direction for your aims.
Jumping into a boxing gym for the first time can be hugely entertaining, but the overall result is a vastly improved fitness and confidence. Don't be intimidated - the boxing fraternity is suffused with respect. Respect for novices of any type, respect for the training and respect for the results.
You might be the new female face, but you'll find a welcoming world populated with people that, without fail, will offer you some insight or stimulus to add to your boxing training. Bob and weave, jab and dance… the bag awaits you Ladies!


Date Published:

11 July 2019