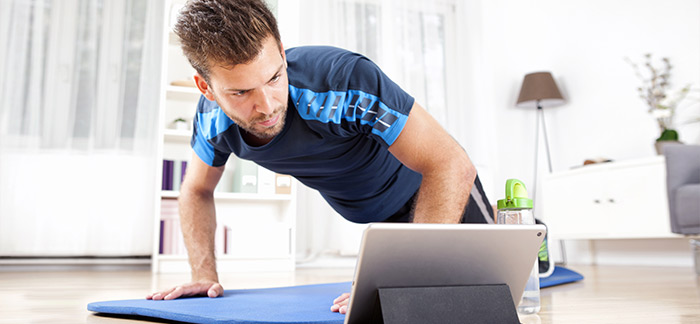 We all know that Winter is the sworn enemy of the lean, mean sleek physique! And whom amongst us is strong enough to resist the pull of the fleece onesie rather than head off to gym when the bitter cold chills us to the bone?
But, as Murphy's Law would have it of course, Winter may be the season that we most need to exercise. Summer bodies are built in Winter, yeah? But it's not just about warding off the Winter weight that clings to us so wickedly. It's as good for our psyches as it is for our bodies to get outdoors and get our heart-rates up.
Like it or not, it is also undoubtedly the best time to get a good workout done, in very little time, and with some expert instruction, without even leaving the house! Thanks to the vast interwebs, we can pick and choose from an array of options to suit each of us - whether we have some of our own gym equipment or none at all. Clear out the lounge, move the main table and shift the sleeping cat off the couch!
---
Before we dive headfirst into the workouts, let's prepare ourselves appropriately with a bit of stretching. There's a technique to consider - yes, even stretching can be dangerous if you're not careful! Luckily, safe stretching is easy to achieve with these three tips:
Do dynamic stretches before a workout to activate muscles and improve range of motion. Dynamic stretching at this point has been shown to enhance your muscular performance and power during your workout
Keep static stretches for after your workout, to ensure you're doing your utmost to stay injury-free.
Move smoothly and don't push a stretch beyond the point of slight discomfort.
With stretching and safety considerations in the bag, here are our picks for some awesome home workout YouTube channels to boost your winter fitness goals:
Blogilates
Try some pilates in your own home with the ultra-cool, polished chic of Cassey Ho on Blogilates. This coach has gained quite her share of fame thanks to her YouTube channel and she has a vast array of content to match your fitness level, wherever you're at. Check out her apartment-friendly arms and abs workout to feel the burn without disturbing even the closest of neighbours:
---
The Fitness Marshall
Visit The Fitness Marshall for dancing workouts to the tune of some of the hottest music tracks, with a generous helping of Caleb Marshall's OTT humour thrown in for good measure. If you need a pick me up, a bit of silly dancing round the living room may be just what the doctor ordered! And you'll work up a good sweat without even realising it.
---
Hasfit
Fitness channel Hasfit offers so many home workout options for men and women, you'll be spoilt for choice. You'll only need a set of dumbbells for this Total Body Workout in their Muscle Building playlist, or take a look at this Tabata Cardio workout - no equipment necessary:
---
OfficialThenx
Chris Heria's channel OfficialThenx is fitspo deluxe, including a number of instruction and workout videos to help you up your calisthenics game and get as fit and ripped as this guy is. Check out his killer 6-pack abs workout here:
---
Yoga with Tim
Yoga with Tim offers a treasure trove of yoga playlists for all levels, led by an uber-chilled, surf-loving Californian whose style appeals to men and women alike. Include this in between your strength training and calisthenics days to tone up and improve your flexibility and range of motion.
---



See, there's absolutely no need to sacrifice happiness in favour of health. We just need to make ourselves a promise: A few minutes of exercise every day and we can spend the rest of it rolling around our houses in our most embarrassing onesies AND all the blankets we own at once! The best part - when Summer arrives and we peel off all the layers and head outside, we'll be feeling fit and healthy and strong enough to take on any and all adventures that await!





Date Published:

27 July 2018