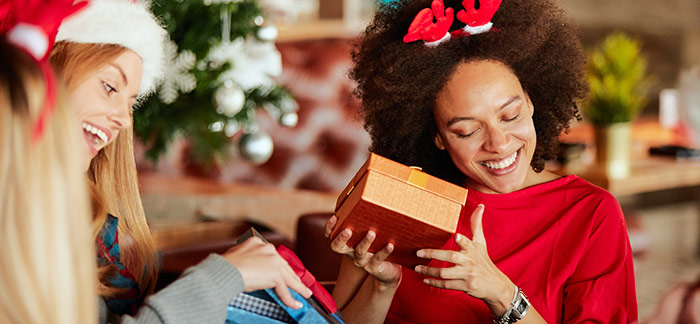 A well considered gift goes a long way to showing appreciation for others and is usually reciprocated with a good measure of gratefulness. A thoughtful gift is so powerful in meaning that the real price tag becomes irrelevant. Most people would rather receive a small gift that says I love you or I appreciate you and it brings me great joy to gift you with this item that I just know you'll love. Rather than the gift that appears more expensive but says, here's something, you mean something but you weren't a priority on my list of things to get through so this will have to do. It's the difference between expressing a simple thank you as opposed to, wow, I really appreciate this, you know me so well - a gift that both the giver and the receiver can enjoy. They key to thoughtful gifting is planning ahead. With just over a month to go until Christmas there's no better time to start drafting your gifting list than now. This will allow you time to think about who you would like to gift this season so that you aren't rushing around at the last minute for someone you hadn't thought of but not because you'd like to gift any less. People we like to show gratitude for often extend beyond family and friends to personal trainers, your favourite hairdresser, a mentor or your personal assistant, many of whom you may see for the last time at the end of November before everyone goes off on holiday - so the time is now! Especially if you plan on making homemade gifts which take a bit more time.
Consider improving your heart-lead gifting game with these thought-training tip
Picture the person you are buying for and ask yourself:
What hobbies does the person have?
What does the person most enjoy doing with his/her free time?
Does the person read? If so try to find out which type of books he/she enjoys.
Does the person spend time outdoors and if so what activities does he/she take part in?
What type of thing would the person enjoy but be least likely to buy for himself/herself because he considers it a luxury?
What type of thing might the person find useful but probably wouldn't know is available on the market?
What would make the person smile?
What would ensure the person puts aside some time for herself? (i.e. experiences like a massage, facial or yoga class voucher).
Is there something you can make by hand that the person would appreciate - home-baked cookies can warm the heart in unexpected ways!
How can you personalise the gift further (engraving/handwritten card)
Thoughtful gifts you can make or buy
Beeswax candles

Beeswax candles are fairly easy to make and most home kitchens will have the utensils required to make them. Beeswax has a lovely light honey scent so no fragrance addition is needed (but a good optional extra), the candle will set in a single pour and beeswax detoxifies the air. Find quirky ceramic or glass containers to house the candles so that the receiver is already planning on how they will repurpose the container before they light the candle for the first time. You can order candle making supplies online and watch how to videos at https://sacandlesupply.co.za
Journal

A journal is always appreciated by stationery lovers, note takers, entrepreneurs and big dreamers. Have the journal monogrammed to make it extra special or write a letter to the person you're gifting on the first page of the journal.

A5 embossed 100% recycled paper, Typo R149



Date in a Bag

This can be a gift for both you and the person you're gifting to enjoy, as a sentiment to spend quality time together - a priceless commodity these days. The idea is to source an interesting bottle of wine or artisanal spirit. For non-alcoholic options think homemade ginger beer, botanical cordials and iced teas. Then add two drinking glasses, some cheese and preserves sourced from a farmer's market or perhaps a homemade jar of pickles/jam, savoury crackers and a hand drawn map to the nearest park or beach where the 'picnic date' can be enjoyed. This gift can also be created using coffee or dessert as a theme.

Wine Cooler, Takealot R175
Books for Cook

Gift cookbooks by South African chefs and you'll be double gifting by increasing awareness around the incredible talent behind our top quality restaurants and dining-out industry as a whole. If you have the opportunity to attend a cookbook launch, buy a signed copy to make it an extra special edition. The Delish Sisters: Tasty Food Made With Love launched recently and is a beautiful, reasonably priced and user friendly cookbook.
Gift your Secret Recipe

If you have a favourite spice rub recipe that your dinner guests often commend, buy a few little glass jars you can fill with the spice and attached a recipe that the spice can be enjoyed with.
May these ideas send you on your merry way to becoming the ultimate elf!
Remember to finish off your gift with some earth-friendly wrapping paper and non-plastic ribbon, as well as a note or card of appreciation.


Date Published:

18 November 2019