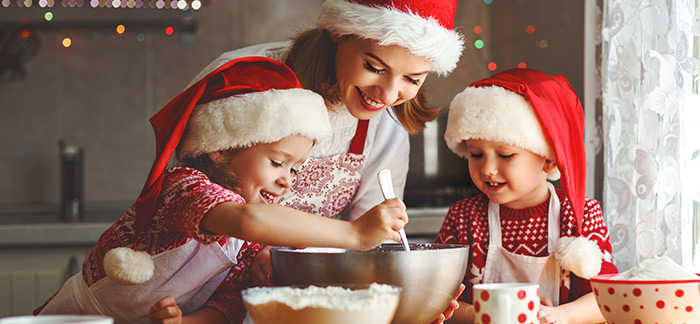 Before you blink again the holidays would have zipped by and yet another year without any set traditions would have gone by. Once again, you feel like it's all going by too quickly and you haven't quite made it as magical as you wanted too! Everyone's traditions are different, but that's what makes them special. They give us that warm and fuzzy familiar feeling, of been back in granny's kitchen helping her bake her Christmas pudding, they have an amazing ability to bring us closer to those that are no longer with us. They tell a story about a family; they give you a feeling that one is part of something unique and special; they add to the rhythm and seasonality of life.
How to recreate family tradition
Most important start with a plan in mind. Forget perfect! We aren't going for Martha Stewart here, rumor has it she doesn't get much sleep anyway! Accept that life is not a magazine; by adding your own uniqueness to your holiday traditions you pass on a piece of yourself for generations to come.
Maybe you're part of a new family and need a little inspiration to bring back the warm and fuzzy; try out some of our quick ideas below:
Send someone a card; add a new recipient to the list each year! There is something to be said about taking the time to send a personal Christmas card in the mail. It lets the recipient know that you thought about them well before Christmas snuck up on us.
Get the kids to act out their own nativity play. Each year video record these so when the cousins are all grown up they can look back with fond memories. Help them with their costumes by using old pillow cases and tinsel as props.
Offer love to those who are lonely. Prepare some Christmas cookies and take your family to visit a nursing home. Try spending Christmas day helping the needy at a local soup kitchen. Your kids will have an attitude of gratitude when it comes to gifts they receive from now on.
Have a family pajama party. Everyone's allowed to stay up late and build forts in the living room! Talk about all the wonderful things that happened throughout the year – and write them in a special journal that you can add to every year.
Have a family game night. Offering hours of cheap delight, a game night ensures each member of the family is focused on the same thing and allows for some brilliant laughs and family interaction.

Christmas morning family photo. Everyone in their jammies, with their hair crazy, surrounded by wrapping paper. Set the camera on self-timer. These are sure to become some of your most treasured and favourite photos to look back on. Don't forget to include your pets, they are part of the family after all!
Allow a certain member of the family to be in charge of purchasing the tree. Allow the kids to help decorate it whilst playing carols. Make it a family activity, something you all do together. Don't forget to leave cookies and milk under the tree; this year leave a healthy carrot for Rudolf!

Don't wait until another year goes by and you feel like you've lost all the magic. By adding simple traditions, you ensure memories that will stand out in your kids minds when they look back on their time at home. Start with little traditions each year and by the time you look back you will have a sea of memories to look back on and enjoy. Each family member should be a part of creating these joyous occasions. After all, this time of the year really is all about family. A lot of emotions are wrapped up in the holidays, maybe that's why we so often strive to make things perfect. But maybe this year we should all be hoping for a little theatre, after all, if no one drops the Christmas pudding what will we have to laugh about next year?


Date Published:

10 December 2018