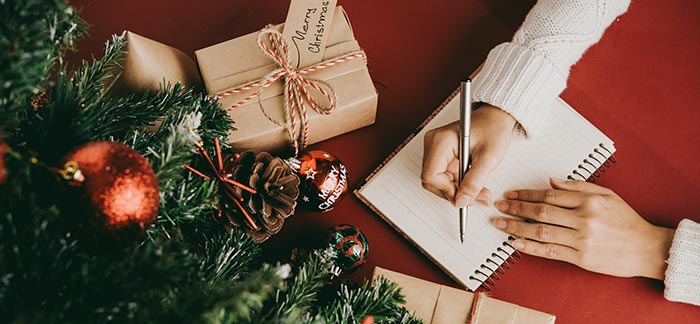 With the festive season almost here, now is the time to plan ahead and avoid overspending. We've got some great tips on what you should start thinking about two months before the holiday season!

After all, the cost quickly ratchets up for those seemingly obligatory party snacks, extra drinks, braai meat and unexpected visitors. On top of that you may be faced with footing the bill for decorations, gifts and a lavish Christmas dinner.

However, if you plan wisely now there is no need to empty your wallet just to stuff the stockings. Here are pointers on how to be money wise come December.
Food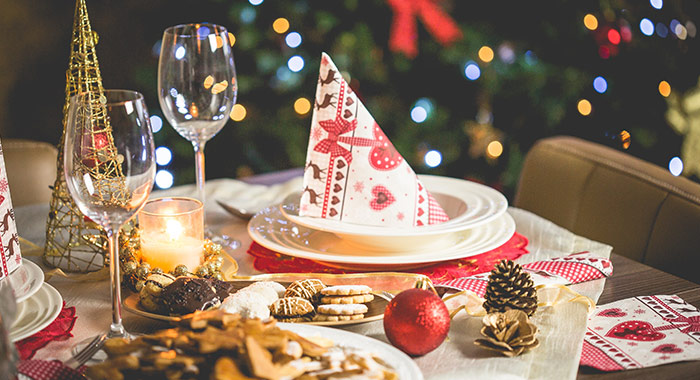 The cost of entertaining over the festive season can quickly spiral out of control, especially if you have visitors.
Plan meals ahead: we already know there will be plenty more braais so look for specials now to buy in bulk. Freeze what you can and stash the rest away until it's needed.
Include dishes that you can make ahead and freeze, or store in the fridge.
Save on ingredients by swopping out chicken for turkey, or roast pork for a leg of lamb. Pork is also cheaper than ham, so ask your butcher to cure a leg of pork so that you have a gorgeous gammon on hand. It will freeze happily for a few weeks.
Cut down on the side dishes you serve: is it really necessary to have that many salads, veggies and sauces?
When family and friends ask if they can bring something, put your pride in your pocket and say, "yes please". It may be a dessert, cheese and crackers, or a bottle of wine – every little bit helps.
Drinks
Asking guests to bring their own drinks is quite acceptable today.
You also can save on expensive cocktails by making your own refreshing summer drinks.
Homemade lemonade topped up with soda water or lemonade has a delicious zing. Make it now while lemons are plentiful, and store in the fridge.
Do you have yeast left over from lockdown baking and brewing? Toss out that pineapple beer recipe and use the yeast to make a fizzy and inexpensive ginger beer: it takes a week or so to ferment so now is the time to start brewing.
Decor
Buying festive season décor can be crushingly pricy but you may be able to re-purpose existing décor:
Pinecones and strands of ivy bring nature to the dinner table, or dig up a few small succulents from the garden, wash off and dust with glitter for a natural bling centrepiece.
Make the most of cheap battery-powered fairy lights. For example: pop a few strings into empty – preferably clear – wine bottles for mood lighting at the table. To give plain lights a splash of colour, take cupcake wrappers (choose the colour according to your décor theme), cut a small cross in the bottom and slide gently over each individual bulb. Save on expensive serviettes and buy plain white napkins. Then, tie the ribbon around in a colour to match your table décor (you can reuse the ribbon). For a rustic yet minimal look, wrap plain brown paper round the serviette and secure with raffia or string.
Christmas Crackers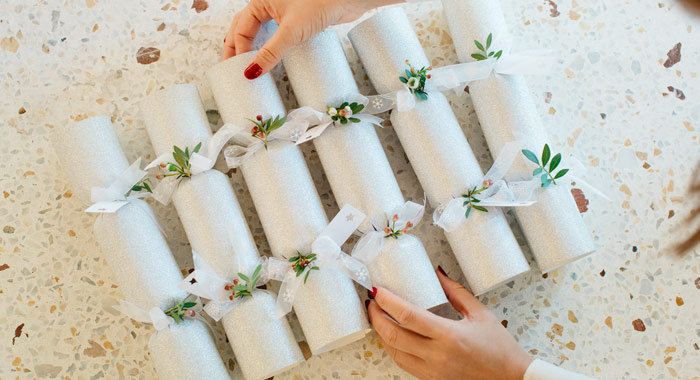 Save empty toilet rolls and buy cracker snaps at novelty gift and décor shops. Insert the snaps into roll and wrap in one layer of tissue paper, cut to the length of a normal Christmas cracker. Cut recycled (or new) wrapping paper and cover the roll part of the cracker. Seal with ribbon or string.

You can even double up and insert small gifts into the crackers, and use the same tissue paper to cut out and make paper hats.
Gifts
There are many ways to save on Christmas gifts:
Use Secret Santa, where each family member only buys one gift, and only they know who they are buying for.
Buy gifts now by capitalising on specials; look for 3-for-2 deals at pharmacy chains and other retailers.
Make a personalised coupon book with ideas like: massage, candle-lit dinner, cleaner for the day, playlist, baby-sitting or a car wash.
Spend time and not money with a thoughtful homemade gift. Homemade soaps are all the rage, look online for ideas on how to make and mould. A freshly baked batch of rusks or biscotti, a jar of pickles or a small bottle of herb-infused olive oil, for example. Short on time? Fill a mason jar with sweets or nuts and wrap beautifully.
Don't put financial pressure on yourself by expecting that 2020 will be like past years: the pandemic has changed lives in many ways, but it also gives us a chance to set new family patterns and traditions.

What is important is a happy time with loved ones – whether it is food, drink, décor or gifts, yes, you can be frugal yet festive!


Date Published:

19 October 2020