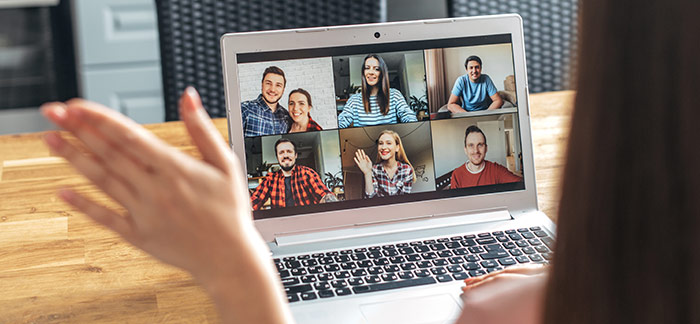 It goes without saying that social distancing will become part of our lives for the foreseeable future, but let's be clear, the description "social distancing" is the wrong term to begin with, we should think of this time as "physical distancing" rather, to emphasize that we can remain socially connected even whilst being physically apart.
We have heard it time and time again over the last few weeks, stay home, stay safe - but in reality, this can be harder said than done. Historically to the modern day we have lived in groups – in villages, communities and family units, we are social beings, hard wired for connection and social interaction.

Here are top 10 tips on how to still stay connected whilst we are apart:
Collaborate with a group of friends to improve your running or physical performance via apps such as Strava, Runkeeper or Nike run club.
Share Grandma's favourite recipes with your close friends, turn it into a bake off where you judge the winning entry over a Zoom chat.

Have a Quiz Night with a group of friends; take turns to be the quiz master, keep a running record of scores. The person who wins will get a prize at the end of lockdown.
Do a puzzle swop by dropping your favourite puzzle off at a friend's gate and collecting theirs, see who can complete their's first.
Do online school lessons in small groups, where the kids can engage in educational tasks together.
Learn something new with the kids online, such as a musical instrument or how to beatbox.

Participate in social media challenges; a day in the life of being a mom has been a great success and has created a social community of mom's who are no longer able to connect on the sports fields or school hallways.
Make signs of appreciation for front line workers with your children, stick them up on your gate for everyone to celebrate with you when they pass your house.
Host a virtual dinner party! Firstly, gather your troops. Download a social app we love Zoom, House Party, Skype or Google Hangout. Set up your locations, make it fun put some flowers on the table and placemats to add pizazz. Russel up a good meal, unfortunately nobody will be bringing sides so you'll have to do it all yourself but as soon as the online gatherings begin you can all share your amazing creations and even swop recipes.

A quick an easy way to spend time together is to arrange a Netflix Party simply press play at the same time and enjoy. This might be a good excuse for the bookclub girls or poker night boys to get together.
There are so many fabulous idea's available for free online to keep you motivated and feeling a part of a greater collective. Instead of just logging on to a social app, get creative. You'll be surprised at how well your friends and family respond; they'll be asking for more! It's also a fabulous way to create fond memories that you will share for years, perhaps generations to come. After all it's not in everyone's lifetime that you are locked in your house with no place to go. We encourage you to get involved, and remember: stay apart, but stay connected.


Date Published:

06 May 2020