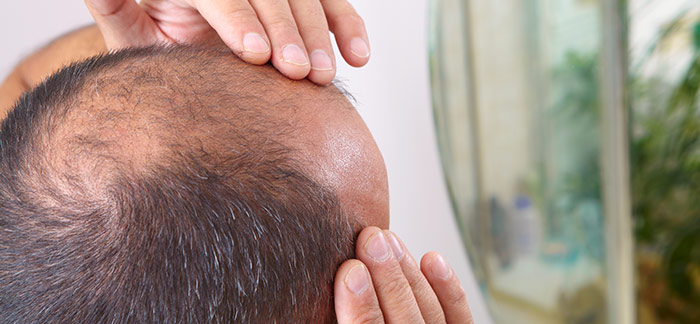 It may not be a physical danger like heart disease or other serious illnesses but going bald can still be devastating for a man's mental health and well-being.
We all lose around 100 strands of hair each day so it's only when they don't grow back that you have a problem. From when that hair line starts to recede, male pattern baldness – or androgenic alopecia - can be incredibly painful psychologically, and even lead to depression.
Let's clear up the causes first, dispelling the myths with facts:
Genetics: unfortunately, if your father and grandfather – on either side of the family – went bald, then you are more likely to lose your hair than someone whose family members have always sported a full head of hair.
Diet: a lack iron, zinc and vitamin B12 can lead to hair loss.
Stress: yes, stress can play a part. The good news is if your hair loss is due to stress, it is more likely to grow back without medical intervention.
Age: not all men lose their hair but by the age of 50, half will start to show signs of balding and by 60 that rises to two out of three.
Even completely bald individuals still have 100,000 hair follicles all over their scalp. You just can't see them. The problem is that these follicles shrink when you go bald, and instead of sprouting thick healthy strands, spindly threads appear which can be near invisible.
Whatever the cause of hair thinning or baldness, the key question is "can it be reversed?" You can look at the following options:
Medication
Minoxidil, also sold as Rogaine, is an over-the-counter spray or lotion available which is sprayed or rubbed into your scalp. It can be used by men and women.
Finasteride, also known as Propecia, is a prescription pill. It is only suitable for men but side-effects such as libido loss have been reported.
Both Minoxidil and Finasteride need months of use before hair growth will be seen, neither are guaranteed to work plus, if you stop using them, the hair loss is likely to return.
There are other medical treatments such as immunotherapy or steroid injections but unwanted side effects have been reported so make sure you consult a suitably qualified professional.
Surgery

Hair transplant surgery works by painstakingly moving grafts of hair from the back of the head to the temples and crown. It has improved significantly over the years but still can leave scarring.
Cosmetic Treatment
South African cricket star Jacques Kallis has popularised a hair replacement technique where replacement strands are "glued" on to the scalp. It needs ongoing maintenance but can look great.
Treatments are a billion dollar industry projected to reach $24.8bn (R360bn) by 2024, and techniques to tackle hair loss are becoming increasingly advanced. However, as baldness is still viewed largely as a cosmetic problem, rather than a disease, medical aids rarely cover their cost.
Scientists are working on stem cell approaches, and in future 3D printing could help by creating "hair farms". Unfortunately, that future is not yet here, so in the meantime:
Keep what hair you do have clean, as it will have more volume;
Cut it short: hair loss is less noticeable if it is super-short all over, or go for the Rock look and shave it all off;
Grow a beard: this draws the focus away from your head - and can make you look like a virile bad-boy!
Male pattern balding affects one in five in their 20s, rising to one out of two by the 50s, so if you've retained your hair by middle-age, you're one of the lucky ones.

There are unexpected upsides as, once hair loss starts, expect your libido to increase because of higher testosterone levels which, by the way, also means a lower risk for testicular cancer!


Date Published:

29 January 2020