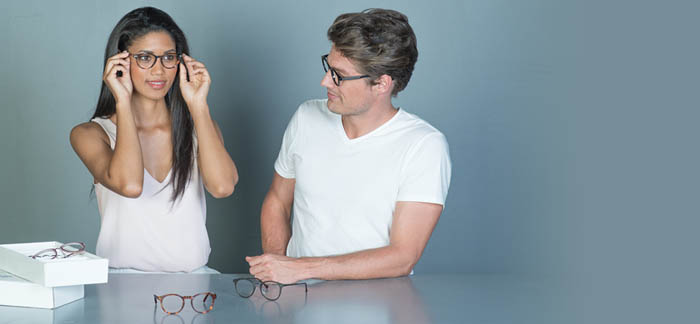 We know how you feel. Rush, rush, rush - no time to brush your teeth before flopping mercilessly into your bed at night until your alarm goes off and awakens you to another day of not enough time! Online shopping alleviates the lack of opportunities in our busy lives for us to get to shops and malls and is on the increase in SA due to its convenience. Your glasses are an expression of who you are and we understand selecting the right pair for you might take some time and input from your family and friends. Thus, we have we worked tirelessly to develop our new online Home Try-On.
Firstly, lets establish what Home Try-On is, from our Online Catalogue which includes International brands such Gant, Skechers, Converse, Escada and our House brands Black Ice, Alter Ego, Expression, Gossip you will be able to select your top 6 frames you'd like to try-on at your leisure. Delivery and return shipping is FREE and an admin fee of only R1 is charged to process orders.
Below we've summed it up for you in 5 easy steps:
Step 1
Browse the Online Catalogue and click on the frame(s) you want to try on at home.
Step 2
Click on the "Home Try-On" button which will add the frame to your shopping cart.
Step 3
When you are done and want to check out, click on the "Shopping Cart" button at the top of the page.
Step 4
In order to process the frame(s) for Home Try-On, click on the "Home Try-On" option at the bottom of the shopping cart page and click "Secure Checkout".
Step 5
Follow the rest of the steps to complete your order. Your order will be processed and dispatched to you within 5 working days.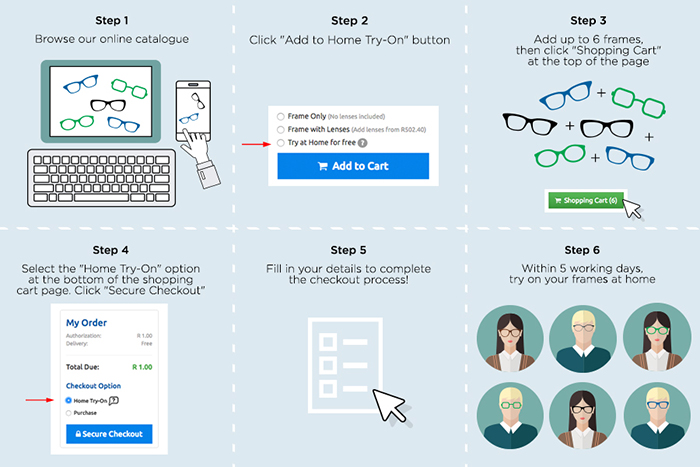 Once you receive your frames, you will have up to 7 days to decide whether you would like to continue with the transaction or return the frames with no additional costs. This is an obligation free trial, you can simply return them if you do not wish to purchase any of the frames you selected.
If you would like to purchase one of the frames then you may purchase these online or you may take the Home Try-On kit to one of our stores to complete your purchase. If you require lenses, you will need a valid prescription not older than 2 years. If you choose not to make a purchase then you may either return your box to one of our stores or you may contact us to have them collected from you.
We have had some excellent feedback from users, with most saying they would recommend the service to a friend or family member. Their reasons include ease of service, convenience and been able to try on a selection of frames at home!
Click on the link to give it a go! https://goo.gl/bUr1uL
Please note: Home Try-On is only available for prescription frames & excludes prescription lenses. Sunglasses are unfortunately not available from Home Try-On.




Date Published:

08 August 2017