INCREDIBLE Multifocal Lens
Our INCREDIBLE Multifocal Lens features the latest in digitally surfaced technology ensuring ultimate comfort.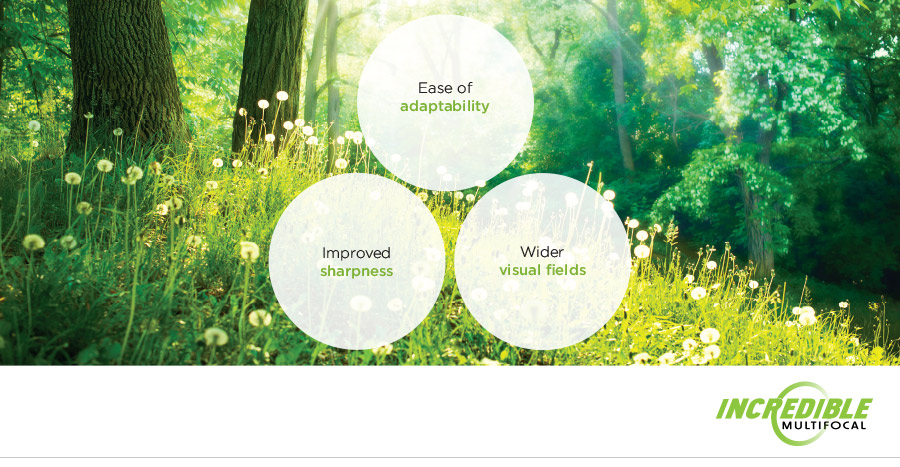 Benefits
Improved sharpness of vision
High tolerance offers complete visual freedom to the wearer
Improved balance between far and near vision
Improved natural sight at all distances and in all direction
New Technology
Spec-Savers is proud to offer the INCREDIBLE Multifocal Lens. This lens features the latest technology in digital surfacing.
Digitally surfaced – is the latest manufacturing technology that has revolutionized multifocal lens design. It provides for more accurate optics customized for every users' prescription and frame choice making adaptation easier and making it the multifocal lens design of choice.
How does this lens work
The main benefit of digital surfacing technology, is that it considers the lens surface as a series of individual points, and then cuts each of these points "pixel by pixel" along multiple axes. Because we can now cut the lens so precisely, we can optimize each lens for every prescription and can even include frame fitting-, and/or personal parameters into the lens calculation, defining the best possible progressive distribution.

It is the combination of this progressive distribution, aspherization and digitally surfaced technology that controls the optical aberrations and guarantees the total visual performance.
Spec-Savers has branches throughout South Africa in the Eastern Cape, Freestate, Gauteng, KwaZulu Natal, Limpopo Province, Mpumalanga, North Western, Northern Cape, Western Cape
Gauteng | Cape Town | Pretoria | Bloemfontein | Port Elizabeth | Durban | Pietermaritzburg | Potchefstroom | Upington | Kimberley