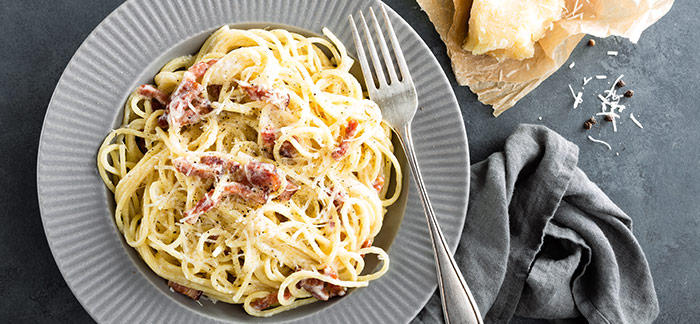 If you're suffering from kitchen fatigue, give your spirits a lift with one or more of these five easy-peasy dishes with only five ingredients.
Spicy Bangers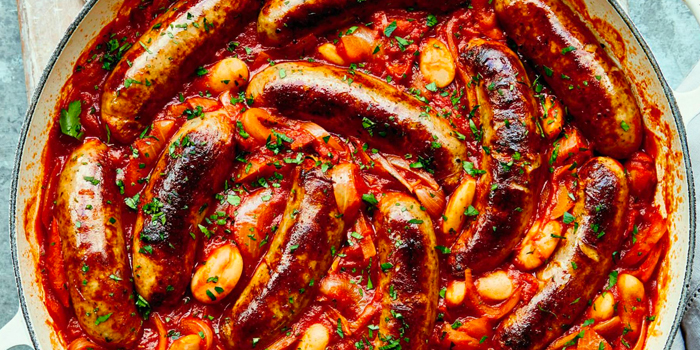 Ingredients:

6-8 pork sausages
1-2 medium tomatoes (quartered)
1 punnet of brown or white mushrooms (halved or quartered)
1 chilli or 4 piquanté peppers (finely chopped)
1 tin of beans of your choice (drained).

Instructions

Gently fry the pork sausages in a lightly oiled casserole dish until just starting to brown. Add the tomatoes, chilli and mushrooms and cook until the vegetables release their liquid. Simmer until the sauce has reduced slightly, then add the tin of beans. Stir through and you are ready to serve. Add fresh parsley or rosemary for a fragrant twist, and eat for supper with a hot bowl of fluffy mashed potato. This is also great at breakfast or brunch, and happily will rest in a warm oven while you cook other dishes. Serves 3-4.

Mussel, tuna and sweetcorn chowder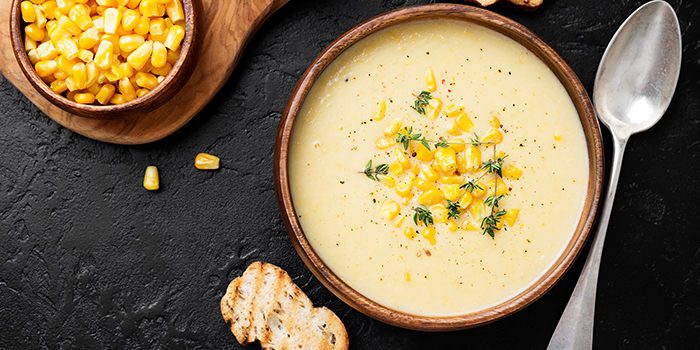 Ingredients:

1 packet of white onion soup mix
milk
1 tin mussels
half a tin of tuna
half a tin of sweetcorn

Instructions

Mix the soup powder with milk instead of water, but reduce the amount by 200ml. Heat and mix as per instructions. Add the mussels, tuna and sweetcorn. Enjoy with bread of your choice.

Chicken and mushroom pasta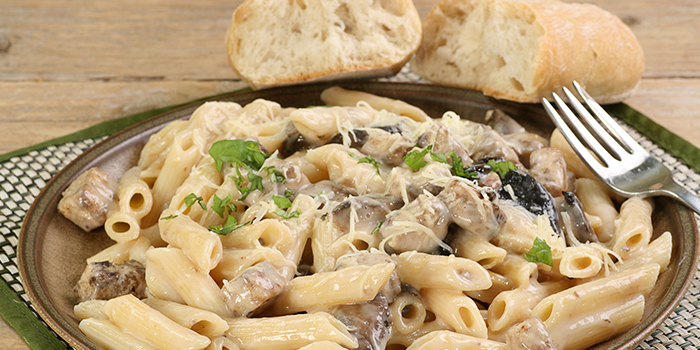 This quick and easy pasta dish can be adjusted for the amount of people you are feeding, so take the quantities given below as an estimate for 4 people.
Ingredients:

1 packet white onion soup mix, made with milk instead of water
1 punnet of brown mushrooms, sliced and fried
2-3 chicken breasts, sliced and fried
400g penne pasta, cooked until al dente

Instructions

Mix all together and enjoy. Top with fresh parsley or basil for extra flavour.

Butternut and feta quesadillas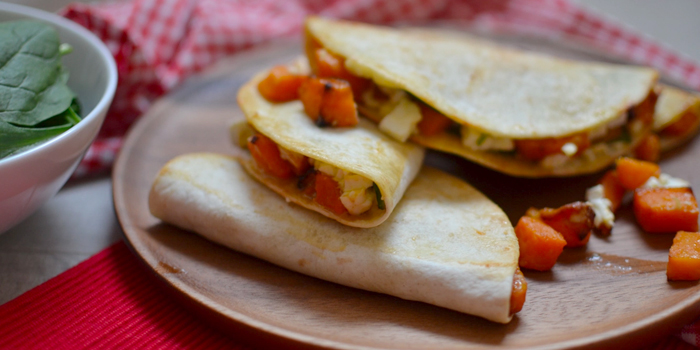 Ingredients:

350g butternut, peeled and cut into small chunks (or buy a pre-packed bag of butternut chunks)
100g feta cheese, crumbled
125g packet of baby spinach, or rocket, or watercress
8 small flour tortillas

Instructions

Preheat oven to 200°C. Cook the butternut in a pot of boiling salted water until softened, then drain. Place equal quantities of the butternut, feta and green leaves onto four tortillas. Season with salt and pepper. Top each quesadilla with another tortilla. Place on baking tray, then place a second baking tray on top and squash a little so that the tortillas are "sandwiched". Bake for 5 minutes with the tray on top, then remove and brown for 5-10 minutes or until cheese has melted and the quesadillas are heated through. Remove, slice each quesadilla into 4 pieces, and serve.

Spaghetti Carbonara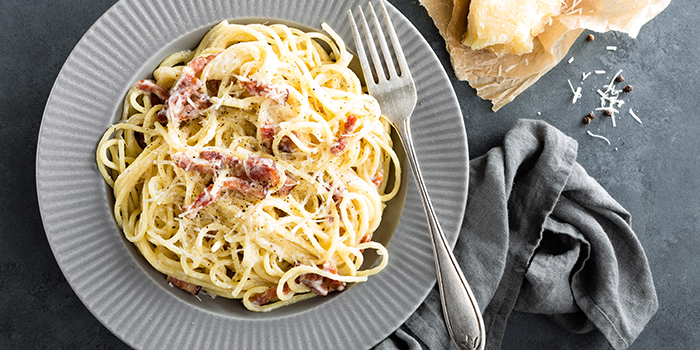 Ingredients:

200g packet of streaky bacon
100g grated cheese (parmesan or pecorino are ideal, but if you are on a budget then substitute with cheddar or another hard, strong cheese)
2 large eggs, 350g spaghetti
2 big cloves of garlic, peeled but not chopped
To garnish: parsley, salt and pepper.

Instructions

Heat a large pot of water for the pasta. Chop the bacon into small dice, squash the garlic with the flat side of a knife. Add oil or butter to a saucepan, then add the bacon and garlic and fry until the bacon is almost crisp. The garlic will infuse the oil and bacon with its flavour. Drain bacon and discard garlic. In the meantime, when water is at boiling point, add pasta and a pinch or 2 of salt to the pot and cook until al dente (or to your taste). In a separate small bowl, beat the eggs with most of the cheese (reserve a handful for serving). Drain most of the water off the pasta, leaving a few tablespoons to help moisten the sauce. Add the bacon, then the eggs and cheese. While the spaghetti is still hot mix everything together until the carbonara sauce thickens but does not turn to "scrambled" eggs. Serve with freshly ground black pepper, a sprinkling of fresh parsley (optional) and the remaining cheese.

So, whether you want a healthy start to the day, a tummy-warming supper or just a light vegetable-based meal, make the kitchen your family's comfort-zone over lockdown. With these fab five recipes, we've got you covered every night of the week!





Date Published:

04 August 2020