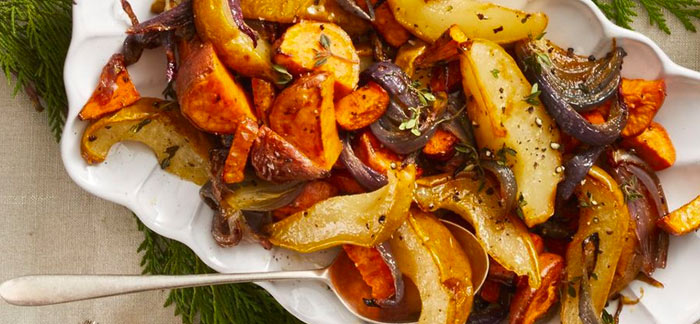 All the "ooh's" and "aah's" around the Christmas table are usually for the roasts that we wait all year to enjoy. So, move over juicy gammon and tender turkey it's time for the sides to shine!
We've gone unapologetically untraditional with our five firm favourite recipes.
Beetroot Mint and Mozzarella Salad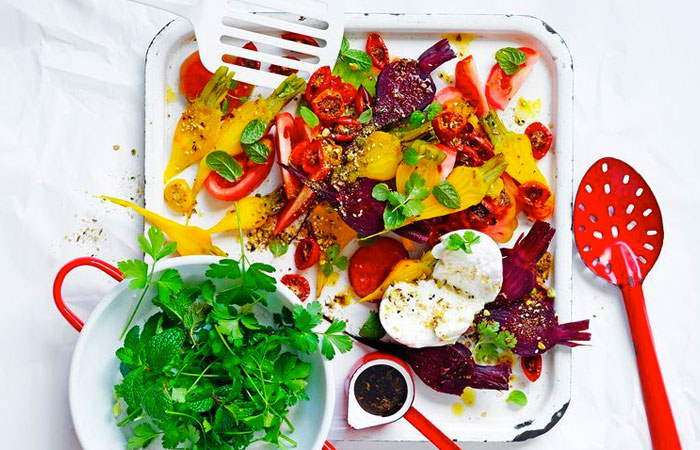 This recipe shouts vibey, colourful and fun! It can be served with either lunch or dinner and is an instant winner.
What you need:
1 punnet mixed cherry tomatoes, halved
1 1/2 tsp dried mint
1 bunch each baby golden and red beetroot
3 vine-ripened tomatoes, thickly sliced
2 x 200g balls mozzarella, torn
1 tsp toasted fennel seeds, crushed
2 tbs sherry vinegar
1/3 cup (80ml) extra virgin olive oil
1 tbs dukkah (buy from health shop or make your own)
1/2 cup each mint and flat-leaf parsley leaves, to serve
Get Cooking:
Preheat the oven to 140°C and line a baking tray with baking paper.
Place cherry tomatoes, cut-side up, on prepared tray. Scatter with mint. Season. Roast for 1 hour 30 minutes or until slightly dehydrated. Set aside to cool completely.
Meanwhile, trim beetroots and place each colour in a separate microwave-safe bowl. Cover with plastic wrap and microwave, 1 bowl at a time, for 8 minutes or until just tender when pierced with a knife. Remove plastic wrap, stand until cool, then peel and cut in half.
Arrange vine-ripened tomatoes on a serving dish with beetroot, dried tomato and mozzarella.
Whisk fennel seeds, vinegar and oil in a bowl, season and drizzle over salad. Scatter with dukkah and fresh herbs to serve.
---
2. Broccoli slaw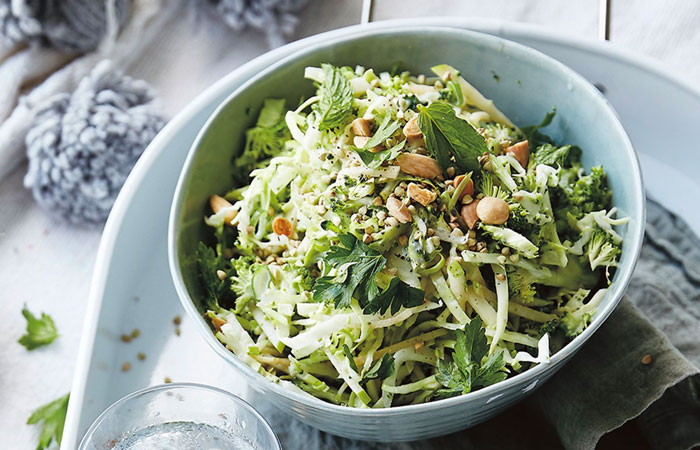 What you need:
500g broccoli, florets shredded, stems cut into matchstick
150g white cabbage, shredded
2 Granny Smith apples, cored, cut into matchstick
2 small spring onions, thinly sliced
1/2 cup (100g) buckinis (activated buckwheat – from health food stores)
1/4 cup (40g) blanched almonds, roasted, chopped
Flat-leaf parsley and mint leaves, to serve
DRESSING
1 cup (250ml) buttermilk
1 tbs apple cider vinegar
1 tbs white chia seed
1 tbs honey
1 tsp Dijon mustard
Get cooking:
For the dressing, place all ingredients in a large screw-top jar and shake until well combined. Set aside for at least 30 minutes for the chia seeds to gel.
Place broccoli, cabbage, apple, onion and buckinis in a large bowl. Pour over the dressing, season, and toss well to combine.
Scatter over almonds and sprinkle with parsley and mint to serve.
---
Roasted Sweet Potato, Pear, and Onion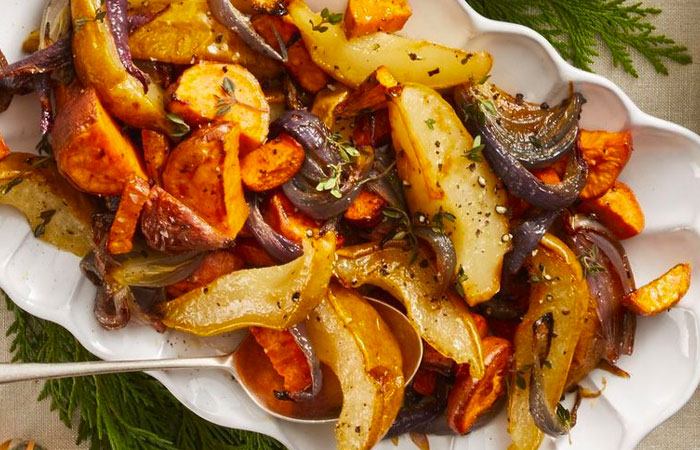 What you need:
2 pears, cored and cut into wedge
2 small red onions, cut into wedge
2 small sweet potatoes (, cut into 1/2-inch-thick half-moon
6 sprigs thyme, plus more for serving
3 tbsp. olive oil
Kosher salt
Pepper
Get cooking:
Heat oven to 220 degrees Celsius. On large rimmed baking sheet, toss pears, onions, sweet potatoes, and thyme with olive oil and 1 teaspoon each salt and pepper. Roast until golden brown and tender, 35 to 45 minutes.
Sprinkle with additional thyme if desired.
---
Cucumber Mold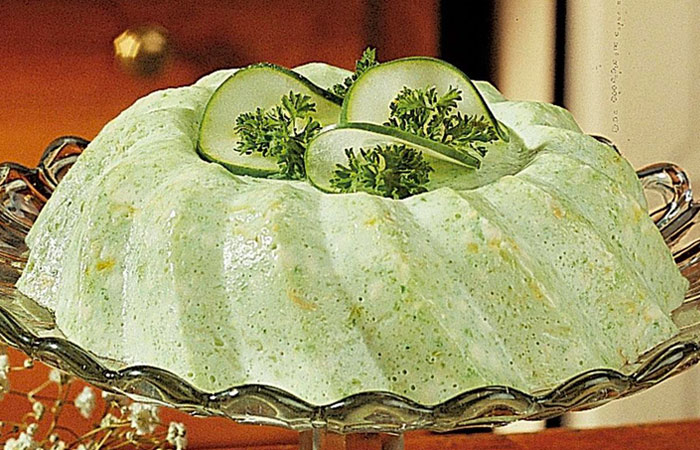 Cucumber has never been this cool! A simple dish that will absolutely wow the crowds gathered around your festive table.
What you need:
1 medium cucumber
1 package lime jelly
1 teaspoon salt
1/2 cup boiling water
1 cup mayonnaise (suggest Hellmanns)
1 cup 4% cottage cheese
1 small onion, grated
Optional: Sliced cucumbers and fresh parsley
Get cooking:
Peel and halve cucumber; remove the seeds. Shred and pat dry; set aside. In a bowl, combine gelatin and salt with boiling water; stir until dissolved. Add mayonnaise and cottage cheese; mix well. Stir in the onion and shredded cucumber. Pour into an oiled 5-cup mold. Refrigerate until firm. Unmold onto a serving platter. Garnish with cucumbers and parsley if desired.
---
Spiced maple pumpkin
with coconut yoghurt and lime

Sounds delish? That's because it is and such a great way to get all those valuable extra vitamins and fiber! The maple just pushes this combination into the stratosphere!
What you need:
1 1/4 cup (60ml) olive oil
2 1/2 tsp ground cinnamon
3 1.5kg pumpkin, cut into wedge
4 Coconut yoghurt, lime wedges & coriander leaves, to serve
MAPLE AND CINNAMON DRESSING
1 1 tbs tamarind puree
2 tbs maple syrup
3 1 tbs light soy sauce
4 1 tsp ground cinnamon
5 Juice of 1/2 lime
6 1/4 cup (60ml) olive oil
Get cooking:
Preheat oven to 220°C. Grease and line a large baking tray with baking paper.
Whisk oil and cinnamon in a small bowl. Season, then rub all over the pumpkin to coat. Place pumpkin wedges upright on tray so skin is in contact with tray.
Roast for 40 minutes or until tender and edges are slightly charred.
Meanwhile, for the dressing, combine tamarind, maple syrup, soy, cinnamon and lime juice in a small bowl. Gradually whisk in the oil until well combined.
Place the pumpkin on a large platter, drizzle over dressing and serve with yoghurt, lime and coriander.






Three words say it all: Healthy, affordable and easy. All these side dishes will round out the nutrition, balances the flavours, adds to the texture and colour of the main dish. Bon appetite!


Date Published:

09 December 2020