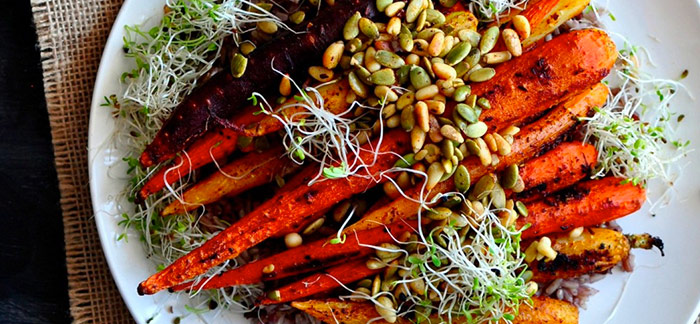 Simple whole foods can be transformed into gourmet meals by creatively combining natural ingredients. In fact most of South Africa's top restaurants pride themselves in creating culinary masterpieces using their house grown heirloom vegetables. Here are a few reasons and ways to cook simply but tastefully using whole foods.
What makes food 'whole'
Whole foods are foods that either occur naturally or can be grown in nature. A loaf of bread baked with stone ground flour, yeast and water is also considered a whole food as no preservatives are used in the baking process. Anything that contains preservatives, additives, unnatural colourants or any numbers followed by an E under list of ingredients, is not a whole food. Additives are most easily identified by the use of E codes in ingredient listings, which indicate additives that have been passed for use in foods in the European Union, where many of our packaged foods are imported from.
Why whole foods are invited friends and processed foods are unwanted guests
The body easily recognises whole food as a source of energy to break down. Processed foods are more difficult for the body to recognise as a natural energy source and organs have to work harder to break them down, which contributes to lethargy. Whole grains, fruits, vegetables, nuts, seeds, legumes and beans are good sources of fibre. Fibre is an essential nutrient and promotes healthy blood sugar, digestion and heart health. Consuming fibre by enjoying a freshly baked sourdough bread or roasted vegetables, is far more beneficial than eating processed foods that have had fibre added to them or by supplementing with a pill.
A Colourful Palette For Creative Cooking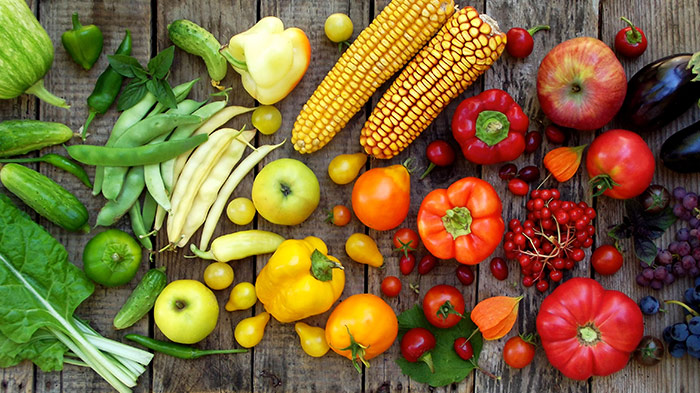 One way to easily get creative with cooking is to set yourself the challenge of filling your plate with at least 3 different colours. This way you'll naturally be drawn to picking out bright veggies, with the added benefit that each different colour vegetable carries different vitamins and nutrients. The mixture of colour also provides a more flavourful combination of food, even without the addition of sauces. However, sauces can also form part of the whole food group if made from scratch using whole ingredients. Apple cider vinegar, organic mustard and olive oil combine to make a dressing suitable for a number of dishes. Unprocessed cheeses like mozzarella, blue cheese and feta also add flavour to meals and it's one food type that (allergies aside) most people have a soft spot for.
Flavour Enhancing rather than ingredient disguising
Most processed meals are covered in sauces that actually mask the flavour of any whole foods that may be hiding within. The flavour of a mushroom is lost in tinned tomato sauce but combined with crushed freshly roasted cherry tomatoes and basil, the delicate flavour of the mushroom peaks through just enough to be memorable. Or consider a selection of wild mushrooms tossed in freshly made gnocchi with a bit of garlic, olive oil, thyme and parmesan over bowl of gnocchi drenched in a packet of microwaved, ready-made mushroom sauce.
3D cooking
Another easy way to add flair and flavour to meals is to add nuts and seeds. Toasted sesame seeds go with almost anything and toasted nuts can turn almost any meal 'gourmet'. Pine nuts added to a pasta, almonds sprinkled over a salad, walnuts over roasted veggies. These tasteful sprinklings also add texture meals and finding the perfect balance between crunch and melt in your mouth goodness is key to perfecting culinary flair.
The most inspiring place to shop for whole foods is at your local farmer's market but with a trend towards healthy eating, most supermarkets now stock a decent selection of fruit, veg and other organic options.
RECIPES
Roasted Spiced Carrots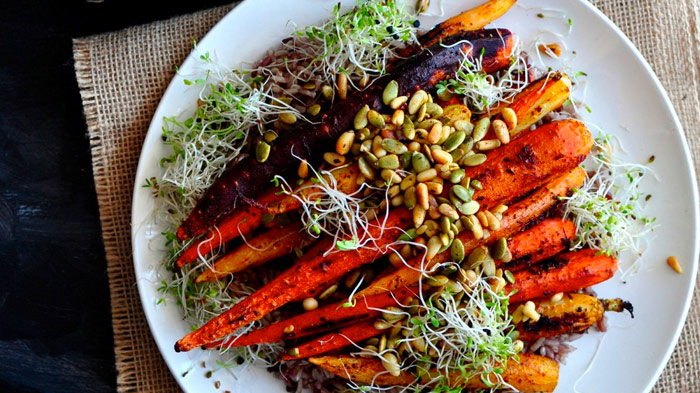 Ingredients:
For the Spiced Carrots:

700g carrots, peeled
1 teaspoon paprika
1 teaspoon cumin, toasted and ground
1 teaspoon fennel seeds, toasted and ground
1/4 teaspoon salt
1 tablespoon sunflower oil

For the Tahini Sauce:

1 small garlic clove
1/4 cup tahini
Juice from 1/2 of 1 lemon
1/4 teaspoon salt
A couple of tablespoons of water (until the sauce is a pourable consistency)
FOR ASSEMBLY:
1/4 cup toasted pumpkin seeds
1/4 cup toasted pine nuts
1 cup of wild rice, cooked
Alfalfa sprouts
PREPARATION
To Make the Spiced Carrots:
Preheat oven to 220 degrees C and line a baking tray with parchment paper.
In a small bowl, mix together paprika, cumin, fennel seeds, salt, oil. Toss carrots in spice/oil mixture.
Lay carrots in one layer on the baking tray. Roast carrots for 20-25 minutes until the carrots are tender but still have a firm texture.
TO MAKE THE TAHINI SAUCE:
Mix all ingredients together in a food processor.
TO SERVE:
Lay down rice, top with carrots, pumpkin seeds, and pine nuts. Sprinkle with a couple of small handfuls of alfalfa sprouts and drizzle generously with tahini sauce.
Serve warm or at room temperature.
---
Za'atar Chicken Bowl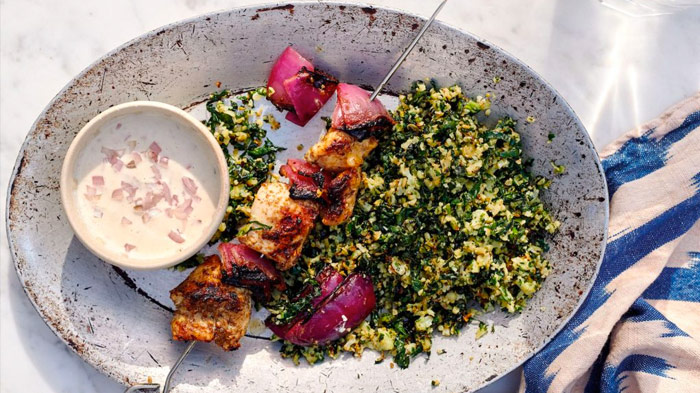 Serves 2
For the tahini dressing:

¼ cup tahini
¼ cup water
2 cloves garlic, grated
juice of ½ lemon
1 tablespoon apple cider vinegar
2 small shallots, minced
¼ teaspoon kosher salt
For the chicken:
1 boneless, skinless chicken breast, cut into 5cm cubes
¼ red onion, cut into 5cm cubes
1 tablespoon za'atar
1 teaspoon kosher salt
1 tablespoon olive oil

For the cauliflower pilaf:

½ head cauliflower, grated or riced
1 tablespoon olive oil
½ cup finely chopped black kale leaves (about 4 large leaves)
¼ cup minced fresh parsley
¼ cup minced fresh cilantro
¼ cup minced fresh chives
zest of 1 lemon
olive oil
kosher salt
Preparation
1. Make the tahini dressing. In a small bowl, whisk the tahini briefly to loosen it. While whisking continuously, slowly stream in the water; the mixture might seize up and be quite thick, but keep whisking and adding the water until it smooths out (it'll take a minute). Once it has smoothed out and become bit looser, whisk in the garlic, lemon juice, vinegar, shallots, and salt until combined. Cover and store in the fridge for up to 1 week.

2. To make the chicken, in a medium bowl, combine the chicken, onion, za'atar, salt, and olive oil. Skewer the chicken and onion pieces, alternating them. Heat a grill pan over high heat. Brush the pan with a little olive oil, add the skewers, and cook for about 5 minutes on each side, or until the chicken is cooked through and the onion is browned.

3. Meanwhile, make the cauliflower rice pilaf. Heat the oil in a pan over medium-high heat, add riced cauliflower, and sauté for a few minutes, until just tender. Then add the kale and cook, stirring, for about 2 minutes, until slightly softened. Add the parsley, cilantro, chives, and lemon zest and cook for 1 minute more. Remove from the heat. Finish with a squeeze of lemon juice and some flaky salt. Serve the skewers with the cauliflower rice pilaf and the dressing.
---
Frittata with Zoodles and Herbs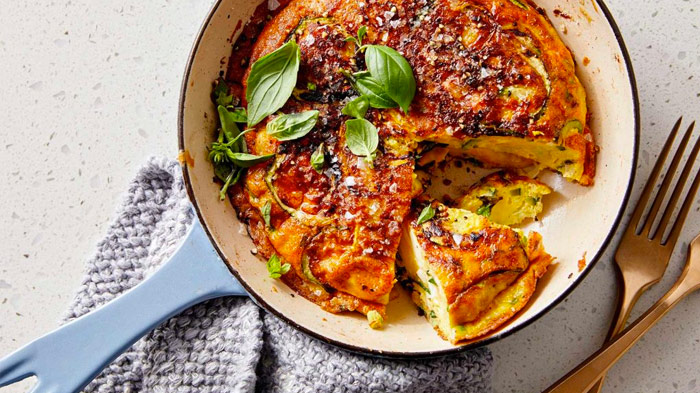 Makes 1 frittata
Ingredients
3 eggs
1 pinch salt
fresh pepper
½ clove garlic, grated
1 scallion, green and bulb, thinly sliced
1 small handful fresh basil leaves, torn
1 cup spiralized zucchini
2 tablespoons extra virgin olive oil
Preparation
1. In a small mixing bowl, beat the eggs and add the grated garlic, scallions, and basil. Season with salt and pepper.
2. Heat the olive oil over medium-high heat in a small nonstick pan and gently sweat the spiralized zucchini for 3 minutes, until wilted and cooked through.
3. Add the eggs and fold the edges to distribute the eggs. Cook until set, about 4 minutes, then carefully flip and cook the other side until cooked through, about 3 minutes. Serve immediately.

Date Published:

09 October 2019