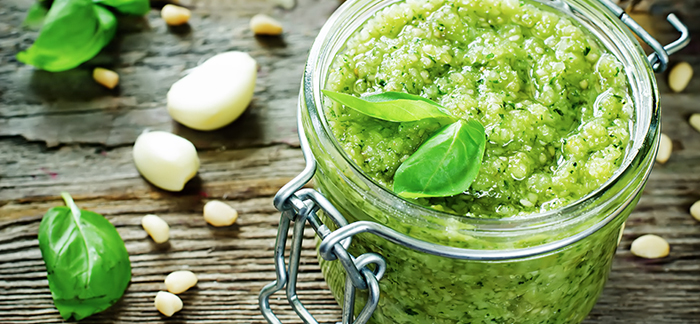 Prep time: 10 min
Total time: 10 min
A lightened up pesto without any added oil! The secret is using an avocado to get a creamy texture that's unbelievable!
Nutrition Information
Serving size: about 1/4 cup
Calories: 108
Fat: 9.4g
Carbohydrates: 3.7g
Fiber: 2g
Protein: 3.7g
Ingredient
· 1 cup packed fresh basil leave
· 1/2 large ripe avocado
· 2 cloves garlic
· 2 tablespoons pine nut
· 1 tablespoon fresh lemon juice
· 3 tablespoons water, plus more if necessary
· 1/4 cup grated parmesan cheese
· Sea salt, to taste
Instruction
Add basil, avocado, garlic, pine nuts and lemon juice to a food processor and pulse for 20 seconds or until pesto is chopped. Add in water and process again until completely smooth. You may need to add more water to get it to your desired consistency; I like mine a little on the thicker side. Transfer to a bowl and stir in the cheese.
Store in an airtight container or sealed mason jar and refrigerate. Pesto is best if used within a few days, otherwise you can freeze it for several months.
Toss in 1/2 cup spinach for extra nutrition
You can omit the pine nuts, but I think they add a nice flavor.

Healthy Ingredients
Avocados are high in antioxidants, including Lutein and Zeaxanthin. These nutrients are very important for eye health and lower the risk of macular degeneration and cataracts.





Date Published:

02 August 2016