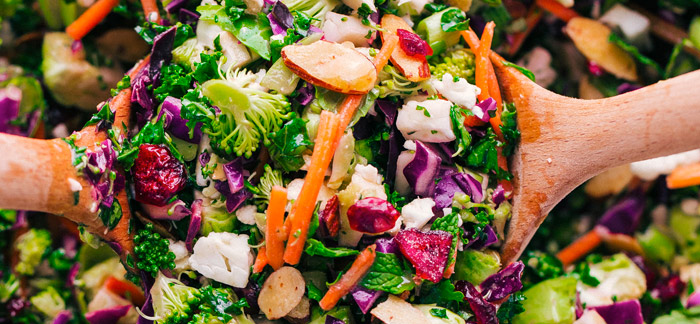 Ingredients
2 cups finely chopped broccoli
2 cups finely chopped cauliflower
2 cups finely chopped purple cabbage
2 cups finely chopped brussels sprout
2 cups matchstick carrot
3 cups finely chopped kale
1 cup chopped green onion
1 cup dried cranberrie
1 cup slivered almond
For The Dressing:
3 tablespoons olive oil
1/3 cup lemon juice
1 teaspoon fresh ginger, peeled and grated
2 teaspoons honey
2 teaspoons dijon mustard
salt and pepper to taste
pinch of brown sugar
Instructions
In a large bowl:
Combine all salad ingredients except the avocado, and toss to mix.
Mix all ingredients for the salad dressing in a bowl.
Add Salad dressing to salad when ready to serve and garnish with avocado.
Healthy Ingredients
Kale has the antioxidants lutein and zeaxanthin, also found in eggs and other foods. These nutrients may help to prevent serious eye conditions such as age-related macular degeneration and cataracts.





Date Published:

28 January 2020